Shawnee city clerk honored at council meeting
Governing body also discusses vape store regulations, approves water tower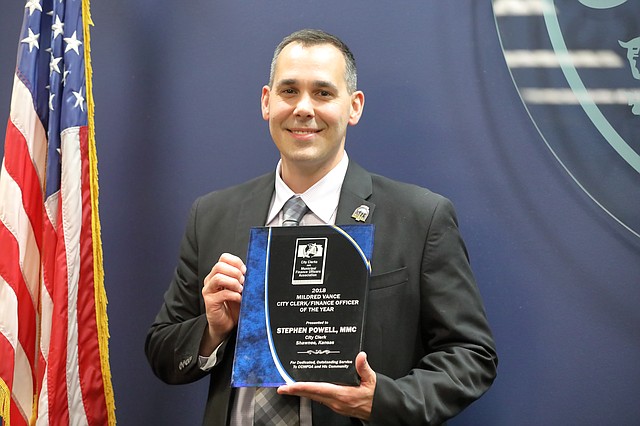 The Shawnee City Council kicked off its March 26 meeting with a nod to an award-winning city employee.
Shawnee city clerk Stephen Powell was recently selected as the recipient of the 2018 Mildred Vance City Clerk/Finance Officer of the Year award for the state of Kansas.
The honor is given to city clerks or finance officers who have made significant contributions to the state association, the profession and their city.
The award was initially announced during the 68th annual Kansas City Clerks and Municipal Finance Officers Association conference in Wichita on March 22.
During the council meeting last Monday, Powell was honored on city turf.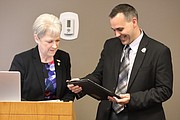 "It is extremely deserving, as your professionalism and the kindness you exhibit every single day to our residents and everyone is just unmatched," Mayor Michelle Distler told Powell. "So, we are very proud of you."
Touched by the support, Powell told the crowd he was shocked when he received the award and he greatly appreciates the honor.
He said he is thankful to the city for supporting continuing education, professional development and leadership opportunities.
"I love working here at the city and being a part of the community," Powell said. "I'm very grateful."
Powell began his career in municipal government in the Shawnee Public Works Department in 2002. He was promoted to deputy city clerk in 2006 and then as city clerk three years later.
From 2010 to 2012, he briefly served as the clerk of the board/chief of staff for the Board of County Commissioners in Johnson County, but eventually returned to the city of Shawnee as a court administrator.
He was re-appointed as city clerk in February 2014.
Not only does Powell serve as city clerk, but he still manages the municipal court as well. In addition, he is also responsible for the senior transportation program.
The following action was also taken at the council meeting:
Council discusses vape store regulations
The council unanimously approved an ordinance restricting the sale of drug paraphernalia in vape stores.
It also redirected discussion on an ordinance limiting the location of vape shops to its May council committee meeting and it placed a hold on new vape shops from entering the city until the end of 2018.
At its May council committee meeting, the governing body is also expected to discuss potentially raising the age limit from 18 to 21 for the purchase of electronic cigarettes.
Two citizens in the audience at the March 26 meeting spoke up during the public hearing portion in regards to the proposed location ordinance, which would limit the location of vape shops to be the sole business in a free-standing building in zoning districts where the sale of tobacco products is allowed.
The ordinance, based on one already in place in Overland Park, is meant to lessen the likelihood of vape stores being located near businesses that cater to children.
Both citizens insisted, however, the ordinance is unfair.
"Stand-alone buildings are usually expensive to occupy and most of these shops are not very large," Shawnee resident Ray Erlichman told the governing body. "I just cannot visualize any developer building small stand-alone structures for them. So, I actually think it's a backdoor way of banning them from the city."
Erlichman also said he had a problem with the city of Shawnee basing its ordinance on Overland Park. He told the council it would be nice to see what other cities are doing for vape shop zoning, before any decisions are made.
Eric McPherson, the owner of Flatland Vapes in Shawnee, said he also had grievances with the proposed location ordinance.
He agreed it was designed as a de facto ban.
He pointed out that as a small business owner, he could not afford to move his 2,000 square-foot shop into a standalone building, should he ever have to relocate.
"If I lose my lease for any reason, I'm out of business," he told the council. "If my landlord finds out about this ordinance and my lease is up, she knows I'm trapped. She could triple my rent. I'd have no choice but to pay it or move out of Shawnee."
His words resonated with a few of the councilmembers.
Councilwoman Stephanie Meyer said she was in favor of tabling the discussion on the ordinance so the city's legal department could take another look at it, plus give city staff time to research ordinances from cities other than Overland Park.
"We're doing this once, so I want to make sure we do it in a way that's getting to the heart of what we're trying to accomplish," she said.
Councilman Eric Jenkins said he strongly agreed with Meyer.
Although the proposed ordinance would grandfather current Shawnee vape stores, he was concerned that business owners, such as McPherson, could be held hostage by their landlords, or they would find themselves unable to relocate should their shopping center close.
Jenkins suggested the ordinance grandfather the business owner, rather than the building, to address those issues.
Council approves water tower
WaterOne will soon be constructing a three million gallon elevated tank at the Public Works Service Center, 18690 Johnson Drive.
The council approved the item at its meeting on March 26; Meyer and Councilman Justin Adrian voted in dissent.
Michelle Wirth, director of production for WaterOne, told the council an elevated water tower, rather than an underground one, made for a more green solution.
"It does minimize fuel storage and emissions because we don't need to have a generator on site," she said. "It has lower energy use in that we don't really have any mechanical equipment that requires power. It is quiet and a low-cost alternative."
The tower, however, will be the largest one in the WaterOne service area.
Water One serves over 425,000 customers and Shawnee is one of 17 cities it serves.
Meyer voted in dissent because she feared the tower would be too large and obtrusive for the area.
"I continue to be frustrated and I think the folks in my ward are frustrated to know they're going to have the largest water tower in the county when there are other water storage facilities throughout Johnson County that are going below ground," she said. "That is incredibly frustrating to me."
The tower construction and maintenance are the sole cost of WaterOne.