Jaguars join
SM

Northwest as second Shawnee team going to world finals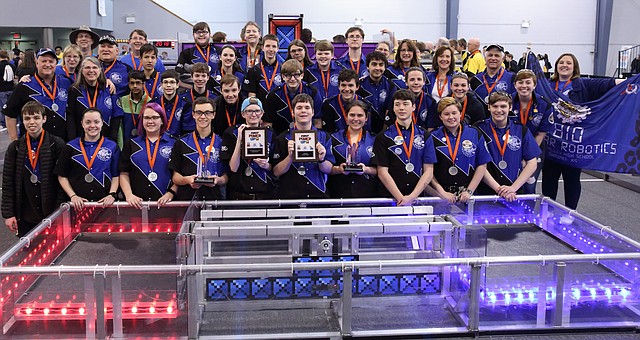 Jaguar Robotics, comprising of Mill Valley and De Soto High School students, is also competing in the world competition in Houston later this month.
Shawnee Mission Northwest High School's Cougar Robotics is the other Shawnee team headed to the finals.
The Jaguars qualified at the Heartland Regional Competition via a wild card slot.
The team also won the Industrial Design Award for its robot.
Pictured above are the following Jaguar members and mentors: Pam Parks, Mike Sheehan, Mike Pentacost, Steve Parks, Nathan Sheehan, Pam Sheehan, Will Hecht, Theresa Koeckeritz, Mike Moose, Mary Beth Mattingly, Daanish Suhail, Mathew Deibert, Alex Wipple, Ryan Phillips, Meg Ring, Brett Bellmeyer, Max Koeckeritz,Evan Sherman, Andres Rico, Ann Ring, Lisa Moose, Gary Hannah, Luke Coverdale, Brian Parks, Avery Hantla, Cody Robertson, Trintiy Wilson, Taylor Barth. Zack Deibert, Christine Lust, Emily Hertel, Cody Moose, Ryan Zebly, Alex webber, Amanda Hertel, Kyle Mayfield, Sarah Soriano, Jacob Howe, Avery Sheltra
Not pictured: Gage Weber, Nico Gatapa. Kevin lee, Ethan Peechee, Savannah Stine, Chad Manhart, Desola Ominyiona.
This is the second year in a row the Jaguar team has gone to a world championship.
Last year, it competed for international glory in St. Louis.