Shawnee Mission Northwest Cougars take on the 'world'
Robotics team makes school history; qualifies for
FIRST

championship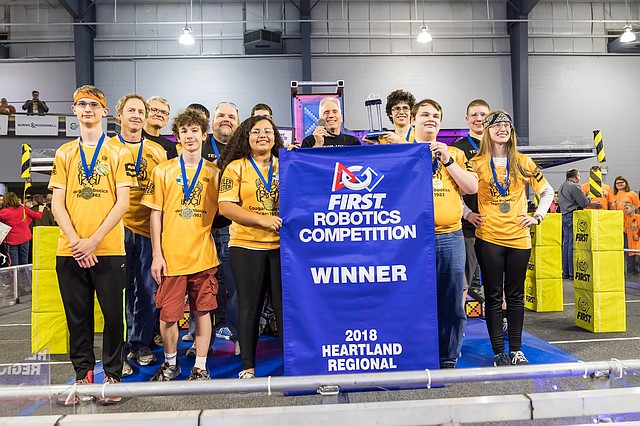 It didn't even seem real to the group of stunned teenagers.
The crowd went wild, with loud cheers erupting from the stands. In a blur, other students ran up to them for high-fives. And when the Cougar Robotics team members caught each other's glances amidst the victorious chaos, they couldn't wipe the smiles off their faces.
After all, they had just made Shawnee Mission Northwest High School history.
Being declared the winners of the Heartland Regional Robotics Championship in Kansas City, Mo. last month will be a memory forever etched into the young adults' minds.
Not just because of the glory, but because it was the moment the team officially qualified for the FIRST Robotics World Championship, which is being held in Houston later this month.
Thanks to the youths' success, it is the first time in school history the SM Northwest Cougar Robotics team will be heading to the prestigious international event.
"I was literally jumping for joy," said SM Northwest senior and Cougar Robotics co-captain Devin Keeney. "This has been my dream for the past seven or eight years and I never thought we'd actually be able to go that far in the tournament. It was so exhilarating to be able to cheer with all those other teams as soon as we saw the score that we had won that final match."
SM Northwest sophomore and vice-captain Angelina Ortega agreed it was an amazing feeling.
"I cried," she admitted. "I just started crying. It was mind-blowing."
Cougar Robotics is one of only a few Johnson County high school teams participating in the world championship.
Robotics teams from Mill Valley High School and Olathe Northwest High School also qualified for the honor.
The reason for SM Northwest's catapulted success this year is actually pretty simple: the new team leaders stepped up their game.
The FIRST robotics season is a bit of a whirlwind.
In January, each team across the globe receives details about that season's game challenge and requirements and then, they are given only 45 days to design, construct, test-run and complete a functional robot meeting those specific game requirements.
Afterwards, each team competes in regional tournaments, with those winners heading to a world championship.
During the initial 45-day period before the tournaments, students often spend hundreds of hours on weeknights and weekends at school working on the robot, while keeping up with their regular academic assignments.
Problem-solving is often done on the fly, with each coming second being more precious than the last.
Before this year's robotics season began, however, Keeney and co-captain Drake Clark, along with other robotics seniors, spent their free time researching what makes winning teams so successful.
As a result, they decided to change their mechanical system, build two robots instead of one and boost their fundraising efforts so the team could participate in two regional tournaments instead of just one.
The mental prep work they did before the season allowed those intense 45 days of robot-building to be more efficient.
It was hard work that eventually paid off at the Heartland regional tournament.
Going to a robotics world championship has been a fantasy for many of the Cougar team members for several years, as many of them started out in the activity by participating in FIRST Lego League robotics in elementary school.
They love robotics because it allows them to create something tangible, using STEM subjects often only accessible through a textbook.
"Robotics is the practical application of the science and physics you learn in school and you actually get to put it to use," said SM Northwest senior and Cougar Robotics mechanical lead Ben Basel. "Instead of it being theoretical, you actually have to design and construct something using your abilities, based around a budget."
Through robotics, the students are learning valuable real-world skills, such as teamwork, problem-solving, coding, engineering and design, all while having fun.
Plus, it's a great way to make close friends, they pointed out.
Even their teacher sponsor, Sarah Frederickson, is having a blast.
"This isn't even in my wheelhouse and it's been tons of fun," said the SM Northwest educator, with a laugh. "I'm the foods and nutrition teacher, so (through robotics) I'm dealing with students I never would have interacted with otherwise. These kids are incredibly smart and they're taking full schedules of really difficult classes. All of these kids will most likely end up in STEM careers."
She's not far off.
Keeney and Clark told the Dispatch they're planning to major in computer engineering; Basel said he's hoping to pursue mechanical engineering.
Keeney even received a $25,000 FIRST robotics scholarship to attend the Illinois Institute of Technology.
All three boys said they definitely plan to volunteer with a local robotics team as college students.
They're also eager to keep an eye on the Cougar Robotics team in coming years.
They're confident they've left the team in good hands.
The feeling is mutual.
Ortega, a 15-year-old from Shawnee, said she's hopeful the team can continue its upward success.
Her goal next year will be to encourage more students, especially girls, to join the team.
After all, Cougar Robotics has a very small team, with around a dozen members.
At the world championship, they will be competing against 400 teams, some of which have up to 50 or 100 members each.
It's a daunting prospect, but the Cougars told the Dispatch they're not putting any pressure on winning the world championship; they just want to do their best and have fun.
It's an attitude making the adults around them proud.
"I'm just very excited for them and very proud of them because they've done something no other Northwest (robotics) team has done," said Bob Keeney, a software engineer and dad helping to mentor the team. "I wish more people knew about the Robotics program because it's such a great hands-on experience."
The world finals take place April 18-21 in Houston.