Shawnee teenager earns perfect
ACT

score
Amelia Mullin wasn't aiming for a perfect score when she took the ACT exam for a second time; she just wanted to do better than her two older sisters.
Her oldest sister, Liz, now a fire protection engineer in Chicago, earned a 33.
Her older sister, Kathleen, now an engineering student at the Illinois Institute of Technology, earned a 34.
Naturally, the friendly sibling rivalry meant high school junior Mullin would earn a 35, right?
Well, not quite.
Last month, Mullin found she received a 36, which is a perfect score.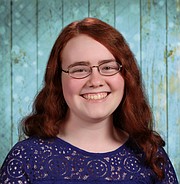 Only .1 percent of high school students earn the rare distinction.
"I didn't think I would get it," the 17-year-old from Shawnee told the Dispatch. "I was really, really, really excited."
Her sisters are thrilled about the news too.
"As we've gotten older, the competition has died down a little bit," Mullin admitted, with a laugh.
She first took the ACT exam last year, as a sophomore, scoring a 34. Not much studying had gone into that first, yet very impressive, score. After all, she had taken it as a practice run.
Earlier this year, however, she got serious.
Mullin, who attends Shawnee Mission South High School, studied her ACT book nearly every day leading up to the February exam. She also studied resources, such as practice questions and ACT formula sheets, handed out by her teachers.
She has some pretty simple advice for high school students wanting to earn a better ACT score.
"Definitely ask teachers for help," she said. "They're happy to help. A lot of times, people underestimate just how great of a resource they have already."
She also suggests taking the exam more than once and dedicating a certain time each day to studying.
Earning a perfect ACT score is just one of many accomplishments Mullin has done recently.
The honor roll student is taking a full load of difficult classes this year, such as AP calculus, AP English, AP Chemistry, Latin and even wood shop.
She's currently in her school's gifted program and she is a member of the National Honor Society.
Later this month, her Academic Decathlon team from SM South is heading to the national competition in the Dallas area.
She is also a member of a FIRST robotics team and she is the president of the Lucky Clover 4-H Club.
Last year, Mullin earned two distinct 4-H honors.
Last spring, she was named a Kansas Award Portfolio winner for her year-long basket-weaving visual arts project. As a result, she was selected to attend the national 4-H Congress in Atlanta last fall.
In November, she was bestowed the Key Award, which is presented to select youths based on their 4-H work.
She is now eligible to apply for certain scholarships granted only to those award winners.
As her last year of high school looms ahead, Mullin is still unsure where she wants to attend college.
She's gone on numerous campus tours and she even made a spreadsheet of potential colleges, listing their pros and cons.
While she's considering colleges in the Kansas region, she may follow in her sisters' footsteps by attending IIT in Chicago.
And she also hopes to follow the family path and study engineering.
Her dad is an electrical engineer and her mom is a retired engineer.
Three of her uncles and her grandfather entered the profession as well.
In fact, Mullin used to say rebelliously as a child that she was never going to be an engineer.
But her love for science, math and technology has changed her mind.
The ambitious teenager was introduced to the fun side of STEM at an early age.
Her dad often did hands-on projects with all three of his daughters, showing how science and technology could be applied outside a textbook.
"In elementary school, my dad would buy little flashlight cases from eBay and help us solder together little LED flashlights as gifts for our teachers," Mullin said, with a grin. "I was seven when I made my first one."
No matter where life takes her, whether she enters the engineering world or not, her parents are excited to follow her adventures.
And they couldn't be prouder about her recent accomplishments, particularly her perfect ACT score.
After all, she earned it all on her own, they pointed out.
"I'm so happy for her because she worked so hard for it," said her mom, Jean Mullin. "I think it will open some doors to scholarships she wouldn't get otherwise. She's a good kid and she's very responsible and I don't think it could go to anybody who deserved it more."
Mullin wasn't the only Shawnee teenager to earn a perfect score this school year. SM Northwest senior Jackson Brogan earned the honor last fall.
More like this story