Mill Valley blasts past
OE

, falls to

ONW

in Sunflower League Softball Festival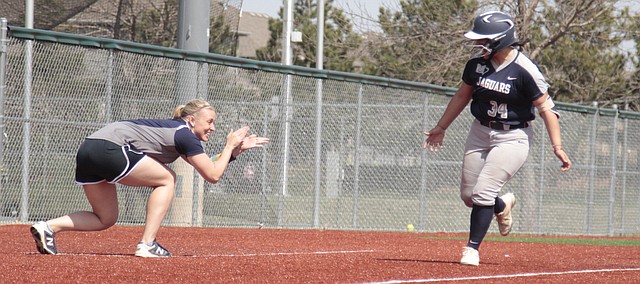 OLATHE — Mill Valley sophomore Jess Garcia just missed hitting a ball over the fence in the third inning of the Jaguars' matchup against Olathe East on Thursday in the Sunflower League Softball Festival at the College Boulevard Activity Center.
When Garcia was given another chance in the top of the seventh inning, she was all over it.
Garcia belted a two-run blast to cap the Jaguars' five-run rally in their 6-4 victory over the Hawks. The offensive outburst was an anticipated one for the Jaguars, who made good contact while falling short in an 8-2 loss to Olathe Northwest earlier in the day.
"I really felt like we hit well all day. There were some times in the second game where our bats weren't going," Mill Valley coach Jessica DeWild said. "Really in that first game — the score doesn't reflect it — but we really hit the ball well. I just kept telling the girls that it's only a matter of time, right? It finally worked out for us in that seventh inning."
The Jaguars had their backs against the wall while facing a 4-1 deficit after six innings against the Hawks. With the offense in need of a spark, DeWild turned to freshman Belle Bonn to pinch hit with one out and no one on. Bonn worked a work to begin the Jaguars' rally.
Bonn was one of four freshmen who took the field for the Jaguars on Thursday. Callie Shryock earned a no decision in the circle after only giving up four hits and three unearned runs in four innings. Ava Bredwell had a hit and started both games at shortstop. Abigail Burke and Bonn both entered as courtesy runners against the Ravens.
"Our freshman class is really talented. Obviously you have Callie and Ava, but Belle Bonn is a good little player," DeWild said. "She's going to be huge for us the next four years. Abby is a good little player and then we have some freshmen that are down on JV that are just waiting to get up."
After Bonn walked, Grace Lovett singled to bring Peyton Moeder to the plate representing the tying run. Moeder, who Garcia called "the heart of the team" cut the deficit to one with a two-run triple. The Valparaiso signee went 3-for-4 with two RBIs and two runs scored against the Hawks. Moeder also had two hits in the loss to the Ravens.
"Peyton's been huge. It's good to have a senior leader in the field and at the plate," DeWild said. "She sets the tone for the rest of the game. That leadoff spot is huge. With her speed, we've just got to get her on. She's been really consistent this year for us."
Moeder continued to show off her speed when she dashed home on an infield single by Lilly Blecha. DeWild had plenty of positive things to say about Blecha's production out of the No. 2 spot this season.
"What's great about Lilly is she hits well. She has much more power this year," DeWild said. "It's really coming along for her. She's just so smart, so she's a perfect two spot.
"She's got some decent speed, but she has some good at-bats. She hits strikes. She can bunt. She can execute. She executed that bunt and run in the first inning that directly led to that run. She's been a huge revelation for us. She was good last year, but she's taken her game to the next level this year."
With Blecha at first as the winning run, Garcia didn't waste any time in driving her home. The Mill Valley sophomore crushed the first pitch she saw to give the Jaguars a 6-4 lead.
"I was kind of just looking for my pitch. I wasn't going to chase anything," Garcia said. "I was just searching for that one pitch that I could drive left-center."
As Garcia looks to continue to provide some pop in the Jaguars' lineup, she credited her teammates for giving her confidence to come through in the clutch. Garcia said she felt the rally coming on because of the positive vibes from the dugout.
"The energy in the dugout is a big part of the game," Garcia said. "I felt like when he got into that inning, all of the girls in the dugout were going crazy."
The Hawks tried to mount a rally of their own with two outs in the seventh when Devin Conley reached on an error and Alex Olson singled, but Garcia got Halie Morris to pop out to Bredwell to end the game.
The Jaguars moved to 4-2 after splitting their lone two games of the Sunflower League Softball Festival. Mill Valley will return to Eastern Kansas League play for a doubleheader at 3:45/5:45 p.m Tuesday at Bishop Miege.
"Going into the rest of the season, our season is kind of back-loaded full of games," DeWild said. "Once we start playing, hopefully we can get a good groove going and we can kind of just roll on and still have sights on winning the league. Hopefully we can keep at it."