SMNW

tops Holton, Great Bend in Sunflower League Softball Festival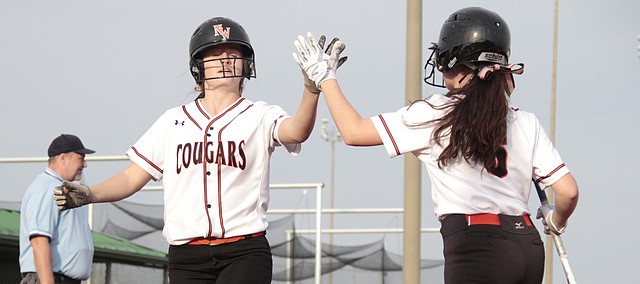 OLATHE — Shawnee Mission Northwest senior MaKenzie Cooper was excited about testing out her new bat at the Sunflower League Softball Festival on Thursday against Holton and Great Bend at the Olathe District Activity Center.
It didn't take her long to find the sweet spot of it.
Cooper crushed a three-run shot in the first inning of the Cougars' 11-2 victory over Holton to get SM Northwest offense rolling. The Cougars got rolling in the late innings against Great Bend to upend the Panthers, 9-2, which extended their winning streak to six games.
"It was really nice. It was the first pitch," Cooper said. "It felt really good to get the game going, get on top and eventually get the win from it."
The home run from the Central Missouri signee highlighted a five-run first inning for the Cougars. Cooper, Arisbei Black, Jennaka Bultman, Emily Wells and Emma Gude collected two hits apiece. Cooper led the Cougars with three RBIs. Bultman and Sarah Milks drove in two runs each.
"I think our team chemistry is what's really helping us through these days," Cooper said. "We're staying up and having fun, keeping up with it and just playing like it's a game."
While the SM Northwest offense was dialed in from the start against the Wildcats, Cougar ace Megan Formwalt didn't need much run support in the circle. Formwalt had a no-hitter until Annalyss Phillips led off the sixth inning with a single. The only other hit Holton got off of Formwalt was a two-run double from Kinleigh Rhodd.
Formwalt kept the Wildcats off-balance, as she struck out 14 and only walked three.
Starting pitching has been a strength for the Cougars. Northwest has allowed two runs or less in five of its first seven games en route to a 6-1 start. Bultman picked up right where Formwalt left off when she got the start against the Panthers. Great Bend jumped out to a 2-0 lead after scoring single runs in the first and third innings, but Bultman only allowed five hits and didn't walk anyone while recording seven strikeouts.
"Our pitching staff is solid all the way through," SM Northwest coach Amy Schneider said. "That's something that we definitely rely on and then try to support it with as many runs as we can."
Part of what makes Formwalt and Bultman so effective is that they have different strengths when it comes to their best pitches.
They work great back to back or in a relief situation," Schneider said. "Jennaka's change up is amazing and Megan's rise ball and her breaking pitches are great."
The Cougars didn't have much luck against Great Bend starter Shanaeia Mehlhaff the first time through the order, but they cut the deficit in half in the fourth when Bultman drove in Gude with an RBI single. Northwest nearly tied it, but courtesy runner Michaela Crowe was thrown out at the plate.
The floodgates opened for the Cougars in the fifth, though, despite having Milks tagged out at home for the first out of the inning. Plate discipline helped the Cougars tied it, as Wells evened the score with a bases-loaded walk. Wells and Gude both came around to score on one of the Panthers' four errors, and Cooper added an RBI single to give the Cougars a 5-2 lead.
"We're a scrappy team," Cooper said. "We just work hard together and have fun together. That's what's important."
The Cougars put up another four-spot in the sixth. Wells ripped an RBI double, Bultman delivered another RBI single and the Cougars also scored runs on an error and a fielder's choice.
Northwest was scheduled to play two more games in the Sunflower League Softball Festival on Saturday against Lansing and St. Thomas Aquinas, but they were postponed due to inclement weather. Both of SM Northwest games were rescheduled to April 28. The Cougars will play Lansing at 10 a.m. and Aquinas at 12 p.m. at the Shawnee Mission Softball Complex.
The Cougars will return to Sunflower League play for a doubleheader against Olathe North at 4:15/6:15 p.m. Tuesday at ODAC.