Council updates comprehensive plan to embrace more mixed-use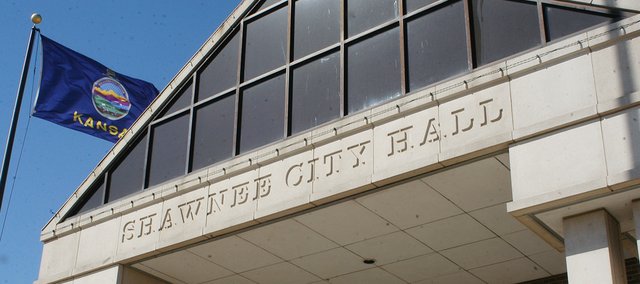 Mixed-use development, prevalent in cities such as Overland Park and Lenexa, is now becoming more acceptable in the city of Shawnee.
At its meeting April 9, the Shawnee City Council approved an amendment to the land use guide of the city's comprehensive plan, designating the area on the south side of Shawnee Mission Parkway, between Maurer Road and Renner Road, as appropriate for mixed use.
The area is already projected to be the site for a brand new dining and shopping development.
Last July, the council approved a $19.5 million incentive package for the project, titled Bellmont Promenade.
The project has yet to be constructed, however.
Several council members stated they hoped allowing mixed use for that expansive area would jumpstart its progress and possibly encourage more innovative development in the future.
Mixed-use blends residential, entertainment, commercial and office, among other uses, to allow for a pedestrian-friendly development.
Examples of mixed-use in Johnson County include Prairifire in south Overland Park and City Center in western Lenexa.
The approval for amending the comprehensive guide in Shawnee to allow mixed-use for that area was not unanimous among the governing body.
Councilmembers Eric Jenkins and Mike Kemmling both opposed the change, saying they were frustrated with the circumstances upon which it was made.
Back in February, a developer for Bellmont Promenade revealed to the city his team was considering adding a residential component to the project.
In a letter to the city's planning director, developer Steve Beaumont requested the city look into making the mixed-use amendment for the area.
The $59 million Bellmont Promenade project, proposed to sit on the southwest corner of Shawnee Mission Parkway and Maurer, is currently set to feature a large shopping strip and five-to-seven pad sites, all for restaurant and retail.
Jenkins said it made him uncomfortable to change the land use designation for the area, without knowing exactly how the developer planned to change the project.
A handful of concerned residents, many who live near the area, echoed that thought during the public hearing portion of the meeting.
Shawnee resident Alan Godsy told the council he was unsure if mixed-use, which often features high-density housing, would fit in with the surrounding neighborhoods.
Shawnee resident Don Lysaught, who lives less than a quarter-mile away from the property, told the council he was also leery about an amendment being made to the comprehensive plan before Bellmont Promenade changes were proposed.
He said it was important for nearby residents, city staff and council members to know what changes will be occurring beforehand.
"It could be at the end of the day, we have more in common than we disagree on," Lysaught said. "It's a common -sense approach. There's got to be some transparency here and some realism here."
Many council members emphasized, however, the amendment to the comprehensive plan was not just for the Bellmont Promenade project, but it was intended for any future development to be proposed for the designated area.
Ward 3 council members Justin Adrian and Stephanie Meyer both said the amendment didn't rezone the area or set a new Bellmont Promenade project in stone, but it simply opened up a door to more possibilities.
Adrian, currently the youngest Shawnee council member, said mixed-use was an important option to bring to more areas of the city.
The 33-year-old added he has many friends who would enjoy living in a development where they could walk downstairs to grab a bite to eat or go shopping, without having to drive.
"I'm afraid if we limit this (area) to commercial and office use, we'll be shooting ourselves in the foot," Adrian said. "There are places all over the metro, all over the United States, where it's commercial and office use only and their doors are closing. I don't want to see another strip mall in our area go under in 10 to 15 years because there's not enough business."
Council members Mickey Sandifer and Jim Neighbor both said if allowing mixed-use generates viable development for the area, it's worth the change.
"I just want to point out that we approved this (Bellmont Promenade) in July of 2017 and here we are, nine months later, in the same spot," Neighbor said. "It seems to me there's got to be a reason for that. If this helps the project go forward, I'm for it."
Several council members told residents in the audience that if Bellmont Promenade developers come forward with a different plan, as is suspected, its details would be diligently and thoroughly reviewed, with plenty of opportunity for public feedback.
"I've worked with developers most of my professional career and I can tell you generally, they are very tight lipped about their projects," said councilman Matt Zimmerman. "They don't like a lot of information getting out until they know they have a clear road ahead of them. It's their inherent nature and I can understand that because they've put a ton of money into their studies.
"I suspect that that's probably what you're running up against here. I think once they get a clear path ahead of them, they will be very happy to share with you their vision."