Friendship and faith: Shawnee church shares bond with inner-city ministry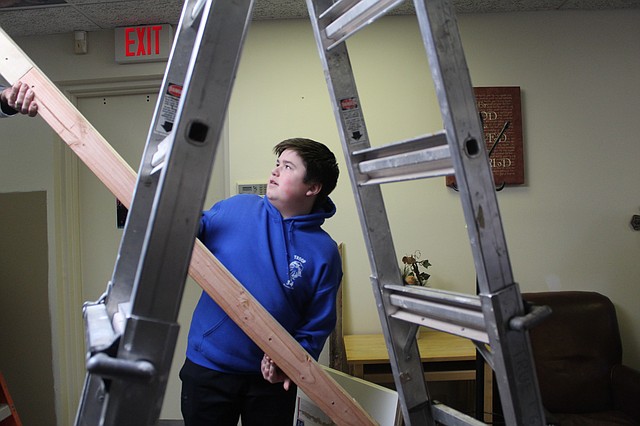 At 12 years old, Trey Delvecchio is a bit young to be striving for his Eagle Scout designation.
But the Shawnee seventh-grader is ambitious and he already had a project in mind he felt was deserving of immediate attention.
For several weeks, he's been overseeing the construction of a nursery at True Light Ministry in midtown Kansas City, Mo.
The small room, to be nestled near the sanctuary, will feature a sink, changing table, glider, toys, cabinets, chairs and a television screen live-streaming each worship service.
On a warm Saturday afternoon earlier this month, Trey and his team got to work. Hammering nails, piecing together wooden framework and measuring wall space were a collection of people from various parts of his life: his parents, his fellow Boy Scouts from Troop 34 and friends from his own place of worship, Harvest Ridge Covenant Church in western Shawnee.
The kindness of his gesture humbled the Rev. Alice Piggee-Wallack, who is the founder and director of the True Light Family Resource Center.
"I'm overwhelmed," she said.
True Light, 712 E. 31st St, Kansas City, Mo., serves the city's working poor and homeless population.
Its day shelter offers a refuge to women and children, by offering a clean place to do laundry, shower, and find clothes. It also serves meals to women and children six days per week.
Trey's project of a nursery will be a welcome addition for mothers who don't want to miss church service, Piggee-Wallack said.
While standing in a corner, watching the construction unfold, a mesmerized, grateful smile lit up the pastor's face, revealing a hint that sometimes an action so seemingly simple is part of a much bigger picture.
After all, the nursery is more than just a room and Trey's Eagle Scout project isn't about strangers helping strangers. It's about family serving family.
Each hammered nail echoing throughout the halls of True Light on that sunny Saturday afternoon was a continuation; a part of the synergy built and fostered and cherished between two unlikely congregations. One mostly white; one mostly black. One traditionally middle class; one struggling to get by. One suburban; one urban.
Harvest Ridge and True Light: two churches guided by the same higher power, both shining out from opposite ends of the spectrum.
The relationship started six years ago when the head pastors from both churches sat down to talk for the first time. Both church leaders were seeking a partnership, hoping to find a good fit. Neither of them had any firm expectations.
As soon as Harvest Ridge pastor Jed Hollenbach met his vivacious True Light counterpart and listened to her describe her center's mission, he knew in his heart their paths had crossed for a reason.
Sitting in his office at Harvest Ridge, 22015 Midland Dr., on a chilly Saturday morning earlier this year, he recounted their meeting.
"I was dumbfounded and I barely said three words the entire time," he told the Dispatch, still awed by the memory.
"It was clear this was a remarkable woman and God was using her in a remarkable way. As a fellow pastor, I could tell she had a deep love for God and a deep love for people. She has an engaging personality, she exudes hope and joy.
"We wanted to establish a genuine relationship between our two churches, so it came down to one question, 'How could we be involved in each other's lives in a way that would please God, even though our circumstances are very different?'"
In the spring of 2012, around 30 Harvest Ridge members drove up to True Light and helped with various chores, such as painting walls, sorting clothes and cleaning carpets.
Little by little, the church found ways to join hands.
Harvest Ridge members make weekly visits to True Light for knitting projects, sewing class and Bible studies.
A couple times per year, the two pastors will give a co-sermon at either church.
Harvest Ridge hosts a variety of seasonal activities and events, in which True Light members are welcomed with open arms.
A few years ago, Harvest Ridge members joined forces with True Light to raise around $90,000 through fundraising and grants to build a new kitchen at the Kansas City, Mo. center, which feeds hundreds of people each week.
In the summer of 2016, when the kitchen was finished, the churches held a sermon at True Light to celebrate.
And while the two churches have a deep friendship, the road there wasn't an entirely smooth one.
After all, the staggering differences between the two congregations could not be overlooked or oversimplified with money or labor or kindness alone.
When True Light members took that first bus across the state line to Harvest Ridge, tension permeated the air before hands were even shaken.
"The first visit was strained," Piggee-Wallack admitted to the Dispatch.
"Our folks didn't know what to expect or how they would be received. But, friendships were birthed pretty quickly."
One of those challenges was tackling the racial divide; navigating the delicate tightrope of the most obvious physical differences between the two congregations.
It was a conversation not only necessary for parishioners, but completely unavoidable, pointed out Hollenbach.
"We've built up enough trust to have real discussions," he said. "We (Harvest Ridge) talk about the safety net of raising a family in Johnson County and they talk about the challenges of raising a family without any safety net at all."
A few years ago, those conversations grew challenging amidst the emerging Black Lives Matter and Blue Lives Matter movements.
"We have police officers in our congregation," said Hollenbach. "They (True Light) shared their stories of dealing with police and it was uncomfortable and awkward, but it was important because when you care about someone, you want to understand where they come from and understand the challenges they face. When you hear these stories from a friend, you believe it; when it comes from a stranger, they're easy to dismiss."
One of the most poignant moments of the year is during Harvest Ridge's annual Trunk or Treat, in which police officers and firefighters hand out candy and show off their vehicles to kids.
"It's a chance to reframe perceptions," said Hollenbach.
Another way the churches are breaking through their racial and socioeconomic barriers is with the Sister to Sister program, which occurs several times per year.
During each event, women from both congregations meet at Harvest Ridge for a meal, speaker and live music.
It's a chance to strengthen friendships and talk about real issues.
There are no walls, the women insisted to the Dispatch during a recent Sister to Sister event, which occurred earlier this year.
"God sees all of us the same, he has no favorite," said Nancy Chumley, who helps organize the series. "It was important for us to come together as sisters and see each other on a personal level."
Sandie Anderson, a Harvest Ridge member who spoke at a recent Sister to Sister, agreed.
"Women need women," she put it simply. "We need each other as friends for support and affirmation and to laugh with, to cry with. We come together and put aside our differences."
The Sister to Sister event has grown in popularity, drawing dozens of members from both churches each time.
It's one of the many hand-in-hand events the churches share.
And of course, there's Trey, the Shawnee Boy Scout striving towards his Eagle designation, drawing True Light into the fold.
He first stepped into the Kansas City, Mo. center as a young kid volunteering with his mom. Another time, during a church service there, he realized a nursery was needed.
"There were little kids getting restless and their moms didn't have anywhere to take them," he observed.
When he approached Piggee-Wallack with his idea, she was stunned.
"I knew we needed space for moms and toddlers and I had just started to wrap my head around the idea when Trey called me," she said. "When he said he wanted to build a nursery, I couldn't believe it."
When asked how he feels about helping True Light, Trey got quiet for a moment. Even at a young age, he knew his desire to help was beyond an Eagle Scout project and beyond accolades, but for the simple idea that it just felt right.
"I'm really happy to help," he finally said, with a smile.
For more information about Harvest Ridge, visit harvestridge.org; for more information about True Light, visit truelightfrc.org.