Shawnee City Council approves fire station final plans, construction costs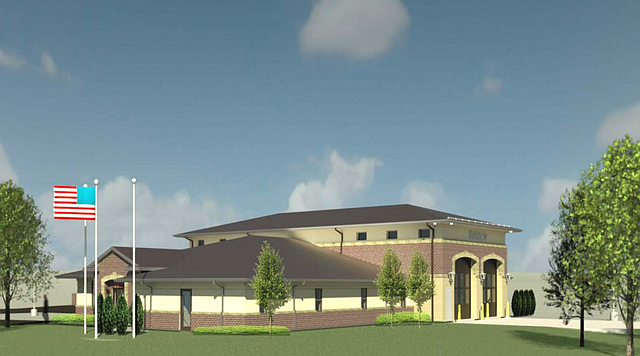 A new fire station is officially underway for western Shawnee.
At its meeting April 23, the city council unanimously approved final plans for Fire Station 74, which will sit at 53rd Street and Woodsonia Drive.
The council also awarded the construction contract for the fire station to McCown Gordon Construction with a guaranteed maximum price of $3.8 million.
The 9,220 square-foot station will include two drive-through apparatus bays; a training room, which will also serve as a community room for neighborhood meetings and a gear storage room, which will double as a safe weather shelter during severe weather.
The exterior of the fire station will feature a seam metal roof, brick, stucco and cast stone, to allow the building to blend seamlessly into surrounding neighborhoods.
The total project cost is $5.8 million.
The price of the fire station has been the source of recent controversy since it was revealed in February the project would be costing $2 million more than originally anticipated.
Two years ago, the city council approved funding for the new station, a fire truck and staff. But back then, the project was estimated to cost $3.6 million in total, with construction costs set at $2.5 million.
At the Feb. 26 council meeting, Shawnee Fire Chief John Mattox informed the governing body the total cost for the project was actually going to be $5.8 million.
He told the council the error happened because he didn't "ask the right questions."
Missing from the original figure were engineering, design elements, furnishings, equipment, additional bunk rooms and site preparation costs.
Additional construction costs were attributed to sitework costs not included in the original budget estimate, an additional 1,420 square feet for the station and the increase in construction costs since the original budget was established.
Earlier in April, Mattox told the Dispatch the city is hoping to open the new station next spring.