Shawnee teacher wins $2,500 grant for school's music department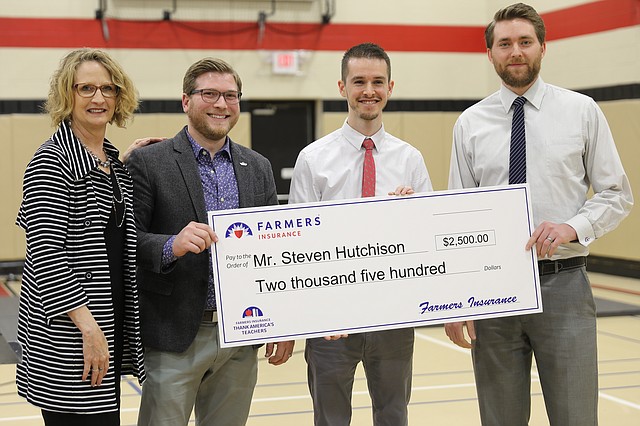 When it comes to a grant awarded to teachers through online votes, one would think the larger the school, the better the advantage.
Well, one small Shawnee school proved size doesn't matter.
On Friday morning, during an all-school assembly at Midland Adventist Academy, music teacher Steven Hutchison was honored with an educational grant of $2,500 as part of Farmers Insurance Thank America's Teachers program.
The popular educator beamed as Farmers Insurance officials handed him a giant check, while excited students cheered him on.
Hutchison was among 60 teachers to recently receive the grant this year; he was the only one from Kansas.
Hundreds of schools from across the nation, many with thousands of students each, competed in the online voting competition.
Midland's enrollment sits just below 150.
Word-of-mouth was the key factor for the small school's win, Hutchison told the Dispatch. Voting stretched beyond students, staff and their families. Many Seventh-day Adventist churches and schools in the region embraced Midland, with the support even stretching to other communities.
At one point, there were at least 500 people voting for the school per day.
Touched by the support, Hutchison told the Dispatch it was a blessing to be part of a community that supports a strong music education for K-12 students.
His grant will be used to build instrument lockers for the school's new music department. Midland is in the midst of fundraising to build a new music center, as lessons are currently held on its gymnasium stage.
"This check is not for me, it's for you," Hutchison told the cheering students during the assembly. "It means a lot to know you support music here and there's people out there who us to have a great music program here."
Standing in the back of the gym, principal Dan Kittle smiled at the scene.
He told the Dispatch the school has already surpassed its fundraising goal, having raised $154,000 so far.
Every penny will go towards giving Midland students the best music department the school can provide.
Construction is expected to begin this summer.
The new space will include practice rooms, a creative lab, and now thanks to Farmers Insurance, safer instrument storage.
Music education is important to the school, as officials strongly believe it helps with brain enhancement.
"We have high school kids composing their own music," Kittle said. "We're very committed to music literacy. We're not music consumers; we encourage students to create it."
And the grant couldn't have been awarded to a more deserving teacher, he added.
Hutchison has helped shape the K-12 school's music program into an impressive entity, with many of the high school students opting to take it as an elective.
Plus, the students love him.
"You can walk into any class and see how much he enjoys teaching these kids," Kittle said. "He connects to every age group."
For more information about the school's renovation, visit musicformidland.com.
Midland Adventist Academy is located at 6915 Maurer Road.