Expanded Shawnee Mission program aims to ease transition into kindergarten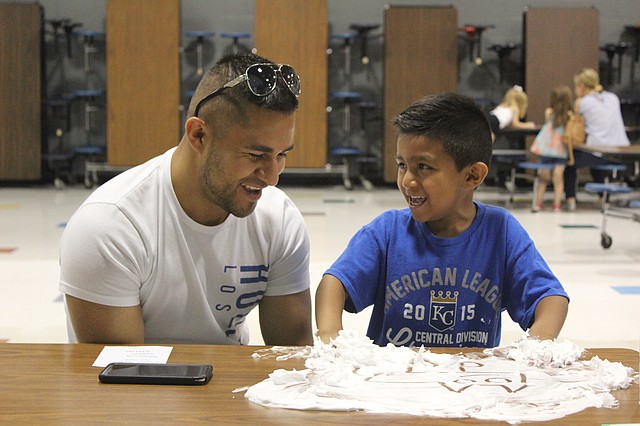 The first day of kindergarten can be confusing and intimidating for young students.
One growing Shawnee Mission School District program is aiming to make that day a little better, however.
At Bluejacket-Flint Elementary School, around 20 students participated in "Jump Start to Learning," a three-week kindergarten prep class held in July.
Activities in the program include literacy, numerals, STEM and school basics, such as raising hands, lining up and walking quietly down the hallway.
The program builds confidence among incoming kindergartners and on the first day of school, it allows them to be classroom leaders.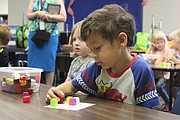 "We're introducing school to these kids in a fun setting," said Katie Heier, a Jump Start for Learning teacher and Bluejacket-Flint fourth grade teacher. "Many of these kids have never been inside a classroom before and in the beginning, you hear a lot of 'I can'ts.' By the time they finish the program, they know how to go through the lunch line and they know how to follow our tornado drills. It's incredible."
She pointed out the program in turn helps kindergarten teachers with the first weeks of school as well.
Jump Start to Learning began in 2014 as a small pilot program at a few schools, serving around 50 kids.
This school year, there were 20 sites participating, with 370 kids enrolled. The expansion was made possible through a $373,000 grant.
The program not only prepares future students for the classroom, but it also shows parents what will be expected of their child throughout the school year.
Once a week, parents are invited to participate in interactive projects.
"We're showing parents how they can expand learning at home," Leigh Anne Neal, Shawnee Mission associate superintendent of early childhood education, said. "Parents are their child's first teacher, so they're very important to their child's learning process. It's also a great way to welcome them to the school community."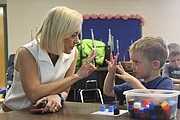 On a Thursday morning, more than a dozen parents swung by Bluejacket-Flint to join in fun learning activities, such as writing letters and names in shaving cream, decorating the letter "S" and an object sorting game.
At one table, 5-year-old Alexander Penaloza drew a cat, dog and even Bluejacket-Flint in shaving cream with his dad, Eddie.
"So far, I can tell he (Alexander) loves it," Eddie said. "He's happy here and he gets along with the other kids and the teacher. He's learning how to pay attention during class and the teacher notices the difference. It's a great program."
At another table, 6-year-old Sedona Cheung played a literacy version of Candyland with her parents and little brother.
Although Sedona will be going straight into kindergarten from preschool, her parents signed her up for the program so she could be familiar with the school building and classroom procedures.
"She's getting comfortable with the school before the craziness of the first day," said Amy Cheung. "It's also been really helpful for all of us (Cheung family) as we transition into a new routine."
Cheung added she is impressed with the program and she hopes to enroll her 4-year-old son, August, in the program the summer before he starts kindergarten.
For more information about the program, visit smsd.org/academics/early-childhood/jump-start.