Monticello Library opens for business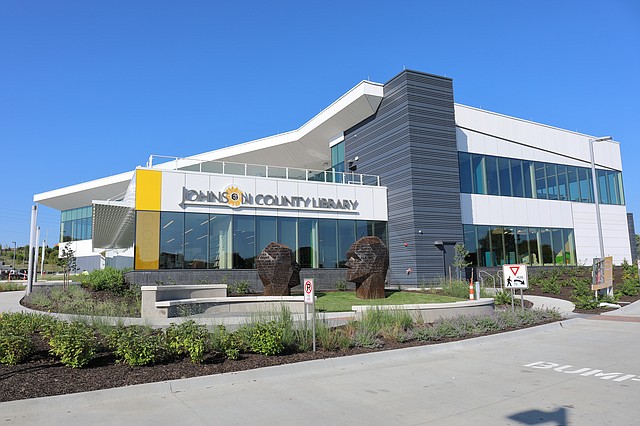 The much-anticipated Monticello Library opened its doors on Sunday afternoon.
Hundreds of people attended the grand opening celebration, which included a Boy Scout flag raising, ribbon-cutting ceremony and remarks from library and community officials.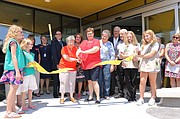 The 30,000 square-foot building in western Shawnee is the first new library in the Johnson County system in nearly 20 years and it is the first new library in Shawnee since 1989.
The new library includes:
A rooftop terrace
A grand central staircase
A colorful, interactive children's area
A book pickup window
Touch screen library catalogs
iMac computers with state-of-the-art software
A large community meeting room
A circular conference room
Seven study rooms
Water bottle filling stations
A flexible floor plan
Modern decor
A variety of unique and comfortable seating options
Monticello Library, 22435 W. 66th St., also has artwork prominently displayed and incorporated into building features.
Most of the design concept was inspired by input from years of public community forums.
It was also designed to grow with the times. Flooring is moldable, to allow for possible room changes.
What do community leaders have to say about the new library?
Former mayor predicts success
"It's a beautiful building, very high tech and a lot of functionality. A lot of the input on design came from the community. People have wanted this library for a long time; it was talked about back when I was mayor (1993-2004).
"I expect this to be one of the most successful branches in Johnson County. Our libraries are heavily used and provide a lot of great resources.
I think my favorite part has to be all the comfy chairs and of course, the rooftop patio."
— Jim Allen, Johnson County Commissioner for District 2 and former Shawnee mayor
Adrian says library is 'more than just books'
"It's a magnificent building, it's breathtaking. There are so many facets, you can tell it was well thought out.
"As a teacher, I really like the learning stairs (grand staircase seating) because those can easily be turned into a classroom setting.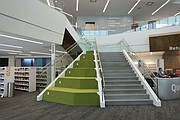 "This building shows that a library isn't just about books anymore. It's a place to study, a place for the community to gather and also a place for people to have access to the internet and software they may not have at home. It's state-of-the-art and it's user-friendly for all types of people, which is awesome.
"It's a great place for people, especially kids, to walk or bike to from their neighborhood.
"In the future, I'm open to looking at ways to make road improvements to help make those pathways more pedestrian and bike friendly."
— Justin Adrian, Shawnee City Council Member for Ward 3
Partnerships led to triumph
"The process has been really fantastic for us, from the city's side. The architecture team was wonderful and the county really worked with all of our residents to come up with what it was going to look like and how it would fit our residents the best.
I think you guys (Johnson County Library) have hit it out of the park.
"I'm excited to use it."
— Stephanie Meyer, Shawnee City Council Member for Ward 3, in her reception speech
Staff embraces community
"We are beyond excited for it to open. It's a true community space and it will be really interesting to see the dynamic created here.
"The definition of a library has changed over the past decade. Books are still a big part of it, but it's role has evolved to be a community meeting space and a place for technology-based information."
— Christian Madrigal, Monticello Library branch manager
Eilert praises design
"It is really a highly attractive and highly functional facility. I think everyone involved did an amazing job on the design. There is a lot of natural light and a lot of openness.
"There are a lot of people here today (for the opening), which speaks a lot about the community."
— Ed Eilert, Johnson County Commission Chair