Three Shawnee natives begin quest for Jr.
NBA

World Championship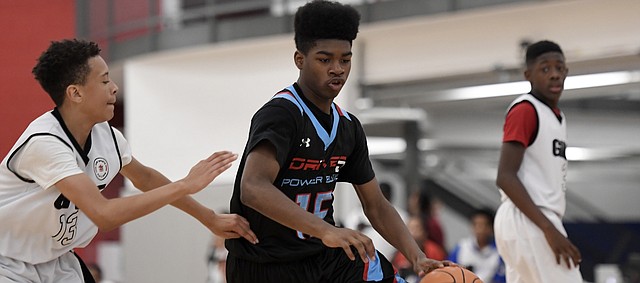 The game of basketball has sent Shawnee natives Damar'e Smith, Adrian Dimond and Gabi Henderson-Artis all over the nation at a young age, and they haven't taken that for granted.
Their final tournament before they start their respective high school careers will take them to a magical place. Smith and Dimond will suit up for Drive5 Power Elite one last time, while Henderson-Artis will play in her final tournament with KC Prodigy, as both teams are in action this week in the Jr. NBA World Championships at the ESPN Wide World of Sports in Orlando.
"Pretty excited," Dimond, who will be a freshman at Mill Valley, said. "We have to get used to the shot clock and all of the rules and stuff, but I feel like we'll get used to it pretty quickly and be fine with it."
Dimond and Smith helped Drive5 Power Elite advance to the Jr. NBA World Championships with a 76-27 win on June 10 at Sports Pavilion Lawrence in the Jr. NBA Central Regional championship game. Drive5 Power Elite was one of eight regional champions in the United States. The eight regional champs from the U.S. will be joined by champions from Canada, Mexico, India, Europe, Africa & Middle East, South America, Asia and China in the 16-team boys tournament.
"It is very exciting because it's the inaugural event and to have the opportunity to be able to go down there. It's certainly something special, especially for this group because they've been such a special group to coach over the course of the years," Drive5 Power Elite coach Allen Skeens said. "This is our fourth year. I've had them since they were fifth graders.
"In my program that I run, I only have grades fifth through eighth so they'll be graduating from my program. Most of the time we finish their careers off at MAYB nationals. That's where my three younger teams will be playing next weekend. Instead of playing for a national championship, they have an opportunity to play for a world championship. I'm very happy for them and their families because they've worked really hard to put themselves in position to have this opportunity."
Also on Drive5 Power Elite with Smith and Dimond are Jordan Brown (Lansing), Quinton Conley (Kansas City, Mo), Gradey Dick (Wichita), Mozae Downing-Rivers (Lawrence), Cooper Jackson (Overland Park), Taj Manning (Grandview, Mo.), Mark Mitchell Jr. (Lansing) and Aidan Shaw (Overland Park).
"The summer has been very good," Smith, who will be a freshman at Shawnee Mission Northwest, said. "We've played some great teams and we've beat a lot of good teams. We've just been playing well with each other."
Smith and Skeens also have a special bond outside of Drive5 Power Elite. Skeens' son Logan is on the SM Northwest basketball team, and the Drive5 Power Elite coach is excited to see Smith try to earn some playing time in the backcourt with the junior guard.
"Damar'e is going to be a great fit there," Skeens said. "We really are in the need of someone to be a point guard and run the show for us there at Northwest and I think coach (Mike) Rose and coach (Keith) Smith and coach (Anthony) Stubenrauch have been very happy with what they've seen out of Damar'e because he's shown the ability to be a leader and the ability to handle the ball and get them in their sets and run what they're trying to get accomplished on the offensive end. We only play man-to-man defense over here at Drive5 Power Elite, so he knows how to guard and high school coaches always appreciate that."
Smith has been a mainstay in Skeens' lineup after playing with Drive5 Power Elite for the past four years. Dimond on the other hand is one of the newer members on the Drive5 Power Elite squad. While Skeens hasn't had as much time to work with Dimond, he's excited to track progress of the Mill Valley freshman in high school and AAU ball.
"You talk about a kid with a lot of upside and potential, he's really going to be an exceptional high school basketball player. When his body catches up with his skill set he's going to cause some problems for some people," Skeens said. "People around the Sunflower League might remember my son Brady that played at (Shawnee Mission) Northwest. He reminds me a lot of him because just at that age physically he wasn't the most demanding player.
"He was skinny and just hadn't put on a lot of weight. He just hadn't matured physically, but he had the tools and pay his dues and the time would come. That's what it will do for Adrian because he's another hard worker that wants to get better and wants to improve. The Mill Valley folks are going to be very happy with him out there."
Drive5 Power Elite began pool play at 12:30 p.m. eastern time today against the Northeast Regional champions. The game will be broadcast on Bleacher Report Live. They will then turn their attention to the West Regional champions (2:15 p.m. eastern time Wednesday on Bleacher Report Live) and Southeast Regional champions (8:05 p.m. eastern time Wednesday, televised on FS1). Bracket play will begin Thursday. The semifinals are set for Saturday, followed by the championship game on Sunday.
Henderson-Artis and KC Prodigy earned a spot at the Jr. NBA World Championships with a 75-15 win over Wheat State Elite in the girls central regional title game on June 10 at Sports Pavilion Lawrence. Joining Henderson-Artis on the KC Prodigy squad at the Jr. NBA World Championships are Sania Copeland (Kansas City, Kan.), Tasia Johnson (Greenwood, Mo.), S'mya Nichols (Overland Park), Brooklyn Rhodes (St. Louis, Mo.), Tiyani Rollins (Kansas City, Mo.), Saniya Simmons (Kansas City, Kan.) and Cierra Smith (Grandview, Mo.).
"I'm really excited about going down there and having the chance to share the court with my closest friends," Henderson-Artis, who will be a freshman at Bishop Miege, said. "We have a lot of history. We just know each other a lot and know what our strengths and skills are."
The Jr. NBA World Championships will serve as an exciting end to what has been a summer full of basketball for Henderson-Artis. The future Miege freshman competed in tournaments Kentucky, Chicago, New Orleans and Dallas. Winning the Run 4 Roses in Kentucky and playing at the Nike Nationals tournament in Chicago have been two of Henderson-Artis' favorite memories on the hardwood from this summer.
"Our team plays up (an age division)," Henderson-Artis said. "It was really fun to take as many W's as we did. It's just fun playing with them."
The pool play schedule for the girls tournament will be similar to that of the boys. KC Prodigy will play the Southeast Regional champions at 6:45 p.m. tonight on Bleacher Report Live before squaring off against the West Regional champions (2:15 p.m. eastern time Wednesday) and Northeast Regional champions (6 p.m. eastern time Wednesday) to round out pool play. Both games today will be broadcast on Bleacher Report Live. Bracket play for the girls will begin on Friday, followed by the semifinals on Saturday and championship game on Sunday.
For Smith and Henderson-Artis, their skills will be on display in another portion of the Jr. NBA World Championships as well. Smith will represent Drive5 Power Elite in the skills competition, while Henderson-Artis will compete for KC Prodigy in the 3-point contest. Some of the best to ever play the game will be on hand over the course of the inaugural event. Smith, Henderson-Artis and Dimond will get a chance to meet NBA stars such as Dwyane Wade, Andre Drummond, Vince Carter and Brook Lopez; former NBA great Grant Hill and WNBA legends Tamika Catchings, Swin Cash and Jennifer Azzi.
"I'm looking forward to competing against teams from other countries and the 3-point contest," Henderson- Artis said. "That should be fun. And meeting some of the NBA and WNBA players."
With Henderson-Artis' ability to shoot it from long range, it should come to no surprise that her favorite NBA player is Golden State Warriors shooting guard Klay Thompson. Henderson- Artis enjoys bringing intensity to the defensive end as well.
"I can shoot very well and I'm pretty good at defense in the post," Henderson-Artis said. "I'm really long, so I can block people."
With the ESPN Wide World of Sports being located in Disney World, players will have some free time over the course of the week to have fun off of the court. Both Kansas City area teams are maintaining the same sense of focus that led them to the Jr. NBA World Championships, but the coaches want to make sure that their players enjoy the whole experience of the trip.
"It's going to be challenging in a sense that there are certainly going to be a lot of other activities to do for them. We want them to actually enjoy the experience. It's a once-in-a-lifetime opportunity," Skeens said. "Basketball is such a small part of it all. It's really about the relationships and the memories and the experiences, but from a basketball standpoint we'll just preach to them what they've done since they started with me in fifth grade and that's to play for each other, play unselfishly, share the ball, defend the heck out of it, rebound, play hard, compete and show a high effort level. If you do all of those things and have fun, then it's going to translate into some success no matter what the score is at the end of the game."
The central region that Drive5 Power Elite and KC Prodigy won encompassed the states of Colorado, Iowa, Kansas, Minnesota, Missouri, Nebraska, North Dakota and South Dakota. For both regional champions to come out of Kansas City meant a lot to the players and coaches on both teams.
"We're just excited. We're excited to go down there and represent Drive5 Power Elite and represent Kansas City and the state of Kansas and the United States of America," Skeens said. "It's not very often that you get the chance to play for a world championship and we don't take that opportunity lightly. We're going to enjoy every minute of the process. It's a great way for me to end their (Drive5 Power Elite) careers with this special group of kids that I've been blessed to work with."
More like this story