Mill Valley community shows support for Nolan Sprague after diving accident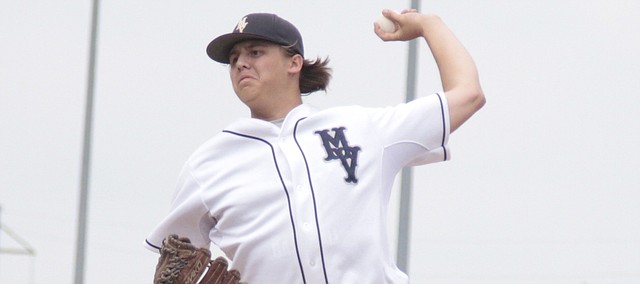 The Mill Valley community has rallied around one of its students following a tragedy that occurred on Thursday night.
Nolan Sprague, who is a pitcher on the Mill Valley baseball team, is paralyzed from the chest down after breaking his neck in a diving accident.
"Both Nolan and his family are very, very well thought of. The Mill Valley community and of course the entire baseball community in Johnson County — a lot of people know them (the Sprague family)," Mill Valley baseball coach Jeff Strickland said in a phone interview. "They know the good things that they have done for years now. We're all hoping to help them out now."
Support for Sprague and his family has poured in in a big way via a GoFundMe page that was created by Jennifer Smith. As of 6:30 p.m. Saturday, more than $75,000 had been raised.
"Friends and family, it is with with great sadness that we are having to create this gofundme. Nolan Sprague was in a diving accident and broke his neck," Smith wrote in the bio. "He is paralyzed from the chest down and his chances of ever walking again have been said to be low. Nolan and his family are the most generous and giving family and will do anything to help anyone.
"It is our time to help them out. He is currently in surgery and will need a lot of medical and financial help. If you are able to help donate it would be greatly appreciated. Words cannot describe what the family is going through right now. Nolan and his family will need many prayers, positive thoughts, and of course money going forward to get through this. Thank you so much!"
Strickland and parents on the baseball team have also organized a T-shirt fundraiser, which is scheduled from 5-6 p.m. Wednesday in the senior cafe at MVHS. The #ForNolan34 T-shirts will be sold for $20, and additional donations will be accepted. All proceeds will go directly to the Sprague family. The Mill Valley baseball coach also encouraged people to bring gift cards, gas cards, nonperishable foods, bottled water and magazines for the Sprague family.
"The biggest thing now is not only helping Nolan, Kevin and Carmen and them, but even our baseball kids," Strickland said. "They're such a tight group of seniors. That will be our next things is to make sure that we're looking out for all of the boys."