Shawnee community center discussion moves forward
Details regarding amenities, price emerge from design consultants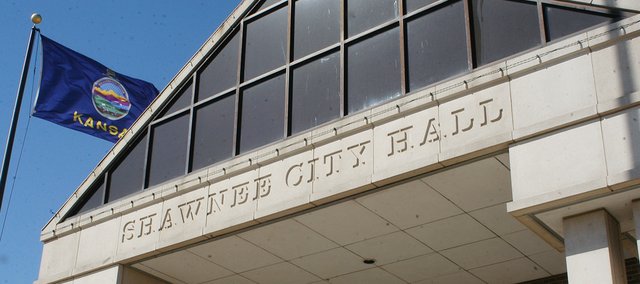 A community center has been on the city of Shawnee's wish list for well over a decade, and now, the dream is becoming a little more concrete.
At the council committee meeting on Aug. 7, consultants from Perkins+Will offered the governing body a detailed picture of what such a community center may look like.
After months of conducting surveys, public forums and in-depth research, the consultants pieced together a facility encompassing the most desired amenities among Shawnee residents.
Their proposal states an ideal Shawnee community center would feature:
A warm water leisure pool with lap lanes
A multi-activity two-court gymnasium
A turf fieldhouse
A fitness center with rooftop exercise deck
A group exercise studio
Multi-purpose classrooms
Lobby/lounge/reception area
Locker rooms with family changing rooms
Consultants added the council would also have the option to add a six-lane or eight-lane 25-yard lap pool as well.
Such a state-of-the-art facility comes with a considerable price tag, however. Consultants estimated the 63,000 square-foot facility would cost roughly $34.6 million.
Adding a six-lane 25-yard lap pool would cost an additional $5.6 million; an eight-lane one would cost an extra $7 million.
Financing of the community center would be left in the hands of Shawnee citizens.
The city plans to build and maintain the facility using revenue from a proposed mill levy increase, which would be voted on during a spring ballot question, whether by in-person or by mail.
According to a survey conducted by Perkins+Will, there is a good level of support for a mill levy increase to fund the project.
Forty-eight percent of respondents said they would vote for the increase, with 18 percent stating they might be in favor.
The survey, which generated 543 responses, had been mailed to a random sample of households in Shawnee.
As for where the facility will be located, the city already has a site picked out.
The future community center is set to be built at 61st and Woodland.
In 2005, the city purchased 26.3 acres of land at the site for a community center location, but the recession put those plans on the backburner.
The proposed site, with its picturesque landscape, is located near Mid-America Sports Complex, the Kansas City Ice Center and Pavilion and popular trails.
Councilmembers speak out
Members of the governing body agreed they want to keep discussions on the community center moving forward and continue the city's relationship with the design team.
Several of them expressed interest in the addition of a lap pool, but agreed they wanted more information on how the increase in price would affect the mill levy increase.
They were also interested in pursuing a possible partnership with the De Soto School District for the aquatic component of the project.
They agreed to put the mill levy increase on an April ballot, but remain unsure if voting would be done in-person or by mail-in.
Councilwoman Stephanie Meyer said she is thrilled the city is pursuing the project because the number one question she hears from residents in Ward Three is "what's happening with the community center?"
"I think this programming looks great and I'm excited to take the next step to let the voters weigh in," she said.
But one councilmember did have major concerns.
Councilman Eric Jenkins, who represents Ward Two, pointed out that his constituents face the most disadvantages when it comes to the proposed community center.
The average income for his ward is $53,411. Meanwhile, the average income for Ward Three is $107,732, the average income for Ward Four is $78,719 and for Ward One it is $93,908.
Plus, Ward Two is located the farthest away from the proposed community center site.
Jenkins said he worries an increase in the mill levy would put more financial burden on residents, especially the elderly, living in his ward.
While going door-to-door, he said some residents are telling him they might have to sell their home because they can no longer afford their property taxes.
"So, what's the breaking point?" he asked. "What do we do when we're in the situation where people can no longer afford to stay in their homes and we're causing that kind of problem for them? It's something I'm having to grapple with.
"As much as I might like a community center—it's gorgeous and it has a lot of neat stuff—you have to be able to pay for it a way where folks aren't hurt by it."
He also emphasized that a community center is a want for a city, not a need.
"It's a beautiful facility and it would make a lot of folks happy, but it isn't a need," Jenkins said. "Every year during the budget process, we look at needs and try to cover those needs and we struggle to cover unmet needs."
Meyer, however, pressed that funding the community center was not an either-or situation with other city projects.
"We have a courthouse sales tax that's going to address public safety needs, we're spending more on our roads than we ever have before (and) I personally don't view parks and recreation as an amenity," she said. "I think it is every bit as important as every other city service. It is a competitive advantage for us; it is something our residents expect and something they look for."
Councilwoman Lindsey Constance agreed with Meyer, saying she views parks and recreation projects as more than amenities because they attract businesses and improve public safety by giving kids a healthy pastime.
She also added she hoped there would be scholarships available to Shawnee families who could not afford community center membership fees, yet wanted to join the facility.
In response to Jenkins, Councilman Mickey Sandifer pointed out that during his 14-year tenure on the governing body, one of the main questions he gets asked is, "When are we going to get that (community) center built?"
And in the end, the decision will come down to the voters.
"If majority of the city wants to vote in a tax to build something like that, I don't believe it's my position to tell the majority 'no you can't have it because there's a certain amount of people who don't want it or don't think they could afford it,'" he said. "It's up to the people and everybody else will just have to deal with it. We're a democracy here. It's not my decision to spend $30-40 million. It's up to the people."
Correction: An earlier version of this story stated voting would take place during the Spring 2019 election. It has been amended to state it will take place during a special spring ballot question.