Shawnee Mission welcomes new superintendent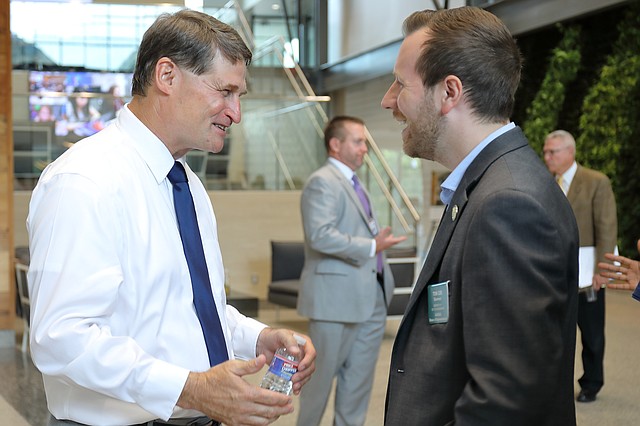 It's not easy being the new kid in school.
It's also not easy being the new superintendent.
But Mike Fulton is looking forward to the challenge.
During an open house last week at the Center for Academic Achievement, the new superintendent for the Shawnee Mission School District was all smiles for every person who greeted him.
"There are a lot of great people in this wonderful community," he told the Dispatch. "The district has a caring staff and great kids. I'm looking forward to meeting more people."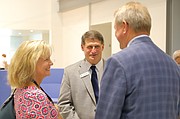 Fulton is now the eighth superintendent for the district and he takes over the role from Dr. Kenny Southwick who served the position temporarily until it was filled.
Former superintendent Jim Hinson retired last spring to spend more time with his family.
Fulton comes to the position with considerable experience and accolade.
He had previously served in the Pattonville School District for 23 years, the past 11 as superintendent.
Prior to Pattonville, Fulton taught middle school and served as assessment coordinator in the School District of Clayton in Missouri.
He began his teaching career in Bloomington District 87 in Illinois where he taught fifth and sixth grades.
Fulton has education degrees from Southwest Missouri State University (B.S.), Illinois State University (M.S.) and Saint Louis University (Ed.D).
He is married with four grown children.
During Fulton's time in Pattonville, the district has evolved into one of the most diverse school districts in Missouri and the nation.
As diversity grew, so too did the district's academic performance, leading the St. Louis Post Dispatch to recognize Pattonville as a district that "beats the odds" on state test scores.
"We are genuinely excited for Dr. Fulton," said Patty Mach, a Shawnee Mission school board member who represents the Northwest area. "He is truly about wanting the best for kids and he always brings everything back to learning. He's bringing the district in a new direction, but also furthering our vision of excellence using his own methodology."
She told the Dispatch the new superintendent's affable nature will serve the district well.
"He has a ready smile and you can tell he's eager for the challenge," Mach said. "He lights up with everyone he's around, especially students, and that's what you want for a leader in education."
Her sentiment was echoed by Johnson County Commission Chairman Ed Eilert, who added that Fulton brings valuable skills which will serve the district well.
"He's met with most mayors in the district and he's open to working with local government, so that's great," he said. "One of the strengths of Johnson County is the good schools we have. We're very fortunate."
Interested in meeting Fulton? He'll be holding informal meet-and-greets at each Shawnee Mission high school.
From 5 to 7 p.m. on Sept. 17, he will be at SM Northwest High School, 12701 W. 67th St.
From 5 to 7 pm. On Sept. 25, he will be at SM North High School, 7401 Johnson Drive.