Lenexa man killed in wrong-way crash on Interstate 435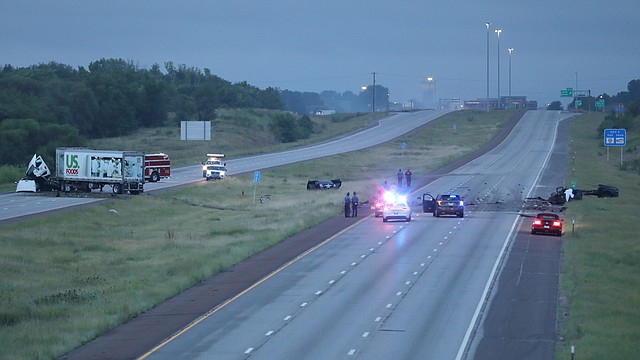 The Kansas Highway Patrol says a Lenexa man was driving on the wrong side of Interstate 435 when his truck was hit by a tandem tractor-trailer early Wednesday.
The crash happened about 4 a.m. in the southbound lanes of I-435 just south of the 79th Street overpass.
Troopers say 29-year-old, Tyler S. Burrows of Lenexa was behind the wheel of a 2001 Ford F-150 which was parked on the shoulder of southbound I-435, facing northbound.
"For unknown reason vehicle 1 [Burrows' F-150] drove into the lanes of traffic and struck vehicle 2 [a 2016 Freightliner semi with two trailers] head-on in the southbound lanes," the Highway Patrol's crash log says.
The crash caused the tractor-trailer to cross through the median, coming to a stop, jackknifed and blocking all lanes of northbound I-435.
A third vehicle, a 2012 Nissan Altima, was hit by debris from the initial collision and came to a stop in the median.
Troopers have identified the driver of the tandem tractor-trailer as a 31-year-old Harrisonville, Missouri man. The driver of the Altima was a 19-year-old Olathe man. A passenger in the Altima was a 17-year-old male from Newton, Kansas.
The Highway Patrol's crash log states that everyone involved in the crash was wearing their seat belt when the crash occurred and no one else was seriously injured.
Police from Lenexa and Shawnee closed all lanes of Interstate 435 between Shawnee Mission Parkway and 87th Street.
The southbound lanes of the interstate reopened just after 10 a.m. and the northbound lanes reopened about an hour later.
Troopers say the northbound lanes took longer to clean up due to a fuel spill from the damaged tractor trailer.
---
Operation 100 News provides overnight news coverage for the Shawnee Dispatch. Follow on Twitter for real-time updates.