SMN

football players show support for "Super Bo"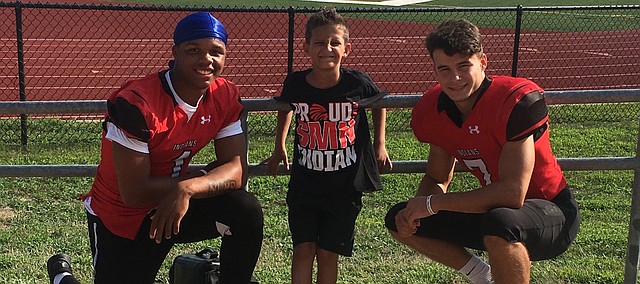 OVERLAND PARK — Whenever Shawnee Mission North senior Noah Laird has ran out on the football field over the past year, he's had much more than his personal or the Indians' team goals in his mind.
One of the purposes Laird plays for is supporting 8-year-old Bo Macan, who has a condition so rare that it is labeled as "Bo Syndrome" by the National Institutes of Health.
Laird has realized that the obstacles he faces on the gridiron pale in comparison to the complications Macan deals with as he battles rheumatoid arthritis, Type I diabetes, epilepsy and growth hormone deficiency — all ailments of his condition.
For the second straight year, Laird has set up a "Yards for Super Bo" Facebook page so Macan can benefit from his success on the field. Laird will post on the Facebook page prior to each game, and is asking people to donate to a PayPal account that supports Macan's medical needs.
Laird and SM North alumnus Reese Sila launched "Yards for Super Bo" last season. Senior Billy Conaway is stepping in for Sila for the 2018 campaign.
The way "Yards for Super Bo" works is that people are asked to donate an amount of their choice for X-amount of yards, touchdowns or tackles racked up by Laird or Conaway (ex: $1 for every 10 yards). Laird and Conaway will then post their stats the next day on the Facebook page so people know how much to donate. Laird said donations are made on the honor's system.
"Just to give back to the community and just to help him out," Laird said. "Just to do what I can on the field to help someone out."
It meant a great deal to Carolyn Macan, Bo's mother, when Laird and Sila supported her son with the fundraiser last year. With Sila continuing his football career at Ottawa this fall, Carolyn wasn't sure if "Yards for Super Bo" would continue for the 2018 season, but Laird had no plans of discontinuing it.
"When he (Laird) called me again, I was surprised because they do it for one year and you're like, 'Oh, OK.' But then for them to want to do it again for his senior year is pretty cool," Carolyn said. "This community is pretty amazing."
While Laird and Conaway are the only players participating in "Yards for Super Bo," the 8-year-old has the full support of the entire SM North football program.
"It really kind of puts things into perspective. You've got a great young man like Bo who is able to get up and go through the adversity that he goes through," SM North football coach Zach Rampy said. "When our guys are complaining that they're hot or tired from lifting weights, they kind of use Bo as an inspiration to push through the tough times because he's a warrior."
Rampy added, "It's his spirit and his energy and enthusiasm for life is contagious. You get around that and you can see that it's really hard to keep that kid down. If I could take his heart and put it in every single one of our kids, we'd be a really good football team."
Along with preparing for his first season as the head football coach, Rampy served as a sub-varsity coach for several other SM North sports teams last school year. Rampy served as the JV softball coach last spring, so the Macan family was able to build a relationship with since Carolyn's oldest daughter, Leksi Macan, is the Indians varsity center fielder.
"It's just so cool and I'm so grateful for them (SM North football players)," Carolyn said. "Rampy is awesome. He's young and excited and he's wanted to be a part of it (supporting Bo)."
The Indians will open the season at 7 p.m. Friday with a home game against Shawnee Mission South.