Shawnee church strives to 'connect, commit and create' using modern flair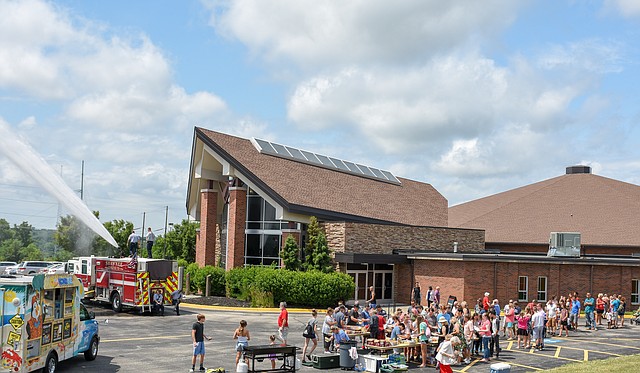 This isn't your grandma's church.
On Sunday mornings, Cross Points Church features a full live band playing contemporary music, with exciting video and lighting elements.
Sermons are practical and applicable.
"When you come here, you'll hear something that will apply to your life whether you're a Christian or not," said David Jones, lead pastor. "We want to draw people closer to God in a way that affects their lives in a positive way."
He pointed out the church has three main goals:
"We try to connect people to Jesus because we believe Jesus is the hope of the world."
"We challenge people to commit to each other because no one should go through life alone."
"We believe God has a purpose for you and wants to create through you."
The non-denominational church was founded by a few families in 1966 as Full Faith Church of Love in a Kansas City, Kan. basement.
In 1980, it moved to its current location at 6824 Lackman Rd.
In 2006, the church changed its name to Cross Points.
Jones has been the lead pastor at the church for six years, but his history with Cross Points dates back to the early 1970s when his family joined the then-small congregation.
Now on a typical Sunday morning, Cross Points draws around 600 parishioners.
"Cross Points is a great place for people who have questions about faith to come here and ask questions without the fear of judgement," Jones said. "That's a big deal."
The church is also active in the community.
Church members volunteer for Shawnee Community Services by organizing food drives and helping out with its Christmas carnival.
Cross Points also partners with the Shawnee Mission School District for its "Caring for Kids" program, in which church members mentor and tutor kids at a nearby elementary school.
Plus, one of the Cross Points pastors serves as the Fire Chaplain for the City of Shawnee.
One of its newest ventures is church planting, in which a group of Cross Point volunteers identify a pastor who wants to start a new church and also identify a community who wants to embark on the same journey.
So far, it has planted two churches in the Shawnee area and hopes to plant more in upcoming years.
The churches are independent of Cross Points, but remain part of its network.
"When you plant churches in the community, each one has a different need," Jones said. "They need a pastor and outreach specific to them. But they're still connected to us through events we do together. It's the best of both worlds."
For more information about Cross Points Church, go to crosspointschurch.com. Or, visit them on Facebook or Instagram using "CrosspointsKC."