Thinking Out Loud: Proposed community center is luxury city can't afford
Thirty-four million dollars is a large sum of money.
While I don't personally have millions of dollars, collectively we as a community do.
As I read the recent article about the city of Shawnee wanting to spend this amount ($34.6 million) to build a new community center and indoor pool, my mind drifted to all the things that much money could buy.
For reference purposes, the budget for the City of Shawnee totaled $73,668,114.00 in 2017.
Thirty-four million dollars is more than the city spends on any one category in a given year, yet this amount is being considered for a single purchase.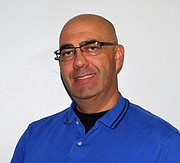 Can you think of anything $34.6 million could improve in your daily life as a resident of Shawnee?
While someone may be able to find creative ways of spreading out the cost of building the new facility over time, residents will continue to pay long after the facility is completed because of operating costs such as staffing and maintenance.
My first thought is, why do we need it?
The short answer is we don't.
We already have the Shawnee Civic Centre where there is a gym. There are also classrooms available for public use.
While the facility may not be fancy, it works.
There are already low cost fitness centers in the area too.
The thought of going for a swim on a cool winter evening sounds enticing, but a new indoor pool is far from something the majority of city residents will use.
Regardless of whether we use it or not, everyone will have to pay for it.
Residents should be greatly concerned about the city wanting to raise the mill levy to cover a project that is purely luxury. We simply can't afford this right now.
If we want to complete a project of this scale, perhaps we should look at other financing options such as a partnership with private corporations or a combined city/county facility.
It might also be feasible to rework the project into something which would generate more public support through better inclusion of those who might use it.
Perhaps we should consider adding a mixed-use facility similar to what the city of Lenexa has done with their City Center.

An updated farmer's market, a space for local artists or a concert venue would be a much bigger draw that just a pool and fitness center. They would also be much cheaper.
City community centers are generally not profit generators.
New ideas need to be discussed to make it profitable so tax payers won't carry the burden.
-Marty Augustine is a Shawnee-based writer. Follow Marty on Facebook for more random thoughts: Facebook.com/MartyNews.