Shawnee Christian school co-founder charged with child sex crimes; police seek more victims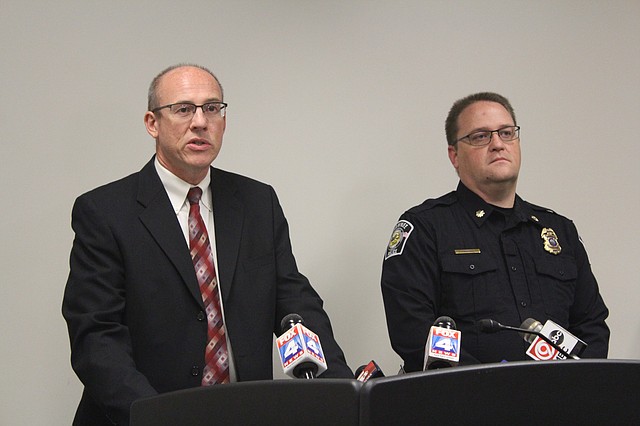 The co-founder and administrator of a Christian school in Shawnee has been charged with child sex abuse—and investigators believe there could be more victims.
Forty-eight-year-old Dennis Creason, of Bonner Springs, was charged Thursday with three counts of aggravated indecent liberties with a child. The crimes are alleged to have occurred from January 2015 to August 2018.
During a press conference Friday afternoon, Johnson County District Attorney Steve Howe told reporters that his office, along with the Shawnee Police Department, are asking parents of potential other victims to come forward.
"Based on the current investigation and the information we've received, we feel in good faith there is reliable information there are potentially other victims," he said.
He added, "We think this is a very serious matter. The Shawnee Police Department is working really hard to make contact with any other potential victims out there and we're hoping...we can determine how many victims are out there and be able to provide them with the justice they should receive."
He is encouraging parents of children who have attended Oaklawn Christian School, either now or in the past, to call the Shawnee Police Department if one of the following scenarios has occurred:
Your child has disclosed inappropriate behavior while being at the school.
If you've noticed there has been a change of behavior in your child, because that could be a sign of potential abuse.
If your child now, or in the future, discloses that inappropriate behavior has occurred. Howe said in this case, do not conduct a full interview with your child. For the integrity of the investigation, he encourages parents to allow their child to discuss the matter with professionals after contacting the police.
Parents who have any information are asked to call the Shawnee Police Department at 913-742-6685 or email crimetips@cityofshawnee.org. Please provide your name and contact information so an investigator can follow up.
When asked by a reporter if there have been concerns brought up about Creason in the past, Howe replied, "I can't really talk about some of the details of the case, but I can tell you as soon as the Shawnee Police Department became aware of these issues, they moved very quickly, along with our office, to make sure we prevent future victimization. Whether there were prior incidents in the past, I'm not prepared to disclose that information. Once we became aware of this and the scope of it, we immediately moved on it."
Bond for Creason is set at $1 million.
As for Oaklawn Christian School, it's future remains unclear. The school's website is currently down. The school has not yet issued a statement.
Creason founded Oaklawn Christian School with his wife. The school serves pre-K through sixth grade students, with a focus on art, music, and nature-based programs.
More like this story