SMNW

freshman wrestler garners decisive pin, lifts Cougars to senior night victory over

BV

West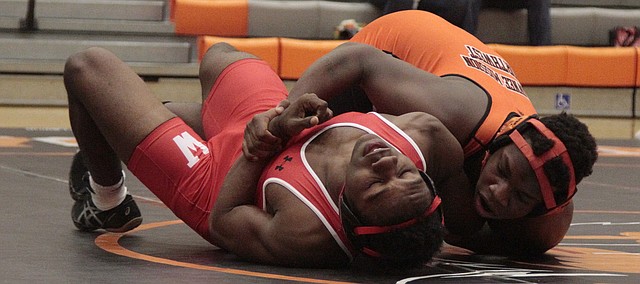 On a night that Shawnee Mission Northwest senior wrestlers Andres Aguirre Caceras, Dominique Brooks, Julian Gutierrez and Jerad Habben were recognized in their final home dual, it was a freshman that came through with a decisive pin for the Cougars to secure a 38-36 victory over Blue Valley West on Wednesday.
With the Cougars trailing, 30-26, heading into the 182-pound match, all of the pressure was put on Alvin Horner to win the dual for the Cougars. Horner had to win by fall or tech fall in order to push the Cougars past the Jaguars since SM Northwest was forfeiting at 195 pounds, BV West was forfeiting at 285 pounds and both were open at 220 pounds.
Horner faced an 8-3 deficit against BV West's Ben Perez early in the second period after being taken down four times. As the SM Northwest freshman was looking for another escape point to get back to the neutral position, Horner was illegally hit on the side of the face by Perez. Horner remained down for a few seconds, but after recollecting himself he wrestled with a chip on his shoulder.
"He made me mad, and I like to take my anger out on the mat," Horner said.
That anger fueled Horner to get a reversal and eventually a pin later in the period to win his match and the dual for the Cougars. Horner was then presented the Cougars' pin chain, which is passed along each time someone wins by fall. It's a trend that several wrestling teams have started this season — mimicking the University of Miami football team's turnover chain.
"A lot of freshman would back down. It seemed to motivate him. Maybe I need to slap him in the face a few times before he goes out there and starts," SM Northwest coach Howard Newcomb said jokingly. "Let's get him started early."
Horner, Habben, Gutierrez and Caleb Rosebaugh all won by fall to lead the Cougars. Charles Brockmann and Gabe Arreguin also had their hands raised at the conclusion of their matches. Brockmann notched a crucial take down with 4.5 seconds left in the third period to win by tech fall, 23-8. Arreguin's persistence also paid off in his 5-2 win by decision. Arreguin earned a near fall in the closing seconds of the first period to take a 4-0 lead into the second, and never trailed.
Gutierrez' pin gave the Cougars a 26-12 lead at the halfway point of the dual, but the Jaguars rallied with three consecutive wins by fall at 152, 160 and 170 pounds to go up 30-26 before the match between Horner and Perez. The clutch performance by the freshman 182-pounder made his teammates proud.
"He was down and he just got hit in the face and all of a sudden he came out of nowhere and pinned this kid," said Habben of Horner. "It was crazy. It showed a lot of team pride in that we aren't going to give up even if we do have holes in our lineup."
Horner mentioned Habben as one of the wrestlers that he looks up to the most as he starts to gain more experience. Habben's win by fall over John Wills was the 94th pin of his career. The SM Northwest all-time pins leader has his eyes set on getting to 100 before his high school career comes to an end, but he has a bigger goal in mind as well.
"It's pretty exciting. I really want to get 100, but the main goal is to win state," Habben said. "Being fifth in all-class and winning a lot of matches that I wouldn't have won last year, that makes me feel a lot better. My confidence is up right now and I plan on winning out."
Along with striving to do his best on the mat in order to achieve his personal goals, Jerad has made it a point to set a positive example for his younger brother, Jordan Habben — who is an eighth grader at Trailridge — and the other up-and-coming SM Northwest wrestlers. Newcomb said that Habben's mentality has rubbed off on the rest of the team.
"He's been super-motivated and he's got his goals in mind," Newcomb said. "It's really nice to see that kind of maturity and it's fun when you see it happen."
Habben acknowledged that the sport of wrestling has helped prepare him for his post-high school plans, too. The SM Northwest 132-pound plans to attend the United States Coast Guard Academy prep school or the U.S. Naval Academy.
"I'm really excited. I'm going to get put into basic training in July, so it's coming up pretty fast," Habben said. "I just want to be a part of something bigger than myself. I feel like that's the best way for me to do it. I think it's made me mentally tough to be in the military. Obviously it's not going to be a breeze, but mentally, wrestling has prepared me a ton to be in the military."
While Habben plans to serve his country, Caceres is planning to return to his native country after the school year ends. Caceres — a foreign exchange student from Spain — lost his match, but has enjoyed his experience on the SM Northwest wrestling team.
"It's been a really tough experience, but it's something I would really recommend if you are a foreign exchange student in high school. Trying new sports is what makes you meet people and enjoy your whole year," Caceres said. "Trying this specific sport, wrestling, it has helped me at getting in better shape. Learning new sports and having new experiences, I think they're going to help me in the future like maybe for my kids or something. I really recommend this. It's one of the best things you can do if you are from a foreign country."
Caceres has lived with host parents Michael and Elaine Septer, and has felt like he's had a home away from home during his short time at SM Northwest.
"I think this probably is one of the best things to happen to me. At this school, I think that people are awesome (and) very nice. They help all the time," Caceres said. "They are curious and they ask questions. It's a really nice place to be.
"I'm happy that I'm here at this school and I really feel the colors and everything. I'm really happy and the experience has been awesome with all of the people, sports, things, food, everything. It's awesome."
As Caceres try outs for the SM Northwest baseball team this spring, Gutierrez will round out his high school athletic career on the track before taking his talents to Missouri Western State. Gutierrez has wrestled for the last four years at SM Northwest, but his biggest achievements have come on the track. The SM Northwest senior was a part of the Cougars' all-state and all-league 4x400-meter relay team last spring.
"I'm really excited. I'm just really excited to see what's going to happen in the future because track is such an amazing sport," the Missouri Western State track and field signee said. "It's really fun. I've enjoyed all four years I've done it and it's something I want to keep doing."
Gutierrez' foot speed from track has helped him on the mat as well. He was able to use his quickness to pin Henry Broussard in the first period, which is a moment he'll always treasure.
"That's something I'm going to carry for the rest of my life to be honest," Gutierrez said. "From the very beginning when we started warmups and even before warmups, all day I was just thinking about like, 'I've got to win tonight. This is the last home dual. I've got to get it.'"
While the win on senior night was special for Gutierrez, he's hoping that it was just the first of several memorable wins to close out his senior season. Gutierrez will try to help the Cougars retain the Shawnee Mission district cup on Friday at SM North.
"Tonight for him to be out there and go out there and get that win, hopefully that's a huge confidence boost for him. We talk about that maturity," Newcomb said. "Maybe that's what he needed tonight and hopefully these next few duals on Friday and next week at league and regionals will help him get to the state tournament."
After the Cougars compete at the SMSD duals, they'll turn their attention to the Sunflower League tournament on Feb. 10 at Olathe East. Brooks, however, will be competing at a tournament of a bigger magnitude. This is the second year that a girls state wrestling tournament will be held in McPherson, and it will be the first for Brooks.
Even though the girls state tournament still isn't sanctioned by the Kansas State High School Activities Association, Brooks believes that it is a huge sign of progress and a great opportunity for other girls who enjoy wrestling.
"I'm really excited because freshman year, the fact that there were girls wrestling, that was a big thing," Brooks said. "Now we have our own state (tournament). So it's a good way to end my wrestling career."
Brooks will be joined by junior Whitney Dugan at the girls state tournament. Newcomb is excited to see how Brooks and Dugan stack up against other girls wrestlers from across the state.
"You can well imagine how practices go. It's pretty rough for her (Brooks) in there and Whitney as a matter of fact," Newcomb said.
"Dominique somehow her freshman year decided that this is what she wanted to do for her high school career. Man, she day-in and day-out she just keeps coming back and is going to finish the season. We're going to go to that state tournament here on Feb. 10 for those guys, so that will be a lot of fun."
Brooks wasn't able to win her JV match on senior night, but that didn't take away from the experience she had of wrestling one last time in front of a home crowd.
"It was really special because four years ago if you asked me if I was going to be a wrestler, let alone be a wrestler senior year, I would have laughed at your face," Brooks said.
More like this story