De Soto sophomore wrestlers shine in dual loss to Eudora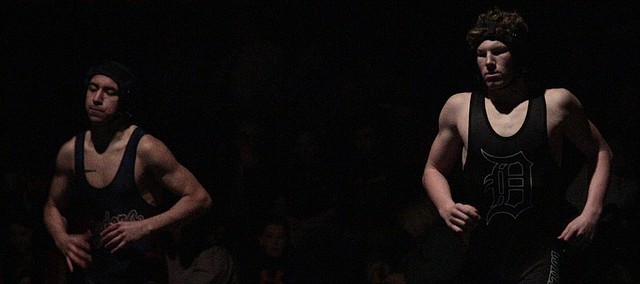 EUDORA — De Soto sophomore Luke Barger felt some satisfaction from his first-period pin in the Wildcat wrestling team's 38-30 dual loss to Eudora on Thursday, but personal results aren't of the utmost importance to him right now.
Thursday's dual against the Cardinals featured mixed results for the Wildcats. Eudora jumped out to a 32-6 lead, but Barger was one of four De Soto sophomores that helped the Wildcats finish strong. Alex Harris (152 pounds), Barger (170), Cooper Pflaum (195) and Jacob Goodin (285) all won by fall in the first period.
"Most of us are freshmen and sophomores, so it's more of a team-building process this year and just getting better for future years," Barger said.
De Soto coach Shannon Sawner has been proud of all the underclassmen for pushing through the growing pains this season. The Wildcats only have one senior in Evan Werner and one returning state qualifier from last year in sophomore Lane Warner.
"I think we're getting better. That's kind of where we're at right now," Sawner said. "We're really young. We've got one senior on the team and the rest are sophomores and freshmen.
"We're trying to train them like seniors, so it's slow going. I think our effort is great. We've got some tough kids. We've just got to keep getting better and hopefully we'll get some kids through to the state tournament at the end of the year. That's one of our goals."
While Sawner has been pushing the Wildcats out of their comfort zone in order to try to get them try reach some of their long-term goals, he also noted that having patience has been very important through the growing process.
"It's kind of like Novocain," Sawner said. "You've just got to keep waiting for it to kick in. It's just repetition and working hard."
A lot of the hard work for Harris has not only been on the mat, but in the weight room. Harris has started to feel more comfortable toward the end of his first season of wrestling at 152 pounds.
"I had to hit the weight room in the summer, so I just had to get used to lifting a lot," Harris said.
Barger has consistently been one of the top finishers at tournaments this season for the Wildcats. Sawner said that Barger's willingness to learn has been one of the biggest keys to his success.
"He's a coachable kid. You ask him to do something and he does it," said Sawner of Barger. "He's there every day. He works hard.
"You can't ask for more. He'll be all right. He'll be a good one for us. As coaches right now, we've just got to be patient and keep encouraging him. Good things will happen."
Next up for the Wildcats will be the Frontier League tournament, which will take place Feb. 9-10 at Baldwin.