Mill Valley girls basketball pushes past St. James for sixth straight win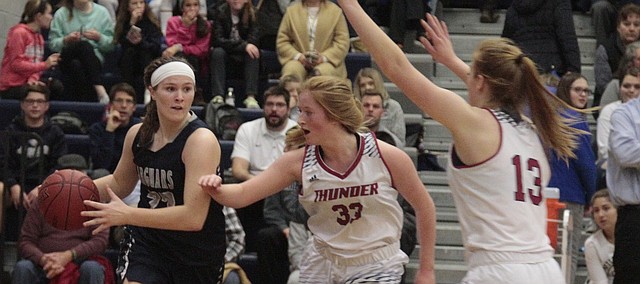 LENEXA — After not scoring a field goal for nearly the first seven minutes of its 52-41 win over St. James on Friday, not much was going right for the Mill Valley girls basketball.
While the Thunder (4-10) kept the Jaguars (14-2, No. 2 in Class 5A) from getting the ball inside for point-blank scoring chances for long stretches of the Eastern Kansas League showdown, Mill Valley didn't panic. The Jaguars clung to a 33-30 lead with 2:07 left in the third quarter after St. James guard Brianna Streeter drained her fourth 3-pointer. Mill Valley continued to stick with it bread and butter of getting touches in the paint, though, and closed the third with an 8-0 run. St. James was able to climb back within five points on two occasions in the fourth, but Mill Valley held off the Thunder for its sixth straight win.
"They played really good defense. We tried to get the ball into the paint in several different ways and they were doing a good job and were contesting some shots and we took some good shots and just missed them," Mill Valley coach Drew Walters said. "Sometimes that happens. You're going to miss shots that you don't think you should. That's just part of basketball and you've got to keep playing when it happens and find ways to get stops."
After Streeter's triple pulled the Thunder within three, Evan Zars made back-to-back layups — the first on a high-low look from Trinity Knapp and the second on a fast break that was assisted by Claire Kaifes. Knapp and Caifes followed with buckets of their own to complete the 8-0 run.
"We know we can get in the lane whenever we want with our two bigs (Zars and Knapp) and our driving abilities," Kaifes said. "The points in the paint are really big for us when our shots aren't falling."
Kaifes picked up her fourth foul with 6.6 seconds left in the third, but didn't let that keep her being being assertive on the offensive end in the fourth. The Mill Valley junior made all six of her free throws in the fourth and led the Jaguars with 17 points.
"We just didn't adjust to how the game was called. They were calling it really tight," Walters said. "So when that happens, you need to be in more of an attack mode. We've been really good at passing and sharing the ball and finding that way to get into the lane instead of driving it, but today we needed to drive it more. Once we got that as our mind-set a little bit more, then we got to the paint easier with how they were calling it."
Walters was also impressed with the Thunder's offensive execution compared to the first time the Jaguars played them on Jan. 3 — which was a 46-32 win for Mill Valley. Streeter led the Thunder with 12 points. Mary Goetz and Torri Kempf joined Streeter in double figures with 11 and 10, respectively. The performance from Streeter was particular encouraging to St. James coach Samantha O'Malley with one of her top offensive threats, Claudia Russell, playing limited minutes due to foul trouble.
"What it shows me is that people in practice understand the importance of listening and learning because at any time their name can be called. When their name is called, that's their opportunity to show what they've got and that's what she did," said O'Malley of Streeter. "She did a tremendous job these last couple of practices of being consistent, working hard, leading and it literally carried over into the game and today's game and for me won player of the game for our team."
While O'Malley has been pleased the progress that the Thunder have made offensively in the middle stages of the season, her top priority has been on the defensive end during her first year at the helm. O'Malley didn't have many complaints with how her team executed defensively.
"We worked all week long on getting to that help side, emphasizing the help side and getting out and hedging on their on-ball stuff," O'Malley said. "My girls really translated all of what we worked on into the game and I'm extremely proud of the defensive game today."
The Thunder will try to bounce back from back-to-back losses at 7 p.m. Monday when they play host to Blue Valley West (6-8). The Jaguars will go for their seventh straight win when they take on St. Thomas Aquinas (13-2, No. 1 in 5A) at 6 p.m. Friday at Mill Valley.
ST. JAMES (41)
Claudia Russell 0-5 1-2 1, Jenna Wilkins 2-5 0-0 4, Claire Kearney 1-1 1-2 3, Torri Kempf 2-9 5-6 10, Mary Goetz 3-8 4-7 11, Brianna Streeter 4-10 0-0 12, Katelyn Hall 0-1 0-0 0, Maddie Russell 0-0 0-0 0. Totals 12-38 11-17 41.
MILL VALLEY (52)
Presley Barton 4-9 1-3 12, Adde Hinkle 0-2 1-2 1, Trinity Knapp 4-9 0-0 8, Lexi Ballard 0-0 0-0 0, Claire Kaifes 4-11 8-9 17, Evan Zars 2-6 5-8 9, Payton Shurley 1-1 3-4 5. Totals 15-38 18-26 52.
St. James 12 12 6 11 — 41
Mill Valley 10 17 14 11 — 52
3-point goals: St. James 6-18 (Streeter 4, Kempf, Goetz); Mill Valley 4-12 (Barton 3, Kaifes). Fouled out: Mary Goetz, SJA. Turnovers: St. James 8, Mill Valley 6.
More like this story