Worley guides St. James boys hoops past Mill Valley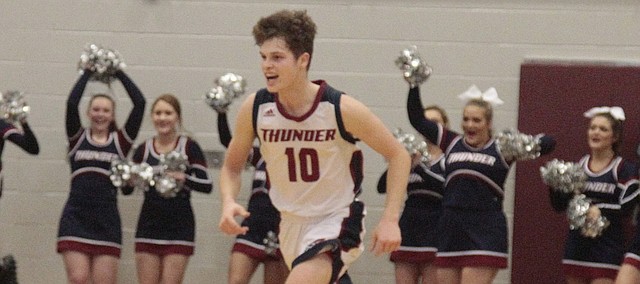 LENEXA — St. James Academy senior Casey Worley and his teammates have absorbed their fair share of punches to the gut this season with five losses by three points or less, and they weren't about to put themselves in that situation again on Friday against Mill Valley.
The Jaguars had cut the lead from 12 to five with 2:34 remaining in the fourth quarter, and had handed the Thunder one of the excruciating losses on Jan. 3 at Mill Valley. Worley put an emphatic exclamation mark on his dazzling offensive display with 10 of his game-high 33 points after the Jaguars had trimmed the lead to five to guide the Thunder to a 62-50 victory.
"It was awesome," Worley said. "Finally winning one of those close games in the end, it's a great feeling. Hopefully it will boost us for the rest of the year."
The St. James senior guard was dialed in from the opening tip — scoring the Thunder's first 13 points. Worley scored 16 of the Thunder's 21 first-half points to power St. James to a three-point lead going into the break.
"I think Jake (Dunsmore) said it in the Aquinas game in the article that I read that he's just got a different energy about him, and that's just not on game day. It's like that every day at practice, too," said St. James coach Stan Dohm of Worley. "He's super competitive almost to a fault sometimes, but when he's right mentally and he's under control and still playing as hard as he does, he's a handful. Now he's got a taste of it, too. He's had some success and he's figured out how he can score. That's really helped us out."
The Thunder (4-10) snapped a three-game losing streak and picked up their second win in their last 11 games. St. James suffered a 43-41 loss in the first meeting against the Jaguars after Matty Wittenauer knocked down a go-ahead mid-range jumper in the final minute. Wittenauer was scoreless for the first three quarters on Friday, but netted six points in the fourth to help the Jaguars claw back in it.
The Jaguars (6-9) scored 25 points in the fourth after only scoring 25 points combined in the first three quarters. Cooper Kaifes scored 11 of his 23 points in the fourth.
"They really picked up the tempo in the fourth quarter. It seemed to me that they were just trying to drive us," Dohm said. "The possessions were really short and they were trying to speed us up. They were either stealing it or we were getting a layup. There was triple the amount of possessions in the fourth quarter, which is what you've got to do when you're behind with no shot clock."
While Dohm knew his team was gassed late in the fourth quarter from trying to keep up with the Jaguars' frenetic pace, he challenged his team to step up in crunch time in order to change their mantra of losing close games.
"Coach in the huddle told us this was the time we needed to buckle down," Worley said. "This is when great teams shine and where they really show they're tough and stuff like that. We just kind of buckled down in those last two minutes when we were up five and we brought the lead back up with a lot of team play and good defense."
Although Worley carried the load offensively for the Thunder, Dohm had some other players rise to the occasion for a couple of stretches. Dunsmore scored all seven of his points in the second half, and Michael Cahill and Jack Moellers scored five points each in the third quarter. Dunsmore and Moellers have been mainstays in the varsity rotation, but Dohm has been impressed with how Cahill has started to contribute as a freshman.
"Michael, he's got unbelievable composure. Nothing rattles him," Dohm said. "You look at his face and you can't tell if he's making shots, missing shots. He's got such a great feel for the game.
"I really trust him with the ball and he can make shots. You see it every day in practice. I was glad that I was able to play him for more than two or three minutes. I'm just talking about getting him a longer look to see if he can get free because they pay so much attention on Jack and David (Hornung) is such a great passer, so we were hoping we could sneak one in there."
The Thunder will try to win back-to-back games for the first time this season when they travel to Blue Valley West (5-10) at 7 p.m. Tuesday. St. James lost its first matchup of the season against BV West, 45-31, on Jan. 24.
Mill Valley will try to get back in the win column at 7:30 p.m. Friday for a home game against St. Thomas Aquinas (7-8).
ST. JAMES (62)
Josh Spradlin 2-5 0-0 6, Ryan Holton 0-1 0-0 0, Michael Cahill 2-2 0-0 5, Casey Worley 11-15 8-11 33, Reed Wilkinson 0-1 0-0 0, David Hornung 2-3 0-1 4, Jake Dunsmore 2-5 3-3 7, Jack Moellers 3-11 0-0 7, Sean Ziesman 0-1 0-2 0. Totals 22-44 11-17 62.
MILL VALLEY (50)
Matty Wittenauer 3-5 0-2 6, Sammy Rebeck 2-6 1-3 5, Mason Little 0-0 0-0 0, Logan Talley 0-3 0-0 0, Kyle Bonnstetter 1-1 2-2 4, Ben Weigel 0-0 0-0 0, Cooper Kaifes 7-17 6-8 23, Ike Valencia 2-4 0-0 4, Brody Flaming 0-0 0-0 0, Keeshawn Mason 2-3 4-5 8. Totals 17-39 13-20 50.
St. James 16 5 15 26 — 62
Mill Valley 12 6 7 25 — 50
3-point goals: St. James 7-23 (Worley 3, Spradlin 2, Cahill, Moellers); Mill Valley 3-16 (Kaifes 3). Fouled out: None. Turnovers: St. James 12, Mill Valley 17.