Grapplin' girls:
SMNW

's Brooks, Dugan gear up for girls wrestling state tournament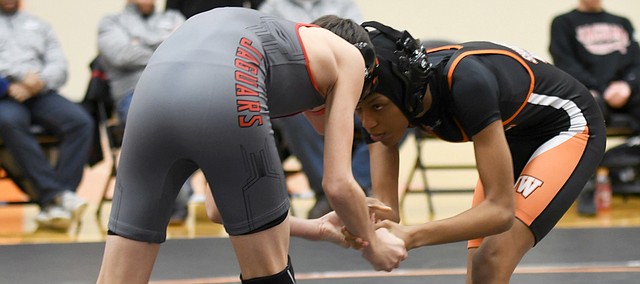 Each time Shawnee Mission Northwest senior Dominique Brooks put on her wrestling singlet over the past four years, it's been at a dual or tournament that has mainly consisted of male wrestlers.
That will finally change for Brooks and her teammate, junior Whitney Dugan. The SM Northwest girls grapplers will represent the Cougars at the second-annual girls state wrestling tournament on Saturday in McPherson. While the tournament is not sanctioned by the Kansas State High School Activities Association, Brooks and Dugan are just excited for the opportunity to wrestle at an all-girls tournament.
"It's just one step closer to just having boys wrestling and girls wrestling like it is with basketball and tennis," Brooks said with a smile.
Brooks and Dugan had their eyes set on competing at an all-girls tournament on Jan. 23 in Fredonia to get a little taste of what the atmosphere might be like, but plans fell through for them to go at the last minute. The SM Northwest duo did get a chance to wrestle in the JV matches of the Cougars' dual against Blue Valley West on Wednesday, which was also senior night for Brooks, Jerad Habben, Julian Gutierrez and Andres Aguirre Caceres. Although Brooks and Dugan ended up losing their respective matches, that didn't diminish their excitement of being on the mat.
"People think, 'You haven't won a match all season,'" Brooks said. "But I'm still stronger and better than everyone else because I practice with them."
Each day in the practice room, Brooks goes up against sophomore Gabe Arreguin, who joins Habben and Charles Brockmann in having experience from last year's Class 6A state tournament. Brooks has a lot of respect for Arreguin and all of the SM Northwest boys wrestlers because they don't cut her and Dugan any slack and expect the same effort from them as they do from their other teammates.
"One of the things about being in a guy's sport that I really, really like and that had me come back every year is that they didn't treat me like a fragile flower. They treat me just like they would everyone else when you're on the mat," Brooks said. "We're just like one big family. When you join a guy's sport, you feel awkward at first because you think since you were raised as a girl that, 'Oh I can't do this,' but really they don't care that you're a girl. They just care that you work as hard as they do instead of weaseling your way out because you're a girl."
Dugan chimed in, "I feel like you're earning respect, too."
Whitney was able to share her freshman season on the wrestling team with her older brother and 2016 SM Northwest alumnus Cole Dugan. Whitney echoed many of the same sentiments as Brooks, especially when it came to feeling like an important member of the team.
"I do like being in a guy's sport," Dugan said. "I like the competitiveness they have. I just feel like we're getting better, too."
Dugan and Brooks aren't the first female athletes to compete in a male-dominated sport for SM Northwest this school year. Senior Megan Nugent played a crucial role in two of the SM Northwest football team's wins after stepping in as the place kicker when Tristan McCreight was sidelined with a concussion. Nugent nailed all five of her extra points in her debut against SM West and then made what proved to be the game-winning PAT in the Cougars' 7-6 win over SM South. Playing football turned Nugent into a three-sport athlete. Nugent is also a standout soccer player and is on the SM Northwest basketball team.
Brooks doesn't know Nugent on a personal level, but was further inspired by the fellow SM Northwest senior when she found out about her accomplishments on the football field.
"She's probably one of the hardest-working athletes in the school. Even when she's hurt, she's still practicing," Brooks said of Nugent. "She works really hard for what she is. I just think it's really cool that she was on the football team because I know a lot of girls who do want to play football and a lot of girls who do want to wrestle, but because it's male-dominated they don't want to deal with all of that. I just think it's one step closer to having a girls football team and a girls wrestling team instead of forcing girls to join those teams and trying to force respect because we're girls doing a male-dominated sport."
While Saturday's girls state tournament will be the first and last tournament of the season for Brooks, she's hopeful that a few other girls might join Dugan on the team next year.
"I feel like every girl should at least wrestle for one year because it's like a free self-defense class," Brooks said. "Even if you aren't the best wrestler, you're better than people who don't wrestle. We work just as hard as the guys."
Before one of the first practices of the season, SM Northwest wrestling coach Howard Newcomb pulled Brooks, Dugan, Angel Thompson, Diamond Holt and Mariela Sanabria aside to let them know that the grind of the season wasn't going to be easy, but to embrace the team's slogan of "Love the Process." Thompson, Holt, Sanabria and Laura Renteria all decided that the sport wasn't for them after going through some practices, but Newcomb is excited for Brooks to round out her career in a special way and hopes that it will be the first of two girls state tournaments for Dugan.
Newcomb is proud of Brooks and Dugan for embracing his team's new motto.
"Trust the process that you're going to be going through. It's going to be painful sometimes, but trust the process," Newcomb said. "It will eventually turn around for you."
Competing in the girls state wrestling tournament is also a future goal of De Soto's Sophia Dawson. The De Soto freshman has a well-rounded background of martial arts and boxing which prompted her to start wrestling.
"I did Krav Maga for a while, which is like Israeli fighting," Dawson said. "I just wanted to go to wrestling because we did some wrestling and I did boxing for a while."
Dawson is the only girl on the De Soto wrestling team, but it might not be long before that changes.
"We've got some girls on our middle school team. I'm all for sanctioning girls wrestling," De Soto coach Shannon Sawner said. "My hope is that we'll get a couple more girls and maybe we can send a group of them to McPherson next year and see how they do."
Sawner is hopeful that the girls state tournament will be sanctioned by KSHSAA by the time Dawson is ready to compete in the state tournament.
"That would be nothing but good for the sport. We have a girls Olympic team," Sawner said. "I don't see any negatives to it. My hope is that KSHSAA will make a decision and we can have a girls and boys team."