Kansas City area chefs create heart-healthy dishes honoring American Heart Month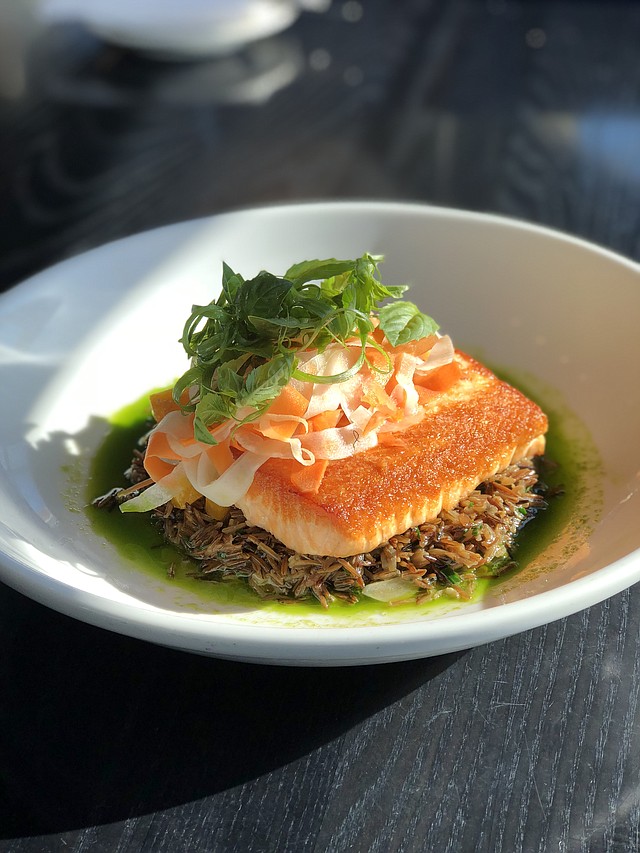 February is all about hearts.
In honor of this month being American Heart Month, several area chefs are participating in the fifth annual Heart Month Restaurant Partnership, sponsored by Shawnee Mission Health.
Participating restaurants include Grand Street Cafe (Plaza and Lenexa locations), La Bodega (Kansas City, Mo. and Leawood locations), Story, Tavern at Mission Farms, Tavern in the Village, The Jacobson and YaYa's Euro Bistro.
The unique chef-created dishes are low in fat, sodium and other ingredients that may increase risk of heart disease.
Participating restaurants will donate 10 percent of proceeds to the Shawnee Mission Heart & Vascular Center to support various programs throughout the community.
"This is our fifth straight year offering this fun partnership to the Kansas City community, and we are so excited to have these wonderful local restaurants help us raise awareness of heart disease during American Heart Month," said Vickie Franck, executive director of Shawnee Mission Heart & Vascular Services. "Our partner chefs have developed specials that are delicious and healthy, which we hope will show the community that eating healthy can be tasty."
The heart-healthy dishes being featured by SMH's restaurant partners throughout February include:
Roasted Beet Salad with Grilled Salmon, red and gold beets, toasted almonds, roasted sweet potato, goat cheese, baby spinach and arugula, topped with poached egg (optional) and lightly dressed with tarragon vinaigrette (The Jacobson, Kansas City, MO)

Mahi Mahi served with black beans, fennel, red onion and mole verde (Story, Prairie Village)

Pan Roasted Salmon, whole grain risotto, roasted yellow beets, fennel carrot salad, with a broken lemon herb vinaigrette (Grand Street Café, Plaza and Lenexa)

Ensalada de Francia, smoked paprika-encrusted yellowfin tuna over a salad of tri-colored potatoes, judias verdes and slow-roasted tomatoes in a horseradish vinaigrette, garnished with red quinoa and micro-radish greens (La Bodega – Originale, Kansas City, MO)

Poached Albacore Medallions over a quinoa and wild rice blend, topped with a chilled vegetable salad, drizzled with toasted cumin-citrus vinaigrette (La Bodega – Leawood)

Warm Quinoa and Watercress Winter Salad featuring grilled heart-healthy salmon, beets, avocado, almonds, feta and balsamic vinaigrette (Tavern in the Village, Prairie Village; and Tavern at Mission Farms, Leawood)

Pan Seared Bronzino served over a bed of red onion, medjol dates, peppedews, butternut squash, sweet potatoes, tri-colored quinoa, pickled red onion and spinach, finished with a cranberry gastrique (YaYa's Euro Bistro, Overland Park)
Managing Partner Michael Werner of The Jacobson created the restaurant's heart-healthy dish, and said he looks forward to utilizing this partnership to raise awareness of heart disease.
"We are excited to partner with Shawnee Mission Health again during American Heart Month and raise awareness of overall heart health," said Werner. "I enjoyed creating this special dish for our diners and encourage them to come experience how delicious it is while supporting a good cause."
As part of its ongoing efforts to raise awareness of the risk factors for cardiovascular disease, SMH is the Presenting Medical Sponsor for the American Heart Association's Go Red For Women year-long educational programming, including the luncheon in April. SMH's Heart Month Restaurant Partnership aims to raise awareness of cardiovascular disease, the leading global cause of death. SMH is home to Kansas City's first Accredited Chest Pain Center and offers sophisticated medical technology for cardiac and vascular care.
"Healthy eating is one of the first and most effective ways to combat heart disease," said Heath Wilt, DO, cardiologist at SMH. "A well-balanced diet with a variety of food groups and reduced processed foods are good for your heart. I also suggest accompanying a well-balanced diet with routine exercise. These small steps can make a huge different in overall heart health."
For more information about SMH's Heart Month restaurant partnership, visit ShawneeMission.org/HeartMonth. Participating diners are encouraged to help spread the heart healthy message by posting to social media using the hashtag #SMHHeartMonth.
Heart-Healthy Tips When Dining Out
Avoid before-meal "extras" such as bread, appetizers and cocktails that have extra sodium, fat and calories.

To control the quantities you are served, ask for salad dressings, butter, gravy, cream cheese, sauces and other toppings to be served on the side.

Ask your server if the restaurant can prepare your food to order, and if so, ask the chef to go light or leave off high-fat items (oil, butter, dressing, cheese).

If a smaller portion or half-size is available, choose that option. If not, opt for sharing entrees with a companion.

Ask if a healthier substitution is available, such as a side of fruit instead of French fries or onion rings, or fat-free sour cream instead of regular.
Heart-Healthy Diet and Lifestyle Tips
Burn as many calories as you take in.

Eat a variety of nutritious foods from all food groups. An overall healthy diet includes a variety of fruits and vegetables, whole grains, low-fat dairy products, skinless poultry and fish, nuts and legumes and non-tropical vegetable oils.

Eat less nutrient-poor and processed foods. Also limit the amount of saturated fat, trans fat and sodium.
Heart Disease and Stroke Facts
Cardiovascular disease is the leading global cause of death, accounting for more than 17.3 million deaths per year, a number that is expected to grow to more than 23.6 million by 2030.

About 2,200 Americans die each day from these diseases, or one every 40 seconds.

Cardiovascular diseases claim more lives than all forms of cancer combined.

About 85.6 million Americans are living with some form of cardiovascular disease or after-effects of stroke.
Information from Heart.org (American Heart Association).
More like this story