Mill Valley ties for 2nd, St. James 6th at Eastern Kansas League wrestling tournament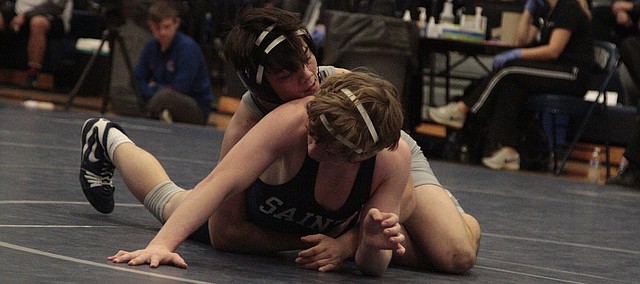 Mill Valley wrestlers Zach Keal, Bryson Markovich, Conner Ward and Jarrett Bendure and St. James grappler Cade Lautt have some lofty goals in mind that they're setting forth to accomplish in the next few weeks, and they're feeling a little bit better about them after Saturday.
Keal, Markovich, Ward, Bendure and Lautt all won their weight classes at the Eastern Kansas League tournament at Mill Valley. The Jaguars tied for second place with Blue Valley Northwest — just six points behind three-time defending champion BV Southwest — while the Thunder finished sixth.
"It makes us work even harder than we already do. We work very hard in the room, but obviously we want an EKL title, regional title and state title," Bendure said. "In order to do that, we're going to have to beat the best teams. So we're going to have to train like the best teams."
Bendure is the top- ranked wrestler at 152 pounds in Class 5A, and enjoyed the chance to put on one more show in his home gym before gearing up for regionals and state. The Mill Valley senior pinned St. James' Aidan Quinn, Blue Valley's Wes Damron and BV West's Zach Schram en route to his weight class championship.
"It means a lot," Bendure said. "This is my last time wrestling in this gym, probably. So I wanted to go out with a bang and I think I did that."
Markovich and Ward echoed Bendure sentiments about winning in front of a home crowd one last time. Markovich won by fall over Bishop Miege's Gabe Cantu before winning by a 3-1 decision over St. James' Drew Ernsdorff and by a 5-1 decision over St. Thomas Aquinas' Johnny Akin. The win over Akin helped the Mill Valley 132-pounder see the progress he's made over the last month.
"I wrestled him before and he beat me," Markovich said. "I was just trying to be more cautious and trying to score as many points as I could to stay ahead."
Just like Bendure, Ward pinned his way to a weight class title.
Ward won by fall over Blue Valley North's Paul Garcia, Blue Valley Southwest's Jackson McCall and St. James' Max Lutz.
"Individually for me it felt pretty good to come through here and get three pins," Ward, who is ranked No.1 in 5A at 145 pounds, said. "I'm going to have tougher opponents in the future, so I'm preparing for them. As a team, we didn't quite get it done, but we'll have everybody back for regionals so that will be good."
Keal has set the tone for the Jaguars at the top of the lineup through the season at 106 pounds. The Mill Valley sophomore pinned BV West's Joe McElwee and won by a 9-3 decision over BV Southwest's Daniel McMullen to end the day at the top of the awards podium.
Keal (No. 2 in 5A at 106 pounds) recently pinned McMullen (No. 4 in 5A at 106 pounds) in the Jaguars' dual loss to the Timberwolves on Jan. 17. The Mill Valley 106-pounder was disappointed that he couldn't achieve the same feat on Saturday, but he's feeling good about where he stands after also earning a win over Shawnee Heights' Freddy Maisberger (No. 3 in 5A at 106 pounds) at the SEK Invitational.
"It's good to go into regionals with wins over the highly-ranked wrestlers," Keal said.
Mill Valley also had two weight class runners- up in 113-pounder Austin Keal and 182-pounder Hayden Keopke and two third-place finishers in 120-pounder Devon Handy and 138-pounder Brodie Scott. Max Whisler (seventh place, 126 pounds), Eli Midyett (fifth, 160 pounds), Sam Immenschuh (seventh, 170 pounds), Malik Redmond (eighth, 195 pounds) and Christian Roth (fourth, 220 pounds) rounded out the Jaguars who took the mat.
Mill Valley will see a lot of the same opponents on Feb. 16-17 at the 5A regional tournament at Turner, which will also feature De Soto, Schlagle, Turner, Washington, Wyandotte, Lansing, Leavenworth, St. James, Olathe West, BV Southwest, Aquinas, Pittsburg, Shawnee Heights, Highland Park and Seaman.
Lautt (ranked No. 3 in 5A at 182 pounds) is feeling confident going into regionals after winning by fall over BV Southwest's Aaron Campbell and Blue Valley's Mitchell Bartsch before earning a 13-1 major decision over Keopke.
The St. James sophomore has made a smooth transition to the 182-pound weight class after wrestling at 152 pounds last year. Lautt said his older brother, Clay Lautt — a three- time state champion and freshman at North Carolina — is one of the reasons why the jump up has gone well.
"Clay made it a lot easier on me because I got to work with him a lot before he left for North Carolina," Cade said. "It just helped me work with someone bigger and find out what can work for me now with my strengths."
Lautt has seen a lot of his teammates overcome obstacles throughout the season as well. One of them is Lutz, who won by a 9-4 decision over Aquinas' Tommy Carroll in the 145-pound semifinals before falling to Ward in the finals.
"This year I've just been working a little bit harder in the room. I'm working with Drew Ernsdorff and sometimes with Connor Weltmer," Lutz said. "Connor Weltmer has been having a pretty good season. It's just a lot of little things. I'm just trying to perfect my game and hopefully get to the podium at most of the tournaments."
The Thunder had five wrestlers reach the third-place match in their respective weight classes. Ernsdorff (132 pounds) and Weltmer (170 pounds) notched third-place finishes while Quinn (152 pounds), Isaac Stean (195 pounds) and Harry Spencer (285 pounds) all took fourth. St. James also received fifth-place finishes from 120-pounder Danny Feist and 106-pounder Jackson Schemmel. Clayton Hall and Jacob Schemmel took sixth at 126 and 106 pounds, respectively. Joseph Plunkett placed eighth at 138 pounds.
"I feel like we're looking good," Lautt said. "We can make a good push at state and do our best. Hopefully we'll get some placers."