St. James 3rd, Mill Valley ties for 7th at
EKL

boys swim and dive meet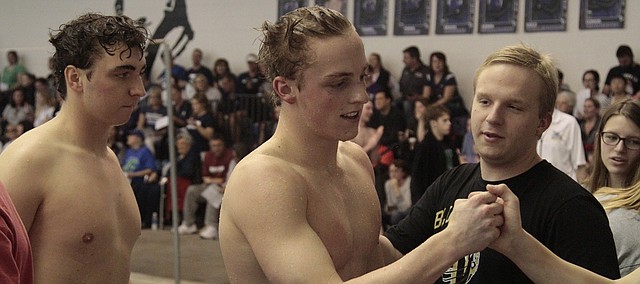 OVERLAND PARK — Whether it was a first-place finish, achieving a personal-best mark or qualifying for the state meet, the St. James Academy and Mill Valley boys swim and dive teams had quite a bit to celebrate on Friday and Saturday at the Eastern Kansas League meet at Blue Valley Northwest.
St. James placed third with event champions Harry Tjaden (500-yard freestyle), Nick Callahan (50-yard freestyle) and Spencer Burkard (1-meter dive) leading the way. St. James finished with 159 points — trailing only Blue Valley North and BV Northwest.
The Mustangs won the meet with a team score of 334.5 to edge the Huskies by 270 points. Mill Valley tied with BV Southwest for seventh with 68 points.
"It's a big deal. It really shows how much we've grown as a team throughout the year," Tjaden said of the Thunder's top-three finish. "This year we've had a lot more people hit consideration times and a lot of people have qualified for state. This year we have five people qualifying for state and last year we only had four. We're getting a lot better depth wise as a team. That's always a goal. This third-place trophy really showed it today."
Tjaden's time of 4:46.98 in the 500-yard freestyle was a personal-best. The St. James sophomore added a second-place time of 52.26 in the 100-yard butterfly. Tjaden has the goal of coming away with top-two finishes in both events at the state meet on Feb. 15- 17 at Capitol Federal Natatorium in Topeka.
While Tjaden felt good about his individual performances and joining Callahan, Zach Kurland and JT Amrein for a third- place time of 1:30.13 in the 200-yard freestyle relay, he was equally as happy with the accomplishments of his teammates. Kurland started off the celebratory weekend for St. James in Friday's prelims by earning a state-cut time in the 200-yard freestyle. Adam Orel kept the good vibes rolling for the Thunder on Saturday with state-cut times in the 200-yard IM and the 100-yard butterfly.
"It was great. He's such a hard worker," said Tjaden of Orel after the finals concluded. "He wanted it really badly and it was really good for me to see one of my teammates succeed. That's even more important sometimes than yourself succeeding is seeing your team succeed because they're like your brothers. You practice every day with them. It's great to see your brothers succeed in life."
Callahan had a similar day to Tjaden's after winning the 50- yard freestyle with a personal-best time of 21.54 and taking second in the 100-yard freestyle after clocking in with a lifetime best of 48.29.
"That was really exciting. That was a huge drop for me," Callahan said. "I had really good competition, so I think that helped me go a lot faster."
Amrein rounded out the top-three performances in the swimming events for the Thunder after taking third in the 200-yard IM and the 100-yard breaststroke. While the Thunder have had big contributions from underclassmen like Amrein, Orel and Tjaden, Callahan said that Burkard, Jack Petz and Zack Rodina are the X-factors for the Thunder. Burkard won the 1-meter dive with a score of 422.15. Petz and Rodina followed in fourth and ninth, respectively.
"I think that will be huge for us at state," Callahan said. "They're like our secret weapon."
Burkard garnered consistent scores of sixes and sevens and avoided having any major flaws with his dives in the finals on Saturday.
"It's a pretty surreal feeling. I was trying to take it all in as they announced it," Burkard said. "I'm trying to relax, take it all in and keep going. I'm looking forward to state."
With defending champion and Mill Valley alumnus Mitch Willoughby not in the field this year after graduating last spring, Burkard knows that a state title is up for grabs for him, Petz and Rodina.
"We all feel like a family, brothers," Burkard said. "We just got to keeping going. We'll win it together."
Beggs didn't have much time to rest after the 200-yard medley relay since he was competing in the next event as well. Beggs didn't show any signs of fatigue, as he earned a state-cut time in the 200-yard freestyle. He was well aware that Kurland had achieved the same feat in the prelims, and executed his game plan of staying with the St. James swimmer to reach his goal.
"It was nice because I've been working at that all year," Beggs said. "I've gotten really, really close to (qualifying for state in) a lot of things, but the 200 — I knew I could do it this time. Especially with Chris — what a nice guy — he let me borrow one of his tech suits. That helped me bring it home."
After clocking in a 2:00.03 in the 200-yard freestyle, Beggs still has the goal of breaking the two-minute barrier at state. However, Mill Valley coach Dan Dervin — who was named the EKL 5A Coach of the Year — has a bigger drop in mind.
"I feel like I can go a sub-two minute. Dan thinks I can go a 1:58, which I think I can do that, too," Beggs said. "So I'm really excited to see if I can do that."
Sprenger paced the Jaguars with fourth- place finishes in the 200-IM and the 100- yard breaststroke. The Mill Valley junior had mixed feelings about both performances since he was hoping to crack the top three, but he is pleased with how he's bounced back from a rough start to the season that was plagued by illness.
"I think I'm right where I need to be," Sprenger said. "I had a lot of setbacks this year with being sick."
Just like Beggs, Sprenger said he couldn't have been much happier with how the Jaguars' relays are coming together going into the state meet. Sprenger already has some plans of attack for his individual events and his legs of the relays at the state meet.
"In the relay, I thought everything went well. I was really happy with my split last year at state for the 50 of the backstroke," Sprenger said. "Same with the 200 free relay. I think I can drop that still.
"In the 200 IM, I think I need to work on building up some more endurance so I can finish in that second half. Looking at my splits from state last year to right now, what's mostly been off are my freestyle and my breaststroke splits. So I think if I can get those down, I'm in good shape. In the 100 breaststroke, I think I just need to work on getting off the block and off the walls quickly."
Forristal joined Sprenger in the IM and was able to cut four seconds off of his time from prelims en route to a 13th-place finish. Sprenger was happy for Forristal's breakthrough performance, but couldn't resist giving his teammate some friendly grief after Forristal gave in to wearing a tech suit.
"That was really good. I'm really proud of him," said Sprenger of Forristal. "I'd like to say it's all in the suit. He didn't wear the tech suit yesterday and he did today. That's where a lot of dropping comes from. Not to take away from Ethan. He did really well today."
Sprenger is excited to have some company with other individual event state qualifiers rather than just having his teammates joining him in the relays. Beggs believes that his experience from competing in the relays last year will help him dealing with any nerves that he might have going into the final meet of the season.
"Since I went to state last year, I feel like I know how it works now," Beggs said. "So now I know what to do instead of it being my first time and everything. The experience of being there really helps. This year we're going to be good. I know it."