Bolin, Burris lead
SMNW

bowling to senior night sweep;

SMN

boys, girls 2nd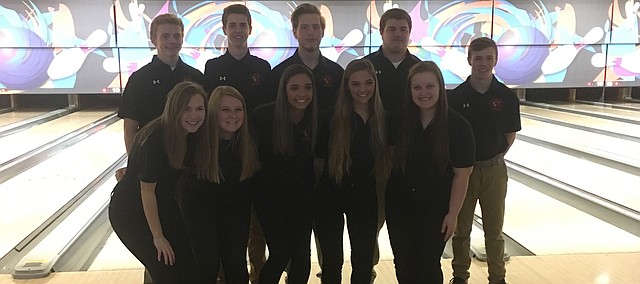 The breakthrough game and series that Shawnee Mission Northwest bowler Garrett Bolin had been waiting for this season finally came on Monday at Park Lanes.
Bolin started off his senior night with a bang with a Game 1 score of 266, which led to a first-place series of 688. The SM Northwest senior edged Washington's Austin Burton by nine pins for the individual title, as the Cougars won the quad by nearly 200 pins.
"It feels great with actually being able to win a meet this year for once and then shooting a series high for the year," Bolin said.
After throwing 10 strikes in Game 1, Bolin kept rolling right into Game 2. Bolin's hot streak definitely caught the attention of his father, who was trying to go back and forth between watching Garrett and his daughter, sophomore Cheyanne Bolin. However, when Garrett's dad, Ron Bolin, walked over during Game 2, it was right when he threw a split that broke up his string of five straight strikes and perfect game. Garrett looked at his dad while pointing over to the other end of the alley where Cheyanne was bowling after throwing the split, but had a good laugh about his superstitious ways after the meet.
"You've just got to have fun and enjoy your time," Bolin said. "It's just part of high school pretty much."
Bolin finished up his series with scores of 198 and 224, but he had plenty of help with securing the Cougars' victory on senior night. Senior Austin Andersen joined Bolin in throwing a 200-plus first game. Andersen posted scores of 226, 186 and 174 to finish with a third-place series of 586.
Andersen and Bolin accounted for three of the Cougars' five 200-plus games. Junior Ryan Gentry threw 10 strikes en route to a Game 2 score of 269, which gave him the fifth highest game in school history. Gentry finished with a sixth-place series of 546. Senior Clayton Engelby round a rhythm in Game 2 as well with a score of 205, which helped him to a seventh-place series of 532.
Seniors Aaron Masters and Travis Morrison finished 11th and 12th with respective series of 527 and 521 to put the finishing touches on the Cougars' first-place performance.
"It's a team sport. It's not an individual thing," Bolin said. "It's a team sport. It always has been."
One-two punch of Burris, Sayers leads SMNW girls to gold
Teamwork made the dream work for the SM Northwest girls bowlers as well. Seniors Alaina Burris and Hadley Sayers finished first and second, respectively, with series of 581 and 509 to lead the Cougars to the team title.
Burris and Sayers went stride for stride with each other for the first two games before Burris caught fire in Game 3 with a score of 226.
"I started following through more on the third game," Burris said. "The first and second game I didn't do that well. I didn't follow through all that often, but the third game I did."
While Burris' scores of 178 and 177 in the first two games weren't as high as she would've liked, Sayers helped her keep a positive mind-set going into the third. Sayers threw games of 187, 170 and 152 to be the runner-up.
"I really enjoyed bowling side-by-side with Hadley. Both of us just did really well and at the end we were just pushing each other," Burris said. "We wanted to win. We wanted the top two spots next to each other, so we were pushing each other to do our best."
Senior Emilia Battles and Cheyanne Bolin joined Burris and Sayers in the top 10. Battles and Bolin finished fourth and sixth with respective series of 467 and 433. Seniors Brooke and Camille Haley rounded out the Cougars' first-place finish after taking 13th and 15th, respectively, with series of 396 and 359.
"Most of us had done it all four years together, if not three years together," Burris said of the bond of the SM Northwest seniors. "So we've pretty much just been through all of it. A lot of us have gone to state together the last couple of years."
The Cougars will now turn their attention to the district meet at 2 today at College Lanes. It's a meet that Burris, Sayers and Battles have been very anxious for.
"Personally Hadley, Emilia and I are all very excited for districts because we're all going to try something new on Thursday and we want it to be a big reveal," Burris said. "So we don't want to admit to what it is yet, but we're excited."
Hubenett, Rivera guide SMN to runner-up performances
Shawnee Mission North earned a pair of second-place finishes at Monday's quad.
Brianna Hubenett highlighted the meet with a third-place series of 504.
"It's pretty exciting I must say," Hubenett said.
Hubenett made many of the same adjustments as Burris did, which helped her finish on a high note with a score of 199 in Game 3.
"I was moving more to the left and then just following through a lot more," Hubenett said. "That helped a whole bunch."
The SM North freshman got better as the day went on after starting off with scores of 137 and 168. Hubenett wasn't pleased with her slow start, but she didn't let it bother her.
"My first game was not something that I was very happy with, but I can't really get upset with that," Hubenett said.
Jessica Nevins (fifth place, 442 series), Julia Hernandez (seventh, 421) and Alexis Michalski (10th, 404) also cracked the top 10 with Hubenett. Samanatha Fricke and Dolores Hernandez followed in 11th and 16th with respective series of 401 and 354.
On the boys side, Michael Rivera paced SM North with a fourth-place series of 576. Rivera improved game by game with scores of 170, 195 and 211.
"Just warming up to the lanes," Rivera said. "They're a little bit more oily than I'm used to, so I had to warm up to it so I could get my throw down."
Right behind Rivera in fifth place was Cal Brooks with a 563 series. Brooks threw games of 207, 155 and 201.
"Cal and I go back and forth with each other," Rivera said. "We keep each other's game up. We just keep building that morale."
James Denebeim joined Rivera and Brooks in the top 10 with an eighth-place series of 528. Jack Denebeim and Daniel Johnson both had games of 200 or better for the Indians. Jack Denebeim (14th place, 514 series), Brandon Otoya (17th, 503) and Johnson (18th, 490) capped the Indians' second-place finish.
Shawnee Mission West and Washington finished third and fourth, respectively, on the boys and girls side. The Vikings, Indians and Cougars will join SM East and SM South today at the district meet.