"

Nieman Now!" update: City officials offer more details on Nieman Road improvements, Flint Street project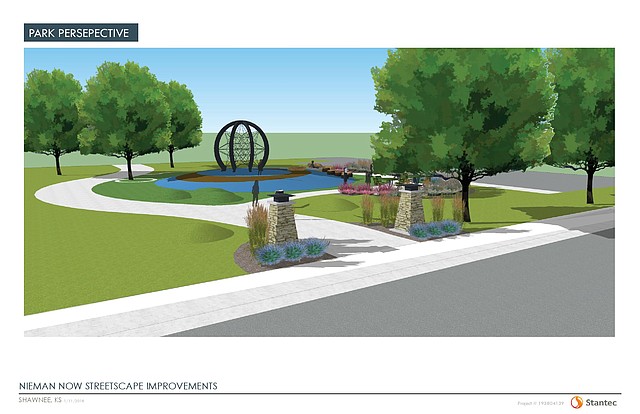 Construction crews, bulldozers and striped orange cones have become a familiar part of the Nieman Road landscape in downtown Shawnee the past year.
But, there is an end in sight.
At a neighborhood meeting on Wednesday evening, Shawnee city officials confirmed the city's massive "Nieman Now!" improvement plan is two-thirds finished, with a tentative completion goal being the end of the year.
The "Nieman Now!" plan encompasses four stormwater projects and a major enhancement to Nieman Road, between Shawnee Mission Parkway and 55th Street, as well as Flint Street, from Johnson Drive to 62nd Terrace.
The plan addresses flooding issues, enhances development opportunities for the corridor and improves aesthetics.
At the meeting on Wednesday, city officials and project engineers focused on the major road enhancements set for Nieman Road and Flint Street.
Nieman Road improvements
Having remained fairly untouched since it was constructed in 1964, Nieman Road was due for a major makeover, said Paul Lindstrom, a senior project engineer for the city of Shawnee.
The Nieman Road improvements, from Shawnee Mission Parkway to 55th Street, include:
Three lane section roadway (except at Johnson Drive and Shawnee Mission Parkway intersections)
10 foot multi-use side path on east side and 5 foot sidewalk on west side
Signal modifications to improve traffic flow at Johnson Drive and replacement of traffic signal at W. 55th Street
Combining business entrances to reduce conflict points
Relocation of overhead utilities underground
Addition of streetscape features, such as three small bus shelters, benches, attractive street lights, bike racks, and crosswalk aesthetics.
Two potential pocket parks
A new gateway sign at the Shawnee Mission Parkway entrance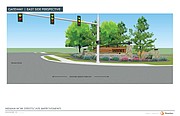 The goal for the Nieman Road improvements is to make the area more pedestrian and bicycle friendly.
"We don't want Nieman to be a through street, we want it to be a destination," Lindstrom said. "We've done a lot of research on this and we feel very confident this is something that's going to be good for the city. We're trying to replicate downtown, not turn it into something brand new that doesn't represent Shawnee."
At the meeting, a few residents expressed concern about Nieman Road being condensed to three lanes, but Lindstrom told them traffic studies indicate traffic should remain the same, and may even improve.
As for the two pocket parks, those are proposed for the east and west sides of Nieman Road.
The first one, intended for the east side, may be constructed south of Old Shawnee Pizza. It is proposed to feature a shade pavilion, a seating area, water fountains, a USB port for people to charge their phones, and attractive lighting.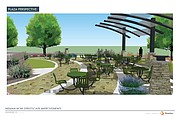 The second one, intended for the west side, may be constructed south of Sushi Mido, and is proposed to feature a massive climbing rope play area.
City officials said if constructed, they hope both pocket parks will serve as fun gathering areas for the community.
"It seems small but we think it will create a big impact," Lindstrom said.
Flint Street improvements
Preliminary road improvements to Flint Street are set to span half a mile.
They include:
31' street width with concrete curb and gutter on both sides of Flint Street and additional street width for on street parking between 59th Terrace and 59th Street.
8-foot multi-use side path on west side of Flint Street and 5-foot sidewalk on east side north of 60th Street; 5' sidewalk on west side of Flint Street south of 60th Street.
14' tall post top street lights on west side of Flint Street
Enclosed drainage system as needed to manage stormwater runoff.
Concrete drive approaches in the public right-of-way. Where existing driveways need to be reworked to match new street grades, the reconstructed driveways will match existing surface material.
Complete replacement of main distribution line for water and gas facilities along Flint Street.
Several Shawnee residents living on or around Flint Street showed up to the meeting to see details of the city's proposed project.
For some, the project was long overdue.
Brent Bengston, an Overland Park resident who has owned a rental home on Flint Street for nearly 40 years, told the Dispatch he's excited for the improvements.
He believes the project will benefit his rental home, which has suffered from drainage issues multiple times.
Plus, he thinks it will help improve safety in the area.
"The street is so narrow and people come pretty fast from that hill," Bengston said. "There are young children who live in the area and I see them ride their bikes. I'm encouraged and excited to see the changes happen. It gives me hope. This is our government at work."
Other residents, however, had concerns.
For resident Shawn Puhr, the biggest one was the road improvement project encroaching on his personal property.
He pointed out to the Dispatch that the proposed 8-foot sidewalk will take away 12 feet from his already-small front yard.
"I'm all for making things nicer, but it's going to take half my yard," he said, unhappily.
A city official told residents that they will take their feedback into consideration before bringing a preliminary plan to the city council later this month.
The next step
City officials will bring preliminary plans for Flint and final plans for Nieman Road to the Feb. 26 city council meeting for approval.
The Flint Street construction contract with total cost will also go to the Feb. 26 meeting for approval.
Utility relocations on both Nieman Road and Flint Street will continue throughout construction. Easement and property acquisition for both projects will start soon.
If you have any questions, concerns or other feedback regarding either project, you are encouraged to contact the city at niemannow@cityofshawnee.org.
You are also encouraged to contact your city council member. For a list of city council members, click here.
The Feb. 26 council meeting will take place at 7 p.m. at Shawnee City Hall, 11110 Johnson Dr.