SMNW

boys hoops falters in the fourth in 64-49 loss to Olathe North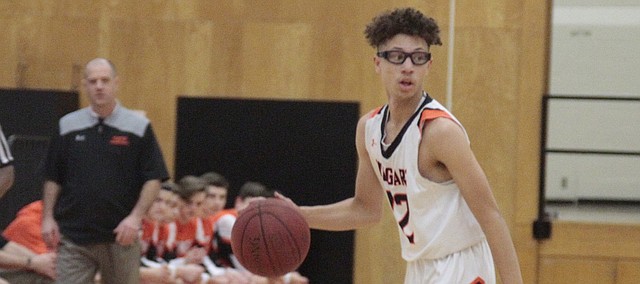 Shawnee Mission Northwest boys basketball coach Mike Rose has rolled out his fair share of lineups this year, but he finally felt like he had one set over the past couple of weeks.
The Cougars were winners of three straight heading into Tuesday's home tilt against Olathe North, but an ankle injury to senior George Specht and Dale Talley being sick once again caused Rose to rely heavily on his bench. For most of the game, Rose couldn't have been much happier with how the Cougars responded, but they weren't able to fend off the Eagles in the fourth quarter in a 64-49 setback.
"For us, missing two starters tonight was obviously big for us. I thought we were really on a nice upswing, but illnesses and injuries are going to happen to anybody," Rose said. "I thought our guys that did play some more minutes tonight than they're used to playing did a nice job. We just had to throw a couple of guys in the fire and see if we could survive it. We'll come back and we'll try to get on another roll."
After trailing by two points at halftime, the Cougars' deficit grew to seven at 30-23 following a Kaleb Walton 3-pointer and Lukas Millner layup. The Cougars (7-8) quickly turned the tables on the Eagles (10-5, No. 7 in Class 6A), though, with a 13-0 run to take a 36-30 lead at the 3:55 mark of the third quarter. Senior C.C. Ghilardi jump-started the Cougars' charge with a 3-pointer before Luke Towler and Evan Higgins converted on back-to-back layups to tie it up. Sophomore Logan Skeens hit drilled two treys to force the Eagles to take a timeout.
Despite going scoreless for the rest of the third quarter, Northwest still had a six-point lead after consecutive buckets from Skeens and Dylan Brunner to begin the fourth. It was all Olathe North after that, though, as the Eagles outscored the Cougars 30-9 the rest of the way.
"I think we can of rushed some offensive possessions. Against a team like that, we just needed to be a lot more patient than what we were," Rose said. "And then defensively we just had a tough time getting stops. For the first three quarters, we did a fairly good job of that. It just kind of spiraled downhill. We put them on the free-throw line a whole bunch and they knocked down free throws."
Tymer Jackson did most of the Eagles' damage at the charity stripe. Jackson scored 15 of his game-high 22 points in the fourth quarter, and was a perfect 9 for 9 at the line. Rose was pleased with how Ghilardi was able to contain Jackson through three quarters, but foul trouble caught up with the SM Northwest senior.
"We put C.C. on him and we were just trying to keep him in front of us the best we could. It's a tough challenge. I think C.C. did a really nice job on him," Rose said. "C.C. got tired. I don't think we took him out of the game, so he got into that foul trouble and he ended up fouling out. We kind of intentionally knew we were going to get C.C. on him and just try to keep him in front the best we could."
Ghilardi led the Cougars with 12 points. Verlee McCullough joined Ghilardi in double figures with 10, and Skeens and Evan Higgins chipped in eight apiece. Rose believes Talley will be good to go for the Cougars' road matchup with Leavenworth (4-11) at 7 p.m. Friday, but said the Specht is day-to-day.
"It's frustrating at this point of the season to lose a couple of guys, but injuries are going to happen and we know how the illnesses are going around this time of year. It is what it is, but I was proud of our guys," Rose said. "I think if we can come back and get our guys healthy and get the core group of guys going again, I think we'll be fine. I think we'll be a tough team to beat down the stretch."
SHAWNEE MISSION NORTHWEST (49)
Verlee McCullough 4-14 2-4 10, Logan Skeens 3-6 0-0 8, C.C. Ghilardi 4-13 2-2 12, Evan Higgins 3-3 1-2 8, Luke Towler 2-3 0-0 4, Dylan Brunner 3-4 1-1 7, Peyton Carder 0-0 0-0 0, Ty Lindenman 0-0 0-0 0, Ty Black 0-0 0-0 0. Totals 19-43 6-9 49.
OLATHE NORTH (64)
Tymer Jackson 6-13 9-9 22, Koi Jackson 1-3 0-0 3, Syl Union 1-4 0-0 3, Mason Myers 1-5 3-4 5, Marcus Davis 3-4 0-0 6, Kaleb Walton 2-3 0-0 6, Lukas Millner 8-13 0-1 16, Anthony Brown 1-5 0-0 3. Totals 23-50 12-14 64.
SM Northwest 11 12 13 13 — 49
Olathe North 13 12 9 30 — 64
Three-point goals: SM Northwest 5-19 (Skeens 2, Ghilardi 2, Higgins); Olathe North 6-16 (Walton 2, Tymer Jackson, Koi Jackson, Union, Brown). Fouled out: C.C. Ghiardi, SMNW. Turnovers: SM Northwest 11, Olathe North 15.