SMNW

girls basketball pushes winning streak to four with 57-28 victory over Olathe North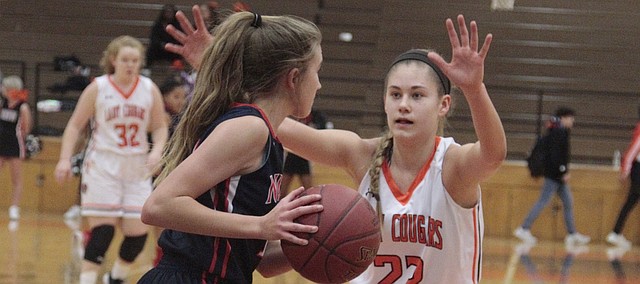 When the Shawnee Mission Northwest girls basketball team is firing on all cylinders, its 1-3-1 zone defense is often what sparks the Cougars.
Olathe North was the most recent team that had a hard time cracking the code to SM Northwest's zone, as the Cougars coasted past the Eagles, 57-28, on Tuesday. The win over the Eagles pushed the Cougars' winning streak to four, and they have held their opponents to 32 points or less in each contest.
"We've always been really comfortable in it," SM Northwest junior Rachel Seibold said. "I think we work best in it. We all just move really well together."
The Cougars (10-5, No. 8 in Class 6A) threw a full-court press at the Eagles (4-10) on a few possessions as well to keep them on their toes. Northwest coach Tyler Stewart has been pleased with how his team has been gelling on the defensive end.
"I think we're doing a really good job of understanding our assignments and what we need to do to limit the other teams' first and second options and making them get to the second and third side there," Stewart said. "I think our girls are playing hard and playing together."
The aspect of playing together applied to the Cougars on the offensive end as well. Seibold led the Cougars with 14 points, and junior D'Asya Collier-Williams was also in double figures with 13. The SM Northwest backcourt combo showed the ability to attack the rim and knock down the outside shot. Collier-Williams drilled all three of her 3-pointers. Seibold — who considered herself to be much more of a threat with the dribble driver earlier in the season — hit on 3-pointer and had her toe on the line for another long-range jumper.
"I think it's starting to show off," said Stewart of the work Seibold's put in on her jump shot in practice. "I think she's always had that potential and I think she's starting to play with a lot of confidence with stepping out and knocking those shots down."
The Cougars' offense wasn't just limited to Seibold and Collier-Williams, though. Juniors Megan Hansen, Megan Formwalt and Hannah Black each made a 3-pointer to help the Cougars shoot 7 of 14 from behind the arc. Black and freshman Kennedy Taylor had seven points apiece, and senior Jordann Nachbar added eight. Nachbar also added five assists and four steals.
"I think it just shows that we're trusting our teammates on offense," Stewart said. "It doesn't matter who is scoring the points. We're just looking to get W's and just continue to plug away to find the best shot possible."
Northwest will try to push its winning streak to five games at 5:30 p.m. Friday at Leavenworth (9-6).
"Our team is working really well together on offense and defense," Seibold said. "We're really executing well and working together as a team."
SHAWNEE MISSION NORTHWEST (57)
Abby Winter 0-1 0-0 0, D'Asya Collier-Williams 4-4 2-2 13, Megan Formwalt 1-3 0-0 3, Rachel Seibold 5-6 3-6 14, Kennedy Taylor 3-6 1-5 7, Hannah Black 3-7 0-0 7, Jordann Nachbar 4-9 0-0 8, Megan Hanson 1-3 0-0 3, Sarah Petersen 1-3 0-1 2, Maggie O'Neill 0-1 0-0 0. Totals 22-42 6-14 57.
OLATHE NORTH (28)
Sireen Kenena 2-3 1-2 6, Hope Watts 0-3 0-2 0, Lexi Carter 1-2 1-3 3, Hannah Stirling 0-1 0-0 0, Jhirya Brock 2-10 1-2 5, Diana Langat 0-2 0-3 0, Nellie Rowden 0-0 0-0 0, Leyanna McGinnis 3-5 6-8 12, Vivian Richardson 1-2 0-0 2, Jordan Farmer 0-0 0-2 0. Totals 9-28 9-22 28.
SM Northwest 12 12 21 12 — 57
Olathe North 4 6 12 6 — 28
Three-point goals: SM Northwest 7-14 (Collier-Williams 3, Hanson, Black, Seibold, Formwalt); Olathe North 1-3 (Kenena). Fouled out: None. Turnovers: SM Northwest 10, Olathe North 22.
More like this story