Mill Valley girls, St. James boys win Eastern Kansas League bowling titles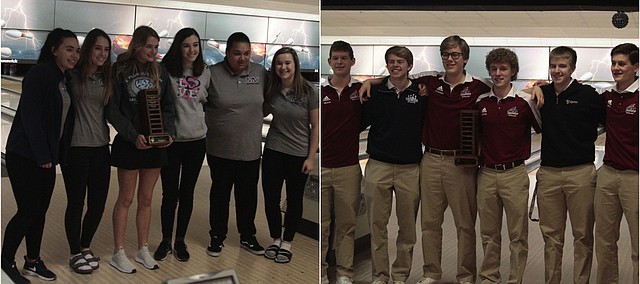 OLATHE — The two newest members of the Eastern Kansas League once again took home the EKL boys and girls bowling traveling trophies at the end of the day on Tuesday at Olathe Lanes East.
The Mill Valley girls squad defended its EKL title behind a third-place finish from sophomore Bri Laluk, and the St. James boys coasted to a team title after placing all six bowlers in the top 12.
While Laluk — who threw games of 129, 149 and 174 for a 452 series — has served as a consistent No. 1 bowler for Mill Valley, the Jaguars have had various people step up at recent meets. Bri Davis joined Laluk in the top 10 with an eighth-place series of 428, and Bella Hadden stepped up to take 12th with a series of 400 after winning a JV meet just one week earlier at Park Lanes.
"We have a really fluid team, so it's really anybody's game on varsity," Hadden said. "A lot of us have gotten the chance to bowl on the V-squad."
Abby Berner (17th place, 382 series), Tori Benson (24th, 364) and Emily Jackson (25th, 363) rounded out the Jaguars' EKL championship team. Had the tournament ended after the three traditional games, though, Mill Valley wouldn't have repeated as the league champion. Mill Valley trailed Blue Valley West by 11 pins going into the four Baker games, and was only eight pins ahead of St. Thomas Aquinas for second.
In the Baker format, five of the six bowlers each throw two games apiece with the sixth bowler serving as an alternate. The first bowler throws on Frames 1 and 6, the second on Frames 2 and 7 and so on. Mill Valley posted consistent scores of 157, 146, 145 and 142 to finish with a Baker total of 590. The next closest team to Mill Valley in the Baker games was Aquinas with a total of 504.
"We've got some tweaks that we've got to work out, but overall I think our team is really solid. We really showed up in Baker today," Hadden said. "We were actually behind going into Baker, but we pulled it off, though. That makes me feel good about the postseason."
As one of the more energetic bowlers on the team, Hadden felt in her element during the Baker games as she did her best to keep the team's spirits high.
"That's kind of my thing. I like to hype the team up. We got some chants going," Hadden said. "I think it really helps out and keeps the morale up. Helping everybody be positive is kind of my favorite thing to do. I really like bowling."
The St. James boys squad had a balanced effort as well with the Thunder earning four of the possible six individual medals. Grant Huerter finished as the EKL runner-up after throwing games of 181, 195 and 254 for a 630 series. Huerter was just eight pins back of Bishop Miege's Caleb Roth for first place.
Huerter was at his best in the second half of each game. In Game 3, Huerter had two open frames before rattling off nine straight strikes.
"In the first two games, I didn't hit the pocket as much as I'd like, but I finally just let my swing loosen up and I was able to let the ball go and it came back," Huerter said. "The lanes were just cooperating with me."
Finishing right behind Huerter in third was Burk Schreiner, who posted a 577 series on his birthday.
"It's great. He's a big energy to the team," said Huerter of Schreiner. "He really gets us going, especially for these Baker games. It's fun."
Huerter, Schreiner, Max Petty and Tanner Nelson all had one 200-plus game. Petty and Nelson also medaled with respective series of 553 and 540 to take fifth and sixth place. Christian Kaufman and Thomas Reece followed in eighth and 12th, respectively, with series of 532 and 474.
"It's big. We've been struggling a little bit in the past as a team, but we finally came together," Huerter said. "We're hoping this carries into next week and regionals."
SJA's Lawrence wins EKL girls title
St. James senior Carey Lawrence was the model of consistency for the Thunder on the girls side, as she threw games of 151, 159 and 164 to finish with a first-place series of 474.
Lawrence edged Miege's Bea Lacy by 19 pins to win the EKL title.
"I was really excited," Lawrence said. "We all just came out here and we just tried to bowl our best. I was really sad missing school, though."
Sticking with some of the basics was key for Lawrence with being able to come out on top.
"I kind of figured out that I just had to follow through and hit my mark," Lawrence said. "If I missed it, it was not going where I wanted it to. I was just trying to stay consistent and keep my shot the same."
Fellow senior Meredith Bierbaum joined Lawrence as a league medalist after throwing a sixth-place series of 439. The rest of the St. James team consisted of Marion Farnet (21st, 367), Molly Book (34th, 346), Alyssa Wilkes (35th, 342) and Alicia Koehler (39th, 325).
"We were really excited that we took fourth. We even have a new lineup from our last meet," Lawrence said. "With some people, it's their first year bowling. So it's just about having them come out and do the best they can because they want to be here."
With having several newcomers on the team this year, the Baker format is only that a few of the St. James bowlers are not very accustomed to. Lawrence is excited of the Battle for Park Lanes — which will consist only of Baker games — against Mill Valley, Shawnee Mission Northwest, De Soto and Maranatha on Thursday.
"For our first Baker meet, a couple of our normal girls were gone," Lawrence said. "We even had a girl today who hadn't bowled Baker before. I think next week will definitely get them more prepared for regionals."
Hakes paces MV boys
The Baker games were the highlight of the meet for the Mill Valley boys team. The Jaguars posted Baker game scores of 168, 188, 224 and 131 for a total of 711 — which was the highest by 34 pins. The strong performance in the Baker games guided the Jaguars to third place.
"It's kind of fun because you have to be able to encourage your other teammates to bowl well," Gabriel Hakes said. "You have to also bowl well in order to hold up the high scores."
Hakes had plenty of momentum heading into the Baker games after throwing two games of 200 or better in the traditional games. Hakes opened the meet with a score of 107 before nearly doubling it in Games 2 and 3 with scores of 201 and 200 to finish with a ninth-place series of 508.
"I moved more right because I was just coming up really light in the first game," Hakes said. "With just moving, I kind of got locked in and knew where to throw it."
Jack Matchette and Brad Teasley finished right behind Hakes in 10th and 11th, respectively, with series of 495 and 485. Kyle Hirner (17th, 457), Brent Stevenson (19th, 418) and Luke Guiliford (23rd, 360) rounded out the Jaguars' third-place performance.