Aquinas pushes past Mill Valley in 5A girls basketball top-two showdown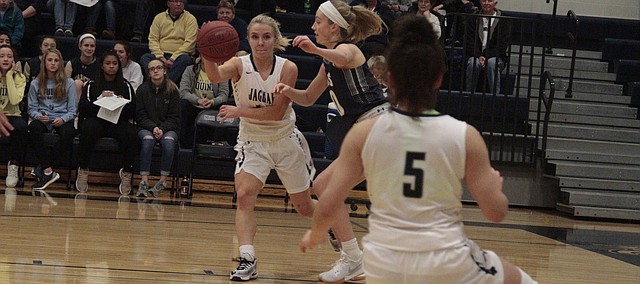 When St. Thomas Aquinas got off to hot starts in the first and second quarters on Friday against the Mill Valley girls basketball team, the Jaguars were able to respond with counter-punches to take brief leads.
The Jaguars and Saints were all tied up at the end of the first half, but Aquinas delivered its biggest blow to begin the third quarter and Mill Valley couldn't recover from it. Mill Valley went on to fall to Aquinas, 47-36, in a clash between the top two state-ranked teams in Class 5A.
"I've seen them a lot over the last four years and it just seems like they have that ability to make a run at the start of quarters. I've just seen it for a long time and it's just something that they have that works for them," Mill Valley coach Drew Walters said. "It's about their discipline, their execution, how strong they are with the ball and their ability to have a lot of weapons out there and then execute what they want to do. They're really, really good at what they do and they know what they want to do and they make it happen."
The Saints (15-2, No. 1 in 5A) opened the game on a 6-0 run that spanned the first four minutes, but the Jaguars (14-3, No. 2 in 5A) answered with an 8-0 spurt to take their first lead. Senior Evan Zars got the Jaguars rolling with back-to-back buckets, and junior Claire Kaifes followed suit to put Mill Valley in front. The back-and-forth action continued with a traditional 3-point from Aquinas' Sereena Weledji and transition layup from Mill Valley senior Adde Hinkle. The Jaguars were in position to take a lead into the second quarter, but Blythe Pearson came up with a steal under the Saints' basket and beat the buzzer with a mid-range jumper.
The momentum carried over into the second quarter for the Saints, as Pearson and Allison Thomas both made 2-pointers to push Aquinas' lead to 15-10. The Jaguars bounced back with a 13-6 run that was highlighted by treys from Kaifes and Presley Barton and a traditional 3-point play from Zars to give Mill Valley a 23-21 edge. Weledji then hit two free throw to even the score before the Jaguars and Saints went into the locker room.
Weledji led the Saints with nine points in the first half, but she was just getting started. The 6-foot senior netted eight of her game-high 21 points in the third quarter to help the Saints pull away. Weledji and Thomas did all of the damage for the Saints during a 10-0 run to start the third. Mill Valley's only points of the quarter came on a 3-pointer from Kaifes with 1:03 left in the period.
While Weledji and Thomas were going to work down low, most of the Jaguars' shots in the third were outside of the paint.
"We want to be going toward the basket and getting layups or shooting open 3s," Walters said. "In order to do that, we've got to share it more and find that way to the paint. They found ways to get it in there better than we did."
Weledji and Thomas also found a way to get to the free-throw line. Weledji knocked down 5 of her 6 shots at the charity stripe, while Thomas went 4 for 10. The only free throws attempted by the Jaguars were by Zars, who made 2 of 3 from the line. Zars finished with 10 points. Kaifes paced the Jaguars with 12. Thomas and Pearson scored 12 and 10 points, respectively, for the Saints.
"Basically early, the fouls we got called on, they were fouls. We just didn't get our money's worth," Walters said. "They got a lot of and-1s it seemed like. Either we were late or they made a nice pump fake and move and we just couldn't get the money's worth. Some of that is just being ready and battling for position early. They work on getting their position and they were in it. It was hard to root them out of there."
The Jaguars saw their six-game winning streak snapped, while the Saints notched their 10th straight victory. Mill Valley will try to bounce back at 5:30 p.m. Tuesday at Blue Valley Northwest (6-9).
"It was a fun game despite the outcome. We wish we would have played maybe a little bit better," Walters said. "There is no shame in losing to a really good team. As long as you learn from it, you'll be better off in the end."
MILL VALLEY (36)
Presley Barton 2-11 0-0 6, Adde Hinkle 1-2 0-0 2, Trinity Knapp 1-4 0-0 2, Lexi Ballard 0-0 0-0 0, Claire Kaifes 5-13 0-0 12, Evan Zars 4-7 2-3 0, Payton Shurley 2-2 0-0 4. Totals 15-39 2-3 36.
AQUINAS (47)
Molly Hartnett 0-1 2-2 2, Blythe Pearson 5-12 0-2 10, Alayna Townsell 1-5 0-1 2, Grace Jacobs 0-0 0-0 0, Madison Skelton 0-1 0-0 0, Kyli Jackson 0-1 0-0 0, Sereena Weledji 8-15 5-6 21, Allison Thomas 4-7 4-10 12. Totals 18-42 11-21 47.
Mill Valley 10 13 3 10 — 36
Aquinas 11 12 12 12 — 47
Three-point goals: Mill Valley 4-13 (Barton 2, Kaifes 2); Aquinas 0-7. Fouled out: Payton Shurley, MV. Turnovers: Mill Valley 9, Aquinas 10.