SMNW

's Habben wins Sunflower League wrestling title;

SMN

's Willmon 2nd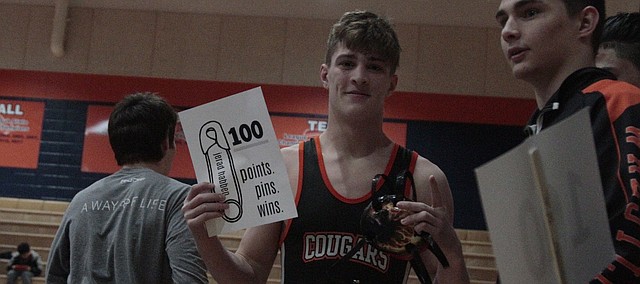 OLATHE — Shawnee Mission Northwest senior Jerad Habben started and ended the Sunflower League wrestling tournament with a bang on Saturday at Olathe East.
Habben earned his 100th, 101st and 102nd career wins by fall, as he pinned his way to a Sunflower League title. The SM Northwest senior led the Cougars to eighth place.
The Sunflower League championships marked the fourth straight tournament that Habben — who is ranked No. 3 in Class 6A at 132 pounds — has pinned his way through.
"It was fun," Habben said. "I thought I was going to get it (100th pin) at districts, but I took one forfeit so I didn't get it. It was good to start out the day with my 100th pin and get on the Kansas record boards."
The United States Coast Guard Academy signee only needed 14 seconds to win by fall over Olathe Northwest's Henry Boutwell for his 100th career pin. Habben kept right on rolling in the semifinals by pinning Olathe South's Ben Bluel in 36 seconds.
Awaiting Habben in the 132-pound title match was Free State's Isaiah Jacobs, who is ranked No. 4 in 6A. Jacobs jumped out to a 2-0 lead in the first period, but Habben took control in the second. Habben got a takedown to tie up and initially had a pin, but the ruling was overturned to a three-point near fall.
After a brief delay, Jacobs regained the momentum to get an escape point and takedown to tie it back up at 5-5 going into the third. Habben wouldn't be denied of his goal, though, as he set the tempo in the third and got the pin with nine seconds left.
"I thought I should've had the pin there (in the second period), but I came out in the third period pretty good," Habben said. "I'm not very good at stalling, so I ended up tying up with him in the third period. But it all worked out because I kept my pin streak going."
While Habben was excited about winning the Sunflower League title, there is only one thing that really matters to him as a wraps up his high school wrestling career: winning a state title.
"Thirteen to 14 days," said Habben of the state tournament. "That's what it all comes down to."
Northwest junior Charles Brockmann (No. 2 in 6A at 120 pounds) came close to joining Habben in the finals on Saturday, but lost the lead midway through the third period in his semifinals match against Olathe South's Dallas Koelzer (No. 3 in 6A). Brockmann dropped a 6-3 decision against Koelzer before bouncing back to win by the same score in the third-place match against Leavenworth's Hartwell Taylor (No. 6 in 5A).
Sophomore Gabe Arreguin rounded out the placers for the Cougars after finishing fifth at 106 pounds. Arreguin and Julian Gutierrez (145 pounds) both went to 2-2.
Willmon finishes as league runner-up for SMN
Finishing right behind the Cougars in the team standings was SM North in ninth place.
Senior Tanner Willmon led the Indians with a second-place finish at 195 pounds. Willmon won by fall over Leavenworth's Tyler Robinson in the quarterfinals before upending Olathe Northwest's Cody Marlette (No. 5 in 6A) by a 7-4 decision to reach the finals.
The Morningside baseball signee jumped out to a 4-0 lead against Marlette, but the Olathe Northwest 195-pounder battled back to cut the deficit to 5-4 in the third period. Rather than trying to hold on for a victory, Willmon realized that he had to earn and got a late takedown to seal the deal.
"You can't be really satisfied even if you're up by one or two points with 45 seconds to go or however much was left," Willmon said. "So I tried to get another takedown and I accomplished what I wanted to do."
Next up for Willmon was the 195-pound title match against Free State's Elijah Denmark. Momentum swung quickly throughout the match, but ended abruptly when Denmark capitalized by a missed shot by Willmon to get the pin.
"He does things that you normally don't see. It's hard to defend what he does," said Willmon of Denmark. "Sometimes you'll do a move and he'll just counter right back with something and you don't know what just happened. It's just hard to think about what happened, so you've got to watch film over and just study."
While Willmon fell just short of winning a Sunflower League title, he wasn't disappointed with his effort throughout the tournament — especially when he started reflecting on his past performances.
"This is the best I've done at league ever," Willmon said. "Freshman and sophomore year I went two-and-out facing guys that are ranked in the state."
Willmon was one of three placers for the Indians. After dropping his first match, heavyweight Alex Williams rattled off three straight wins by fall to finish third. Jeffrey Downey posted a 2-2 record to place fifth at 182 pounds.
"I'm proud of everybody here. Everyone worked hard," Willmon said. "Everyone either finished at what they were seeded or even higher, so I'm really excited for regionals. I hope everyone that we have will go to state. I have a really good feeling about it."
The Indians and Cougars will both take the mat Friday and Saturday for the 6A East regional tournament at Lawrence High. Olathe North edged Free State by 10.5 points to win the Sunflower League title.