Senior living community proposed in Shawnee
City council dismisses requirement for Widmer Road to be completed as part of the development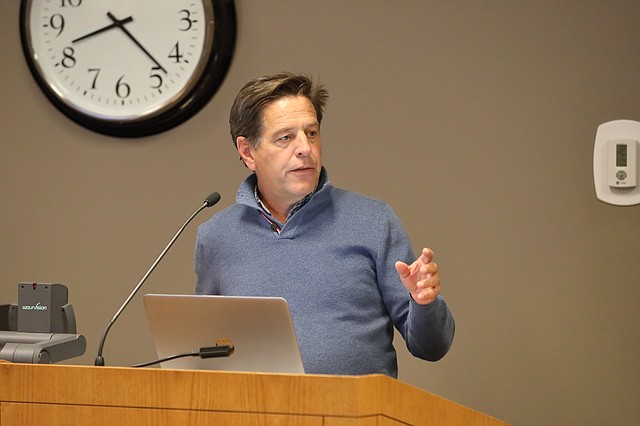 A few details have emerged about a new senior living community being proposed for the northeast corner of 62nd and Widmer Road.
The vacant site had been eyed for the Vantage apartment complex a couple years ago, but the controversial project was denied by the city council.
Before that, a senior housing and retail development known as Cobblestone had been proposed for the property.
At the Feb. 6 council committee meeting, Shawnee native Pat McAnany told the council that his development team is in the early stages of working on a senior living community for the spot.
The planned community, to be named Veterans Park, will feature senior housing with three different types of homes.
The age-restricted senior living development is slated to feature 31 villas, 62 units and 224 multi-family units.
McAnany is a familiar face and name to many people in the Shawnee community, as he grew up in the area and his family's business, McAnany Construction, has been a staple in the city for more than 50 years.
He told the council his development team believes many older adults living in Shawnee could benefit from a senior living community in the area.
He is encouraging residents to voice their concerns or feedback about the project as it progresses, because his team wants to bring an excellent project to the community.
Despite offering a glimpse into Veterans Park, McAnany was not at the council committee meeting entirely about the project itself.
His team was seeking guidance on whether it was necessary to construct the missing section of Widmer Road, allowing it to be a complete collector street, from Johnson Drive to Shawnee Mission Parkway.
Currently, Widmer Road starting south from Johnson Drive ends in a temporary turnaround in the Widmer Woods subdivision. There is an empty segment until Widmer Road restarts near 62nd Street and from there, the road follows straight to Shawnee Mission Parkway. The empty segment of Widmer Road runs adjacent to the property being considered for the Veterans Park development.
The cost for the city to extend Widmer Road from the Widmer Woods subdivision to 62nd Street would be one million dollars.
In city documents, however, it is stated that with the size of the proposed development, the improvement of Widmer Road would be a condition of the development with the development team sharing the cost at approximately $300,000.
The remaining improvements to Widmer Road would likely have to be a city-at-large funded project, since it would not be eligible for CARS or federal funding.
City staff said in city documents that if the road was completed, it would serve as an important purpose for Shawnee's roadway network, as it would offer a more direct and convenient route to Shawnee Mission Parkway for residents in the Widmer Woods subdivision, and other surrounding subdivisions.
Also, in the event of an incident on Pflumm Road or a blockage on Widmer Road near Johnson Drive, the connection could be an alternative option to ensure residents and emergency vehicles could reach their destination safely.
McAnany told the council his development team has agreed with staff to improve 62nd Street and a portion of Widmer Road, but they do not need Widmer Road to connect for the Veterans Park project.
"We don't want to be burdened with an issue that is outside of our needs for this project," he said. "If parts of or if all of Widmer goes through, we will be looking for help to offset those costs."
A few residents living in the area spoke up during the council meeting, expressing their desire for Widmer Road to remain unconnected.
One of them was Melissa Nachbar who said she was thrilled for the proposed project, but she did not want Widmer Road to go through.
"My huge concern is that once the public finds out you can cut through from Johnson Drive all the way to Shawnee Mission Parkway, we're going to have the Indianapolis 500 going through our neighborhood," she said. "I wouldn't be directly affected, as would be the people right on Widmer, because I live up the hill but I would not be able to get out of my street for that matter. If you can imagine, once everybody finds out you can cut through to get to Hy-Vee or Shawnee Mission Parkway, it would be a madhouse."
A couple other residents worried that connecting the street would be dangerous for neighborhood children and one spoke up that he was opposed to the city spending around one million dollars of taxpayers' money on such a project.
Resident Susan Trimble told the council she knows a lot of her neighbors would be thrilled if the city decided to make the temporary turnaround at Widmer Road a permanent one.
In the end, the council concurred and it told city staff it will not require the developer to put Widmer through.
Councilman Eric Jenkins said he did not see connecting the street as a top priority, especially since the project would cost a million dollars.
"I think we're looking at this situation all across Shawnee where we're seeing a lot of roads that end in cul-de-sacs and stuff, and I understand we want to clean up all that, but I'm looking at a million dollar price tag for this when we're trying to examine alternatives for our fire station on 65th and Quivira and we're also looking at a lot of things, like a new community center, that people are wanting right now," he pointed out. "I don't want to see this backburner issue pushed to the frontburner because there are more projects than there is money right now. That's my big concern."
His fellow council members agreed.
Councilman Jim Neighbor said, "I think it will take care of itself and it can be addressed down the road if it needs to be. It certainly doesn't need to be done here for this project as it is envisioned. I am not in favor of improvements for Widmer at this time."
Since Veterans Park is still in the very early stages of development, the council did not discuss the project. Plans for the proposed development will be brought before the Planning Commission, and then the City Council, at dates yet to be determined.
For more information about the project and proposed road improvements, click here.