Shawnee Mission school board chooses a new superintendent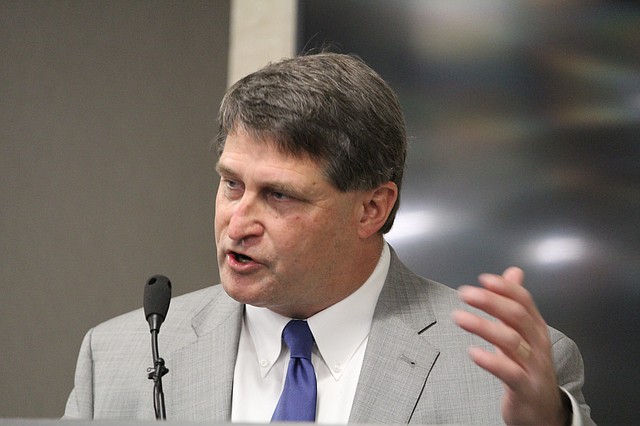 After months of searching, seeking community input and deliberating, the Shawnee Mission Board of Education has finally selected a new superintendent.
At its meeting on Monday evening, the school board unanimously voted to appoint Dr. Michael Fulton to the top position.
"The community asked for a leader who possesses the ability to enhance student performance and implement strategies to narrow gaps in student achievement," said Brad Stratton, president of the Shawnee Mission Board of Education. "We can say with confidence that Dr. Fulton meets every single item listed on the community-generated profile."
As the new superintendent, Fulton will receive a $250,000 base salary, a monthly car and cell phone allowance and 31 vacation days.
Before becoming the new Shawnee Mission superintendent, Fulton served 11 years as the superintendent for the Pattonville School District, which is in the St. Louis area. He was with the district for 23 years total.
Before that, he taught middle school and served as an assessment coordinator.
During his time in Pattonville, the district evolved into one of the most diverse school districts in Missouri and the nation.
As diversity grew, so did the district's academic performance. Pattonville received national recognition by engaging students, parents, staff and community members to create learning solutions that improve student academic success, promote responsible citizenship and prepare students for college and career.
In a video addressed to the Shawnee Mission community on Monday night, Fulton said the following, "I look forward to joining the Shawnee Mission family and collaboratively working with teachers, support staff, students, parents and community members to build on the strength that is Shawnee Mission. My approach to education is simple: every child matters and every community matters. It is my hope that I can bring to the Shawnee Mission community a spirit of cooperation and a strong belief that every child can learn."
Several members of the Shawnee Mission school board said they were very pleased with Fulton and they are excited to move forward with him as the district's leader.
"I'm going to sleep really well tonight knowing as a parent in this community and as someone who has fought alongside educators in the community for the last five years to make a difference in the lives of our kids, this candidate is the right choice for our district at this time," said Heather Ousley, the at-large school board member. "I want to reassure you I'm really happy Dr. Fulton is coming to our district. I hope once you have the opportunity to spend time with him, you will be as pleasantly pleased as I am."
Her sentiments were echoed by school board member Patty Mach, who represents the Shawnee Mission Northwest area.
"His warmth was apparent from the very beginning," she said. "In my opinion, it was the most natural conversation that we had. He has the ability to work well with kids and with teachers and community groups."
A few school board members pointed out that they spent dozens of hours in the past few weeks alone deliberating in executive sessions, reading copious amounts of files and recommendations and reading every single comment left by the public via social media and comment cards.
"In my opinion, this is the biggest decision the board of education members make," Mach said. "We have three members of this board who have been here five weeks. As you can tell by their dedication and the hours they logged, they're not rookies anymore. They were incredible throughout this process."
Stratton added that he was particularly impressed with the community's engaged and insightful input during the entire selection process.
On Saturday, the district held three meet and greet sessions for the three final candidates in the running for the position.
During each 30-minute-long forum, parents, teachers and other community members grilled each candidate with their own detailed questions.
Dozens of people showed up for each session.
"We did something that was truly unique and different in Shawnee Mission," Stratton said. "What was experienced in this room on Saturday had never been done before. It was because of your encouragement and the wisdom and foresight of members of this board, that we had a conversation that included the three finalists, because we wanted the community to be engaged. Your input was extremely important."
During Fulton's session on Saturday morning, the affable Missourian offered a glimpse into his leadership perspective.
He told the audience that he has learned to help kids, you need to go to the student level, which means you focus on each individual school.
"You build your solutions from the learners up, because every learner, every school is different," he said. "The idea that you can do a one-size-fits all doesn't work. We have structures in place for parents and kids to come together and look at reality of where their school is at and create solutions customized to their school and look at how to build those solutions."
He also emphasized that communication and transparency in the district was important to him.
As the superintendent of Pattonville, he said he regularly met with teachers and students.
"Anything that promotes positive channels of communication is important," he said.
When asked about one-to-one technology, Fulton told the audience that his former district spent nearly a decade preparing for it because they wanted to make sure they had the proper infrastructure in place.
"For our kids, having 24-7 access to learning, whether you're in a hotel, whether you're in an apartment, matters," he said. "And for a lot of our families, that's the only device in the house that connects them to the world. My feeling is technology is not the solution, it is a tool."
After Fulton's session on Saturday, community members also met with the two other candidates, Dr. Blane McCann, of Omaha, Neb., and Michael Muñoz, of Rochester, Minn.
After the meet and greet sessions on Saturday, many parents held optimism that no matter which candidate was chosen, the district would step in a more positive direction.
"I want an already excellent school district to become better," said Debbie Williams, of Fairway, who recently had two kids graduate from Shawnee Mission East. "I want us to maintain what we have and go one degree beyond because it is in our capacity to do so."
With the school district growing more diverse, she is hopes the new superintendent will create more inclusion and see the changing demographics as a strength.
Shawnee Mission Northwest sophomore Sophia Fairchild told the Dispatch she hopes the new superintendent will be consistent and focused on the success of students.
"With the last superintendent, I was frustrated by the lack of transparency and communication because it was very obvious to me a lot of parents didn't feel like they were being heard or that they had an active voice," she said. "If parents and teachers have a better relationship with administration, we will see more success in our district."
She also said she wished more students had shown up to the meet and greet.
"The decisions this new superintendent will make will affect their education and therefore, it will affect their future," she said. "I wish more students understood the importance of being involved in what's going on in the district."
The community will have to wait a few months before meeting the new superintendent.
Fulton moves into his new role on July 1.
He will become the eighth superintendent to lead the Shawnee Mission School District. He replaces current Interim Superintendent Dr. Kenny Southwick, who has served in that role since last summer.
More like this story