Shawnee couple celebrates 72 years of marriage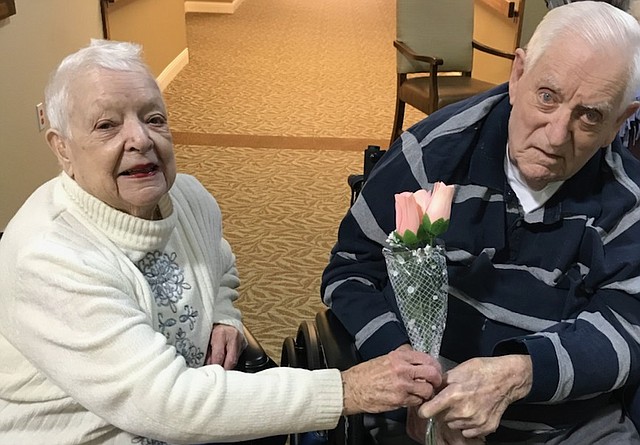 For Valentine's Day, the picture of love and commitment could be told through the story of Shawnee couple Carl and June Eubank.
Carl, 94, and June, 91, are residents at Brookdale Rosehill, 12802 Johnson Dr.
They recently celebrated 72 years of marriage.
The couple went to the same grade school and used to share rides to school together along with June's brother.
Following graduation in 1942, Carl was called to war and served as a flight engineer in the U.S. Air Force during World War II. He fought in the Invasion of Normandy.
Before he got shipped overseas, however, he proposed to June. After the war, the two got married on Jan. 19, 1946.
Carl eventually left the Air Force and went to work for Procter & Gamble as a steamfitter.
June was a homemaker and she kept busy taking care of their family, which included two children.
They attribute their commitment and loving relationship by noting they have never had a single fight.
June's advice to young couples these days is, "hang in there."
Carl's advise to young couples today is "no fights."
Even today, the couple's eyes meet and light up, with a smile, and the two often hold hands.
They enjoy musical entertainment and playing trivia and word games at Rosehill.
The staff and other residents at Rosehill said they find the couple inspiring and they are seen as a true Valentine's day story.
More like this story