Burris breaks two school records, leads
SMNW

girls bowling to 2nd at Sunflower League meet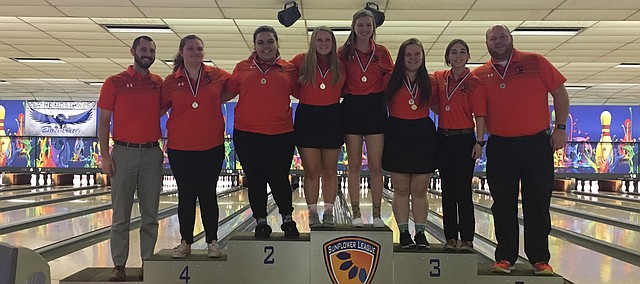 OLATHE — The Shawnee Mission Northwest bowling program has meant the world to senior Alaina Burris over the past four years, and with her high school career winding down, she wants to leave a long-standing legacy.
Burris continued to do just that on Tuesday, as she etched her name into the school record books at the Sunflower League meet at Mission Bowl 'N Olathe. The Ottawa signee set two school records with a 278 game and 703 series to be the Sunflower League champion.
"They were two personal records and two school records. I've been saying since my freshman year that I want to beat the school records," Burris said. "Having two of them beat now and then the third one I just have to beat is high average. I have to beat a 195 average for the season. So I think I'll be able to set all three, which was my goal for my high school career."
The center of attention was squarely on Burris during Game 1 of the league meet. Burris took a perfect game into the 10th frame before settling for a spare and nine pins to close it out. Burris had a long break between the eighth and ninth frame before having a quick turnaround before the 10th.
"It kept making me really nervous because I don't like when there are long breaks when I'm doing really well because I usually think too hard and mess up, but I'm really glad that I didn't between those two frames," Burris said. "I think that's kind of what set me up for going down in the second game a little bit because there was a little bit of a longer pause between (each frame)."
With Burris leading the way, the Cougars were in first place after the three traditional games concluded. Northwest was unable to hold off Olathe North during the four Baker games, though, and finished three pins behind the Eagles for the league title.
"I think this is pretty similar to what happened last year, too," Burris said. "I think we'll be fine going into regionals. If we secured a top-two finish here, we'll definitely get top three next week and qualify for state as a team."
Cheyanne Bolin and Hadley Sayers joined Burris in the top 20 after they both posted series of 513. Bolin finished 16th with a high game of 194, while Sayers followed in 17th with a high game of 173. Charlie Queral (25th place, 497 series), Emma Reinke (33rd, 465) and Emilia Battles (39th, 457) rounded out the Cougars' league runner-up squad.
The Cougars recorded scores of 149, 171, 188 and 146 during the four Baker games, and received quite the scare with Olathe East right next to them. The Hawks trailed the Cougars by 170 pins going into Baker, but carved deep into the deficit with a score of 249 in Game 2.
Northwest was able to hold off Olathe East — who finished fourth — but Olathe North and Free State bolted up in the team standings during the Baker games a few lanes down from the Cougars. Olathe East had a meet-best Baker score of 759, followed by Olathe North (724) and Free State (685).
The Cougars will get the chance to work on their Baker games at 3 today during the Battle for Park Lanes against De Soto, Maranatha, St. James and Mill Valley.
"It's like a nice little break because we don't bowl anyone that we're bowling at the Baker meet at regionals, so it's just a nice little break for us," Burris said.
SMNW boys earn familiar fifth-place finish
For the third consecutive year, Shawnee Mission Northwest finished fifth in the Sunflower League boys team standings.
The SM Northwest boys also placed three in the top 20 between Garrett Bolin (11th, 603), Ryan Gentry (16th, 592) and Clayton Engelby (17th, 591). Travis Morrison (44th, 538), Preston Wilson (49th, 524) and Austin Andersen (52nd, 524) were also in action for the Cougars.
The Cougars had four 200-plus games — each from a different bowler. Bolin's Game 2 score of 243 highlighted the meet for SM Northwest. Wilson jump-started the Cougars with a score of 220 in Game 1, while Gentry (215) and Engelby (212) saved their best games for last.
In the Baker games, the Cougars collected scores of 170, 182, 188 and 196. Shawnee Mission South, Olathe East and SM West separated themselves from the rest of the pack in Baker to take the top three spots in the team standings with scores well into the 800s. Olathe East's Triston Lundberg was the individual champion with a 693 series.
Julia Hernandez leads SMN girls to 8th
Shawnee Mission North senior Julia Hernandez got better as the meet went on to lead the Indians with a series of 512, which was good for 18th place.
Hernandez threw games of 160, 165 and 187 to guide SM North to eighth place.
"I usually do typically pretty good here, so I was really comfortable on the lanes," Hernandez said. "The lanes weren't super oily because they didn't re-oil them between boys and girls, so that really helped. I just knew to focus on myself and not everybody else this time. It just felt really good today. I just had a set of mind this time."
Hernandez felt good about her first two games, and didn't want to get complacent during the third.
"I got a lot more strikes that time and I was a little bit more clean," Hernandez said. "I just really wanted to go out and do my best today and I think I did that."
The SM North senior has tried to set a good example for the underclassmen on the team, especially with the younger bowlers getting their first taste of the postseason.
"We're feeling OK. We have a pretty young team. I think only three of us are returning varsity this year. We have two freshmen (Brianna Hubenett and Alexis Michalski) so I know their nerves sometimes get a little of the best of them, but they handle it really well."
Samanatha Fricke (47th, 431), Hubenett (48th, 429), Jessica Nevins (55th, 403), Crystal Call (61st, 386) and Michalski (74th, 366) rounded out the SM North girls team.
Jack Denebeim paces SMN boys to 10th
For Shawnee Mission North senior Jack Denebeim, it was all about staying in a nice and easy rhythm.
Denebeim was in sync during Game 1 to finish with a score of 199, and stuck with his form in Game 2 to throw the Indians' high game of the meet with a 233. Denebeim fell off pace in Game 3 with a score of 136 to finish with a 23rd-place series of 568, but all in all, he couldn't complain.
"The first two games were really good. I wish the third game would have gone a lot better, but it is what it is and I'm happy with what my series was," Denebeim said. "I'm happy with how the team did. That's not that bad."
The SM North senior helped the Indians to 10th place. Denebeim's day was very similar to that of Daniel Johnson and Cal Brooks, as they posted two above average games and one disappointing one. After throwing games of 139, 201 and 223, Johnson was close behind Denebeim in 27th with a 563 series. Brooks nearly had two 200 games with scores of 199, 153 and 200 to finish 34th with a 552.
Michael Rivera improved game-by-game with scores of 143, 180 and 211 to take 45th with a 534 series. James Denebeim (59th, 508) and Brandon Otoya (73rd, 470) both put up even scores to complete the Indians' squad.
"Today was pretty good. We were pretty consistent through the three games," Jack Denebeim said. "Obviously my third game was not very good, but my teammates always have my back and picked me up. It is what it is."
Next up for the Indians will be the 6A regional tournament at 9:30 a.m. on Feb. 22 at Olathe Lanes East. The Indians and Cougars will go up against Blue Valley, BV Northwest, Olathe East, Olathe North, Olathe Northwest, Olathe South, SM East, SM South and SM West. The top three teams will advance to the state tournament along with the top five individuals from non-qualifying teams.
"We obviously want to make state, so that's the main goal," Jack Denebeim said. "But if we don't it would be cool if any individual one of us could make state."