Comeback effort for Lady Cougars falls short against Lawrence;
SMNW

boys hoops upended by

LHS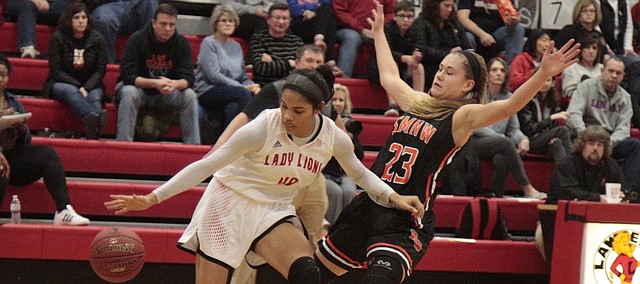 LAWRENCE — While facing a 16-point deficit early in the third quarter against Lawrence High on Tuesday, the Shawnee Mission Northwest girls basketball team didn't have any answers for slowing down Lions junior center Chisom Ajekwu.
After scoring 12 points in the first half, Ajekwu netted five points earlier in the third as the Lions continued to pound the ball down low.
The Cougars increased their defensive pressure the rest of the way with a full-court press and trapping in the half court to prevent the Lions from getting in their offensive sets, but SM Northwest's furious rally fell short in a 51-45 setback.
"Our girls played hard and never gave up. They didn't quit. That's what you like to see," SM Northwest coach Tyler Stewart said. "We put ourselves in a hole and that really killed us, but our girls never quit and gave great effort. They stepped up and cut it (Lawrence's lead) and gave ourselves a chance."
Northwest trailed 28-18 at halftime, but Lawrence stormed out of the gates after the break with an 8-2 run to push its lead to 16. The Cougars were able to cut the deficit down to 10 again going into the fourth, though, when freshman Kennedy Taylor scored on a putback at the buzzer. Taylor finished with nine points and seven rebounds.
"She's getting more physical and that's what we're looking for," Taylor said. "She competed well and gave it her best effort tonight."
The Cougars (11-6, No. 8 in Class 6A) continued to claw their back in it in the fourth quarter behind defensive catalyst Hannah Black. The length of the SM Northwest junior presented the Lions (13-4, No. 10 in 6A) while they tried to handle the Cougars' press in the fourth. Black scored nine of her team-high 12 points in the fourth, and had three steals in the final period.
"She does a great job," said Stewart of Black. "She has long arms and gets a lot of tips that makes it difficult to throw over her."
Black drilled a 3-pointer with 1:18 to go to make it a one-possession game at 46-43. After Lawrence senior E'lease Stafford missed the front end of a 1-and-1, Northwest senior Jordann Nachbar made it a one-point game with 29.5 seconds left. The mid-range jumper ended up being Nachbar's lone field goal, but she went 7 of 8 at the free-throw line to finish with nine points.
While Ajekwu — who had 19 points, eight rebounds and five blocks — held Nachbar in check down low, the SM Northwest forward joined Black in setting the tone defensively in the second half. Nachbar had to leave the game briefly late in the third quarter after getting banged up when she dove for a loose ball, but returned in the fourth.
Nachbar's toughness and team-first mentality helped her earn the chance to play at the next level. She verbally committed on Saturday to play collegiately at Ottawa, where she'll join former Cougar Emmalee Rose.
"She's worked hard and a lot of summers and basketball seasons to get to that spot to sign with a college team," said Stewart of Nachbar. "I'm really proud of her and excited for what the future has for her."
After Nachbar's jumper pulled SM Northwest within one, Leslie Ostronic hit two free to push the Lions' lead back to 48-45. The Cougars turned it over twice in the final 20 seconds, and the Lions made three of their final four free throws to put the game away.
The loss to the Lions snapped the Cougars' six-game winning streak. All of the Cougars' losses have been to state-ranked teams by single digits.
"We like where we're at. We've played a lot of tough teams close," Stewart said. "We feel we can beat anybody, but we've still got three tough ones left. So we're still kind of jockeying for position at sub-state and just trying to take it one game at a time here."
The Cougars will play next at 5:30 p.m. Friday at SM West (11-6). The Vikings have won five straight and nine of their last 11.
SMNW boys fall to Lawrence
The Shawnee Mission Northwest boys basketball team couldn't keep pace with Lawrence High in its 77-51 loss to the Lions.
The Lions (9-8) surged out to a 9-1 lead in the first two-and-a-half minutes behind seven points from Savonni Shazor. The 6-foot-6 junior had plenty of help, as Clarence King (23 points), Anthony Selden (17) and Trey Quartlebaum (11) all scored in double figures. Shazor finished with nine points and Van Dave Jacob added eight.
The Cougars (8-9) also had three players in double figures between junior Dale Talley III (15 points), senior C.C. Ghilardi (13) and senior Verlee McCullough (11).
King closed the first half with a personal 8-0 run that included two free throws and back-to-back 3-pointers. The Lions hit the Cougars with a knockout blow after Northwest pulled with 15 with four minutes to play. Lawrence ended the game on a 12-1 run.
After winning three straight, Northwest has lost two of its last three. Next up for the Cougars is a road tilt against SM West (9-8, No. 10 in 6A) at 7 p.m. Friday.
SM NORTHWEST GIRLS (45)
Abby Winter 0-0 0-0 0, D'Asya Collier-Williams 2-8 1-2 5, Megan Formwalt 1-3 0-0 3, Rachel Seibold 3-5 0-0 7, Kennedy Taylor 3-9 3-5 9, Hannah Black 6-10 2-2 12, Jordann Nachbar 1-13 7-8 9, Megan Hanson 0-2 0-0 0, Sarah Petersen 0-1 0-0 0. Totals 18-51 13-17 45.
LAWRENCE GIRLS (51)
Hannah Stewart 3-9 1-2 9, Leslie Ostronic 0-3 3-4 3, Talima Harjo 3-7 2-2 9, E'lease Stafford 0-3 2-3 2, Chisom Ajekwu 9-13 1-2 19, Sammy Williams 0-3 0-0 0, Tyrin Cosey 3-3 2-3 9. Totals 18-41 11-16 51.
SM Northwest 9 9 10 17 — 45
Lawrence 13 15 10 13 — 51
3-point goals: SM Northwest 4-18 (Black 2, Seibold, Formwalt); Lawrence 4-10 (Stewart 2, Cosey, Harjo). Fouled out: Jordann Nachbar, SMNW. Turnovers: SM Northwest 14, Lawrence 14.
SM NORTHWEST BOYS (51)
Verlee McCullough 4-8 3-6 11, Logan Skeens 0-0 1-2 1, C.C. Ghilardi 5-13 2-2 13, Evan Higgins 3-6 0-0 6, Luke Towler 0-0 0-0 0, Dylan Brunner 0-1 0-0 0, Dale Talley III 5-15 4-4 15, George Specht 2-3 0-0 5, Ty Lindenman 0-0 0-0 0, Ty Black 0-0 0-0 0, Peyton Carder 0-0 0-0 0. Totals 19-46 10-14 51.
LAWRENCE BOYS (77)
Anthony Selden 7-10 3-4 17, Brett Chapple 0-0 2-2 2, Trey Quartlebaum 5-8 0-0 11, Jake Rajewski 2-2 0-1 5, Savonni Shazor 3-5 2-4 9, Clarence King 9-10 3-4 23, Van Dave Jacob 4-7 0-0 8, Steven Strickland 0-0 0-0 0, Peyton Mallory 0-1 0-0 0, Valdez White 0-0 0-0 0, Eric Galbreath 0-0 0-0 0, Garrett Hart 1-2 0-0 2. Totals 31-45 10-15 77.
SM Northwest 12 9 14 16 — 51
Lawrence 21 19 14 23 — 77
3-point goals: SM Northwest 3-17 (Talley, Ghilardi, Specht); Lawrence 5-11 (King 2, Shazor, Quartlebaum, Rajewski). Fouled out: None. Turnovers: SM Northwest 13, Lawrence 9.