SMNW

girls bowling, De Soto boys win Battle for Park Lanes; Mill Valley retains Cat Cup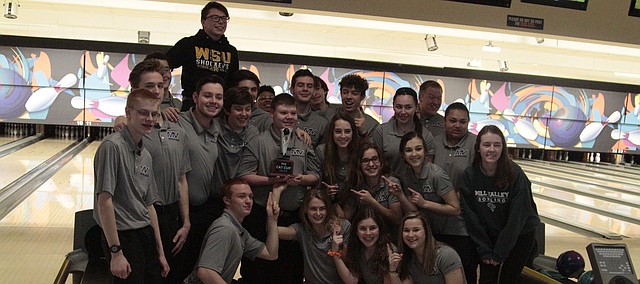 There were no individual champions crowned at the Battle for Park Lanes, but one wouldn't know it by the smiles that were on the faces of Shawnee Mission Northwest, De Soto, Mill Valley, St. James Academy and Maranatha Christian Academy's bowlers on Thursday.
The five area teams were all in action for nine Baker games, which have five bowlers throw two frames apiece with the sixth serving as an alternate. The first bowler throws Frames 1 and 6, then second throws Frames 2 and 7 and so on.
The SM Northwest girls and De Soto boys finished atop the team standings at the end of the meet. The Cougars came in with a little bit of a chip on their shoulders after finishing second at the Sunflower League meet on Tuesday by three pins to Olathe North. The Eagles surpassed the Cougars during the four Baker games, but Cheyanne Bolin said that Thursday was a better indicator of how SM Northwest can perform in the format.
"It kind of puts us into more perspective of where we need to be and how we've been doing," Bolin said. "This just showed what Cougar bowling is all about. What we performed today is our Cougar bowling."
The Cougars bowled stress-free, as coach Billy Dent allowed them to tinker around with their lineup.
"We got to see what worked better and what didn't work better for us," Bolin said. "It was kind of better for us to see that as a team compared to the coaches doing it."
While Sunflower League champion Alaina Burris has served as a consistent No. 1 bowler for the Cougars, her teammates have been moving up in the individual standings of each meet throughout the season. Hadley Sayers has served as a steady No. 2 bowler for the majority of the season, and the likes of Bolin, Emilia Battles, Charlie Queral and Emma Reinke haven't been far behind.
"We have a really strong team this year and we're hoping to win regionals," Bolin said. "Our team bonding this year is a lot stronger than it has been."
Even though Bolin was happy to see the Cougars bounce back at the all-Baker meet after coming up just short on Tuesday, she said that there are still a few aspects of the game that can be polished before Thursday's regional meet at Olathe Lanes East.
"At this point there are a lot of improvements for me to be making on a personal level, but with extra practice I think they should be fixed here pretty soon."
The Cougars finished with a score of 1,405. Mill Valley (second place, 1,268 pins), St. James (third, 1,225), De Soto (fourth, 1,217) and Maranatha (fifth, 934) followed SM Northwest in the girls team standings. Northwest will join Olathe East, Olathe North, Olathe Northwest, Olathe South, Blue Valley, BV Northwest, SM East, SM North, SM South and SM West at regionals. The top three teams will qualify for the state tournament along with the top six individuals on non-qualifying teams.
For the De Soto boys squad, the Battle of Park Lanes was a bittersweet meet. The Wildcats were excited about their first-place finish, but there was another competition within the meet that they were hoping to win as well. Due to scheduling conflicts earlier in the season, De Soto and Mill Valley battled it out for the Cat Cup since it was the last time they would compete against each other before regionals.
After combining the girls and boys varsity scores for the Jaguars and Wildcats, Mill Valley retained the Cat Cup. The Jaguars edged the Wildcats by 19 pins.
"It was really good. We showed a lot of sportsmanship today in my opinion," De Soto sophomore Tyler Lovegren said. "We just had so much fun. Even though we didn't win the Cat Cup, we won the boys and that was really fun."
Lovegren and fellow sophomore standout Sean Cauthron are looking to wrap up their second high school seasons with a trip back to the state meet. With both the De Soto boys and girls teams consisting predominately of underclassmen, Lovegren believes that things are only looking up for the Wildcats for the rest of this season and for years to come.
"They're showing a lot of potential and I guarantee we're going to do better next year because they're going to keep getting better," said Lovegren of his teammates. "Their average is going to keep going up."
The Wildcats will compete at the 5-1A regional meet at West Ridge Lanes on Feb. 23 in Topeka against Atchison, Bonner Springs, El Dorado, Emporia, Lindsborg-Smoky Valley, BV Southwest, Shawnee Heights, Topeka West, Hayden, Highland Park, Seaman and Towanda-Circle. The top three teams will qualify for the state tournament along with the top six individuals on non-qualifying teams.
The regional meet will be more of Lovegren's cup of tea with it incorporating three traditional and four Baker games.
"I personally like the singles more, but Baker gets a lot more fun with all of the teamwork," Lovegren said.
De Soto finished with a team score of 1,718 to beat out Mill Valley by 32 pins for the Battle for Park Lanes boys title. Shawnee Mission Northwest (third, 1,568), St. James (fourth, 1,473) and Maranatha (fifth, 1,392) followed De Soto and Mill Valley.
The Jaguars felt good about their second-place finishes, especially with them leading to keeping the Cat Cup.
"It kind of means a lot because we've gotten it every year, so it just kind of keeps the tradition going," senior Emily Jackson said.
The Mill Valley girls began their postseason run by winning a second straight Eastern Kansas League title on Feb. 6, and they're excited about the chance to return to state after taking second on Thursday. Jackson, Bri Laluk and Abby Berner are all back from last year's state team.
"We all got excited for everything and we didn't get down whenever we didn't pick up a spare of anything, so just staying positive helps a lot us out," Jackson said.
While Laluk has been the Jaguars' top bowler at most tournaments, the lineup for the Mill Valley girls has changed from meet to meet. Jackson said that the healthy competition has the Jaguars at the top of their game going into regionals.
"It keeps us all on our toes, but it's fine. It makes us better," Jackson said. "We know that we can't have an off day and it just helps us to improve."
The Mill Valley boys squad came into the Battle for Park Lanes with some confidence after fairing better in the Baker games than in the traditional games at the EKL meet.
"I think it's just more energy and we have a lot more fun," junior Jack Matchette said. "There's not much more to worry about. We can all cheer each other on because we're all right there, so it makes it better."
Matchette was encouraged with how the Jaguars performed on Thursday without senior Kyle Hirner in the lineup. Senior Trey Callahan stepped into the varsity lineup in place of Hirner.
"One of our top bowlers is in Colorado right now, so to come second by how close we did makes us feel a lot better because it kind of shows what we can do if we don't leave opens in certain places," Matchette said.
Matchette was the Jaguars' anchor on Thursday, as he threw on the fifth and 10th frames. The Mill Valley junior was glad that he was on a roll when it counted the most on the 10th frame.
"In Games 2 through 6, I think I almost struck out on all of them on the 10th frame — which gave us a lot of confidence with giving us more pins," Matchette said. "It kind of makes me feel better as an individual player because it shows that they trust me."
The Jaguars will be back at their home alley again on Friday for the 5-1A regional at Park Lanes. Mill Valley will go up against Schlagle, Piper, Sumner, Turner, Washington, Lansing, Leavenworth, Olathe West, Aquinas, Bishop Miege and Maranatha.