Maranatha boys basketball beats Barstow, pushes winning streak to 12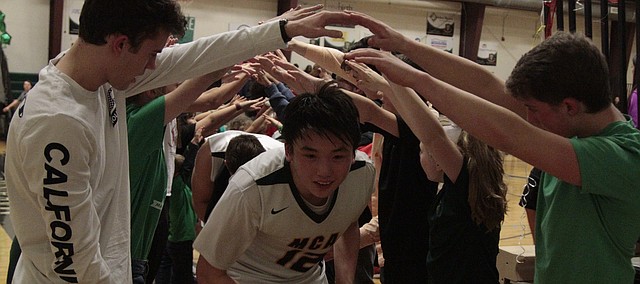 Maranatha Christian Academy's boys basketball players had long-awaited Friday's showdown against Crossroads Conference powerhouse Barstow, and they proved in the seconds after the opening tip that they were ready for arguably their biggest game of the season to this point.
After Maranatha sophomore Jonathan Jackson won the opening tip, the Eagles only needed three seconds to get on the board first, as sophomore Andrew Fortin drove in for two.
Fortin's layup was just the tip of the iceberg for what would be a first-quarter onslaught by the Eagles in their 57-42 win over the Knights. Jackson and sophomore Brock West combined to score the next 10 points before junior Jax Holland drilled a 3-pointer to cap a 15-0 run to open the game.
"This was a huge game, so we were just really looking forward to it," Jackson said. "Going out and playing good competition just always starts something in the atmosphere that really gets you going."
A bulk of the Eagles' early offense was coming as a result of forced turnovers. Along with hitting the 3-pointer, Holland dished out two assists to West in the first four minutes — one coming on a no-look, over-the-shoulder pass that set up a layup.
"We're all unselfish players," Holland said. "We're all looking for the open guy. Whoever we see that's open, we'll get them the ball."
Despite the fast and furious start, the Eagles' offense fizzled late in the first and second quarters to allow the Knights to slash the deficit to 30-23 by halftime. Jonah Horne scored 10 of his 14 points in the second quarter to get the Knights back in it.
Brandon Eckles then gave Barstow a spark with back-to-back buckets to begin the second half, and all of a sudden Maranatha's lead was down to three. That was as close as the Knights would get, though. The Eagles cleaned things up on the defensive end and it led to better offensive possessions. Maranatha pushed its lead back to 11 with a 12-4 run, which included 3-pointers from West and Jackson, another Fortin layup, a midrange jumper from Holland and two intentional free throws from Roland Hou when he was fouled in transition after blocking a shot.
"I felt like we got away from running. That's what our bread and butter is," Maranatha coach Travis Thompson said. "It was just telling them to lock down and sit down and guard, move your feet and then finish the possession and we could get out and run. And they did. They executed that well. It was getting back to what we know we're really good at."
The Eagles eventually pushed the lead back to 15, as they extended their winning streak to 12 games. Jackson (15 points), Holland (14) and West (10) all scored in double figures for the Eagles.
"It just shows us how much our hard work has paid off," Jackson said. "We've put a lot of hard work into practice. We're reaping what we're sowing."
While the win over the Knights (14-10) gave the Eagles (15-2, No. 5 in Class 2A) a good measuring point with one week remaining in the regular season, their goal from the get go has been to make it to the state tournament.
"We've never beaten them (the Knights) that I know of," Holland said. "We can beat anybody we play if we play good defense like that."
Next up for the Eagles is another home tilt at 7:30 p.m. Monday against Van Horn (8-13).
BARSTOW (42)
Jonah Horne 6-10 2-3 14, Kendall Prophete 0-1 0-0 0, Chris Lee 0-3 1-2 1, Brandon Eckles 3-5 1-2 7, Michael Boeh 0-4 0-0 0, Connor Arment 4-10 2-2 14, Louis Christifano 2-6 2-4 6. Totals 15-39 8-13 42.
MARANATHA (57)
Jax Holland 4-10 4-4 14, Nate Raydo 0-0 0-0 0, Brock West 4-9 1-2 10, Mitchell Peacher 0-1 0-0 0, Jonathan Jackson 5-14 2-2 15, Roland Hou 1-5 4-4 6, Andrew Fortin 3-6 0-2 7, Jason Friesen 2-4 1-3 5. Totals 19-49 12-17 57.
Barstow 6 17 13 6 — 42
Maranatha 18 12 14 13 — 57
3-point goals: Barstow 4-19 (Arment 4); Maranatha 6-19 (Jackson 3, Holland 2, West). Fouled out: None. Turnovers: Barstow 21, Maranatha 19.
More like this story