MCA

girls basketball makes strides defensively, struggles offensively in loss to Barstow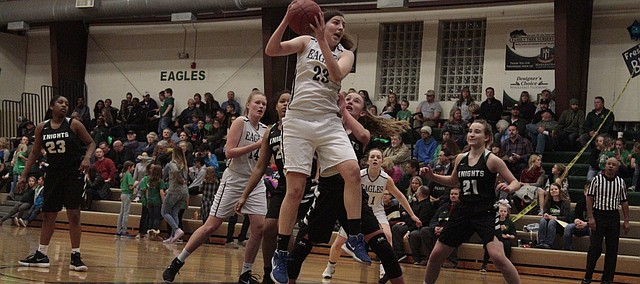 For the majority of the first quarter of the Maranatha girls basketball team's 42-27 loss to Barstow on Friday, the Eagles didn't look the part of a squad that was riding a six-game losing streak.
The Eagles (4-13) jumped on the Knights (20-3) with a 6-0 run that spanned the first three minutes and 45 seconds, and had Barstow out of sorts offensively with their 1-2-2 zone defense. While the Eagles continued to hold their own defensively, they weren't unable to overcome domes turnover woes in the first half and found themselves trailing, 19-9, at the break.
Maranatha had a couple of rare defensive breakdowns to begin the second half, and Barstow's lead quickly bloomed to 28-9 with 4:34 to go in the third. The Eagles went on to outscore the Knights by three points the rest of the way thanks to the defensive effort, cutting down on turnovers and crashing the offensive glass, but it was too little, too late.
"I thought our defense was really good. I think our zone is starting to tighten up a little bit, so I'm really pleased about that," Maranatha coach Reggie Hines said. "I think our energy level could have been a little bit better tonight. We've got some new plays and we're trying to run some new things."
Hines added, "We've got a couple of people injured. I thought we played hard. That's a pretty good team. I've got to give them credit for the way they played tonight. Hopefully we can just continue to get better and I think we did tonight. We got a little bit better. I just pray that we continue to move forward in that direction."
With three games remaining in the regular season and sub-state looming, Hines knows that the Eagles will have to be at their best defensively in order to have a chance at a postseason run. The Eagles' execution of their zone gave Hines reasons for hope.
"We've traditionally just run man pretty much all year, but we knew we would be able to run some zone at some point and be effective with it, but our main goal was to really teach our players how to understand philosophies and understand how to play man because once you do that then your zones can be really good," Hines said. "I thought our zone was really good tonight."
After being held to one field goal for nearly 16 minutes after starting to game on a 6-0 run, the Eagles were able to get to the free-throw line for the rest of the second half and some shots from the field eventually started to fall. Sophomores Aaliyah Buckner and Anita Eckhardt scored nine and seven points, respectively, to pace the Eagles.
"I think we had a little more energy. Sometimes we come out and we're just a little tight early," Hines said. "We want to definitely stay out of foul trouble because our rotation is kind of limited. I thought we did a good job of not fouling in both halves actually. I thought that was really good for us. Our energy level was good. Our rebounding was good, so we hope that we can carry that into our next game."
The next game for the Eagles will be at 6 p.m. Monday when they play host to Van Horn (14-3). As Hines' second season at the helm begins to wrap up, he remains thankful for assistant coaches Stan Walker and Rodney Wilcox for helping the Eagles develop.
"I just want to pay homage to my coaches," Hines said. "They do a pretty good job with the girls both offensively and defensively and keeping them focused and energetic."
BARSTOW (42)
Kate Walsworth 5-9 4-5 14, Jaelyn Glenn 6-13 1-3 14, Brooklyn Arment 3-8 0-0 8, Lexi Dixon 2-3 0-2 4, Kaitlin Carpeneter 0-1 1-2 1, Liddy Scurato 0-0 1-2 1, Charnise Anderson 0-5 0-0 0, Avleen Grewal 0-1 0-0 0, Alizeh Shaikh 0-1 0-0 0. Totals 15-41 7-14 42.
MARANATHA (27)
Aaliyah Buckner 3-10 3-7 9, Anita Eckhardt 3-8 1-4 7, Alyssa Buettner 2-3 1-2 5, Ellie Bergerhofer 0-4 3-6 3, Maggie Friesen 1-6 0-2 2, Gina Favero 0-6 1-2 1. Totals 9-37 9-23 27.
Barstow 8 11 14 9 — 42
Maranatha 6 3 6 12 — 27
3-point goals: Barstow 3-14 (Arment 2, Glenn); Maranatha 0-4. Fouled out: None. Turnovers: Barstow 17, Maranatha 23.