St. James 3rd, Mill Valley 9th at 5-1A boys swimming and diving state championships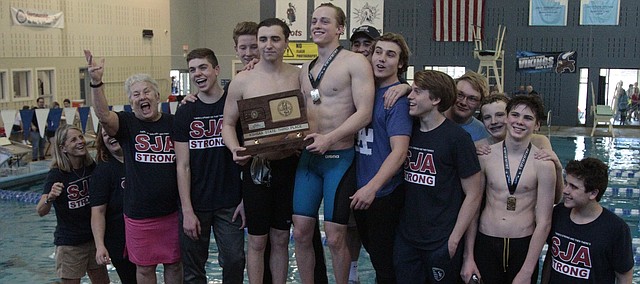 TOPEKA — Going into the final day of the Class 5-1A state swimming and diving championships on Saturday at Capitol Federal Natatorium, St. James Academy senior Nick Callahan had a very realistic goal of being a state champion in three different events.
Callahan came in as the defending state champion in the 50-yard freestyle, had the second fastest time in the 100-yard freestyle and was on the top-seeded 200-yard freestyle relay team with freshman JT Amrein, sophomore Harry Tjaden and fellow senior Zach Kurland. The same four swimmers were also seeded third in the 400-yard freestyle relay after prelims.
The St. James senior swam more than a half-second faster in the 100-yard freestyle compared to last year and dropped time in the other events, but had to tip his cap to other competitors at the end of the meet. Despite being disappointed about being so close to garnering multiple gold medals, Callahan still led the Thunder to third place — which he considered to be a very big accomplishment.
"I think it was actually a great end to the season. A lot of people thought that we wouldn't have enough people to do well at state," Callahan said. "A lot of people thought that we didn't have the depth, but everybody showed up today and I thought that was huge for our team. A third-place finish with four guys swimming today was huge. It was really impressive for all of us."
The first event for Callahan was the 50 free. Callahan had the top prelims time, but Bishop Miege sophomore Max Hernandez-Nietling clocked in at 21.16 to edge the St. James standout by 0.34 seconds. Miege junior Lex Hernandez-Nietling was crowned as the 100 free champion with a time of 45.84, and Callahan followed in fourth at 48.35.
The relays were what Callahan was the most excited about after the meet, though. In the 200 free relay, the Thunder broke the previous state record in the prelims and finals only to finish second to Topeka Seaman. The Thunder added a third-place finish in the 400 free relay.
"We're all brothers on our team and we all support each other," Callahan said. "We've all got each other's back no matter what happens through thick and thin. We're all with each other."
Another thing that made Callahan smile was thinking about the future of the St. James swim and dive program.
"I'm excited to come back and see how this team develops and how it grows because I know we have so much with the young kids on our team. We had Harry and JT make first team all state, which is huge," Callahan, who also earned first-team all-state honors, said. "Adam Orel qualified for state. We have so much potential on our team and I want to come back to state and watch this team."
Amrein posted top-four finishes in the 100-yard breaststroke and the 200-yard IM. The St. James freshman clocked in with a third-place time of 59.58 in the 100 breast and touched the final wall in 1:58.38 to finish fourth in the 200 IM.
"It's been pretty fun. The coaches are nice," Amrein said. "The seniors are extremely nice. It's been a lot of fun this season."
Tjaden matched Amrein individual performances after taking third in the 500-yard freestyle and fourth in the 100-yard butterfly with respective times of 4:48.36 and 52.22.
Orel was also in action in the 100 fly, 200 IM and the 200 medley relay on Friday in prelims. The St. James freshman took 23rd in the 200 IM and 25th in the 100 fly. Orel just missed making it to final with Carter Schmidt, Dylan Feist and Kyle Banash in the 200 medley relay after finishing 17th in prelims.
Kurland rounded out the Thunder's individual swimming performances by placing 27th in the 200 free and 29th in the 50 free.
While the trio of Kurland, Callahan and Banash have provided a lot of guidance to the Thunder underclassmen this season, they weren't the only seniors who helped St. James earn a spot on the podium for the second straight year. Jack Petz (third place, score of 281.95), Spencer Burkard (10th, 315.80) and Zack Rodina (11th, 301.30) rounded out their respective high school careers on Saturday in the 1-meter dive.
"I didn't do as well as I thought I might, but it's all right. It's just about how much fun we had, what a great season we had, what a great time we had altogether throughout our diving careers," Petz said. "I'm just happy that we got to spend the last few days together all as a team with the three of us. It was a good year for us and a good four years altogether."
Petz finished third for the second straight year. The St. James senior had two dives that he felt particularly good about over the course of the three-day diving competition.
"The one that got me the most points was the two-and-a-half, so I did pretty well on that," Petz said. "And then the reverse double also got me a lot of points, so those two dives."
While Petz's diving career came to a close, he's looking forward to continuing his football career at Emporia State.
"I'm really excited for Emporia State. A bunch of these divers are like, 'Does this guy play football?'" Petz, who rushed for 1,454 yards and 21 touchdowns on the gridiron last fall, said. "So it's pretty funny. I'm excited to get my (college) career for football started."
The Thunder finished with a team score of 189, just eight points back of Miege for second. Topeka Seaman won the meet with 347 points.
Mill Valley's sets new 200 medley relay school record
Mill Valley started off Saturday's finals with a bang after juniors Chris Sprenger and Ethan Forristal, senior Carter Lawson and sophomore Colby Beggs broke the school record in the 200-yard medley relay with a fourth-place time of 1:41.29.
"I thought it was amazing. I thought we came out and really performed well," Sprenger, who was an all-state second-team selection, said. "Personally I dropped a little bit on my split. Colby went out in a 22.5, which is his fastest relay split ever. Overall I think we did really well in that first relay."
The 200-yard medley relay was one of four events that Sprenger medaled in and he said he couldn't have ordered up a much better way to kick off finals.
"I dropped in everything except the breaststroke," Sprenger said. "I was like right on my time (in the breaststroke) — just a little above it."
All four members of the Jaguars' 200 medley relay team also competed in individual events. Beggs had a quick turnaround from the medley relay to the 200-yard freestyle. After dropping 6.2 seconds from his seed time in prelims to qualify for the consolations finals, Beggs finished 16th with a time of 1:57.70.
Sprenger and Forristal were up next when they returned to the pool for the 200 IM. Sprenger and Forristal finished fifth and 14th, respectively with times of 1:58.54 and 2:08.57.
The Mill Valley duo of Sprenger and Forristal was back in action for the 100-yard breaststroke. Sprenger clocked in at 59.61 to take fourth, while Forristal finished 12th with a time of 1:03.58.
"I felt really good in my swims. My IM was about what I went last year and I was really happy about that," Sprenger said. "I hadn't been great in that this year, but I thought I did really well today. I got fifth and that's what I got last year."
Sprenger, Forristal and Beggs will all be back for the Jaguars next season, but the state meet was the swan song for Lawson. The Mill Valley senior finished 26th in the 100-yard butterfly.
Lawson, Sprenger, Forristal and Beggs teamed up again in the 200-yard freestyle relay for an eighth-place time of 1:33.06. Mill Valley's 400-yard freestyle relay featured a new cast of Jaguars in Cole McClure, Logan Myers, Avery Lawson and Gavin Fangman — who finished 21st in prelims.
"I think this season ended on a really high note. I think I did really well here at state," Sprenger said. "I think the team did really well this year. It was definitely one of the best years of Mill Valley swimming."
More like this story