Shawnee mayor delivers State of the City address
Distler says city of Shawnee strives to be "people's choice"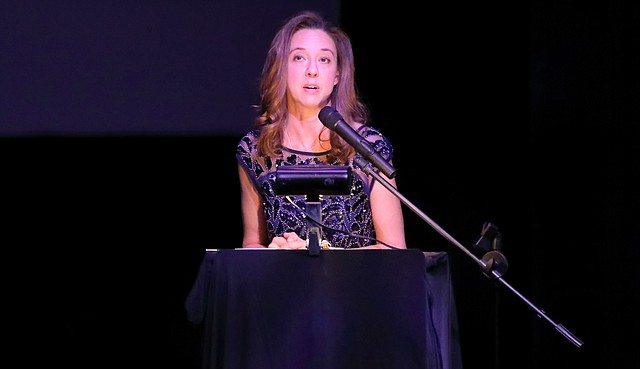 The past year brought a lot of change to Shawnee and in 2018, the city will continue to evolve as new leadership, projects and businesses help shape its future.
But one thing remains consistent, said Mayor Michelle Distler, the city continually strives to be "the people's choice" every single day.
She made the revelation during her State of the City address on Thursday afternoon in the performance arts auditorium at the B&B Shawnee 18 movie complex.
With the silver screen behind her, Distler paid tribute to the State of the City's Hollywood theme by taking the stage in a glamorous ball gown.
"We want Shawnee to be the place people choose to call home, the place businesses choose to set up shop and the place people choose to visit because of all we have to offer," she said. "We understand that people have hundreds of choices to make every day and we are honored when Shawnee is the answer to many of those decisions."
Here's an in-depth look at the mayor's address:
A glimpse of the city's "highlight reel"
Numerous city projects were in the spotlight last year.
One of them was "Nieman Now!," which was one of the largest projects the city has ever launched.
The plan encompasses four stormwater projects and a major enhancement to Nieman Road, between Shawnee Mission Parkway and 55th Street, as well as Flint Street, from Johnson Drive to 62nd Terrace.
It also addresses flooding issues, enhances development opportunities for the corridor and improves aesthetics.
It is expected to be completed by the end of the year.
"When you're driving downtown, you've probably been caught up in the orange cone zone," said Distler. "But this temporary inconvenience is going to be worth it in the end. Stormwater is already flowing through that area more efficiently, which cuts down on flooding. Crews will revamp the road to include three lanes with a constant turn lane in the middle to allow drivers easy access to our restaurants and businesses along the corridor.
"And what some will likely see as the crown jewels of this project are the new community areas and green spaces you'll see. The goal is to make this area inviting to families who may want to play in the park, grab a bite to eat or just take a stroll. We want this to be a destination and not just a place to drive by."
Another noteworthy project was the Clear Creek Parkway extension, which connects Silverheel near Kansas Highway 7 to Clare Road, allowing people to easier access hundreds of new homes planned for the western Shawnee area.
"Coming soon" to Shawnee
Looking ahead, the city has several projects that will be happening, said Distler.
One of them is the new Fire Station 74 on Woodsonia near Johnson Drive.
"This is to help with response times and to accommodate the growth we've seen out in the western part of the city," said Distler. "Safety, as always, is our utmost priority for our residents, and this was a big decision by council to make this happen."
A new community center may also be in the works.
The city recently hired a firm to conduct a western Shawnee Community Center Viability Study.
"Over the next several months, you'll be hearing about opportunities to let us know what you'd want to see in a new community center," said Distler. "What amenities you'd like it to have, what kind of programs are important to you, and then we'll eventually be able to check out some renderings and put a price tag to it to figure out if this is something that is doable for our community."
Along with the community center, the city is also exploring partnerships with Johnson County Parks and Recreation and Metro United Soccer Club for its Valley of Champions near Johnson Drive and Woodland.
"Stump Park, Okun Fieldhouse, KC Ice and the Mid-America Sports Complex have long been venues for thousands of sports-minded youths and adults and it is time to explore upgrades to this area," she said.
A look at "new releases"
The mayor highlighted several private projects in Shawnee.
One of the biggest projects drawing people to the city is the B&B Shawnee 18 movie complex, which recently underwent a massive renovation.
The performing arts auditorium in which the mayor gave her State of the City, for instance, is the home for Music Theatre of Kansas City's new live theater.
B&B Shawnee 18 also houses two unique state-of-the-art auditoriums: ScreenPLAY, which features a slide and playground for kids, and the MX-4D auditorium, which providers movie-goers with a sensory experience, such as rain, fog and bubbles.
Another project, to be constructed at 75th Street and Quivira Road, will be the first of its kind in Shawnee.
The Westbrooke Green mixed-use development will feature luxury apartments, along with new shopping and dining options. It is also set to have a small amphitheater.
The eastern part of the Shawnee Mission Parkway corridor is receiving a makeover as well.
The new Stag's Creek office building is already becoming a familiar landmark and nearby, Raising Cane's and Andy's Frozen Custard are also popular additions.
Construction of a new QuikTrip will start next month and is scheduled to be completed by September.
Over at Shawnee Mission Parkway and Maurer, the Bellmont Promenade development will feature new shopping and dining options to residents.
One of the most anticipated projects in western Shawnee is the Monticello branch of the Johnson County Library, which is set to open this fall.
The building will feature cutting-edge technology and a rooftop terrace.
Over in downtown Shawnee, three local businessmen are renovating the historic Aztec Theatre, with a goal to open later this year.
The movie theater has been closed since 1975.
Recognizing the city's "hottest stars"
The mayor noted the major accomplishments of the various city departments.
She offered congratulations to the Shawnee Fire Department, which recently received accreditation from Center for Fire Accreditation International.
She also pointed out the fire department partnered with several other area fire departments to secure a grant, which allowed it to receive 60 self-contained breathing apparatuses in July.
"This is a great example of how we like to partner up with area agencies to leverage our strengths and achieve a bigger goal like this," Distler said. "That grant helped save our residents right here in Shawnee just over 300 thousand dollars."
She also pointed out that Shawnee firefighters helped area residents during the major storms last summer and a team of Shawnee firefighters helped with the Hurricane Harvey devastation in south Texas last year.
The Shawnee Police Department also had an impressive year.
It beefed up its force, adding five new officers who were partially funded through a COPS Community Policing grant.
The department transitioned to a completely digital video solution with in-car and body-worn cameras, also grant-funded.
"Having more officers, coupled with the new technology, are both things that are helping our police department continue to serve and protect our community in the best way possible," said Distler. "In fact, for the second year in a row, we are proud to tell you that overall crime is down in Shawnee."
And now, "stay tuned"
One of the most critical decisions facing the Shawnee City Council this year will be the hiring of a new city manager.
Former city manager Carol Gonzales stepped down from the position last fall and now, deputy city manager Vicki Charlesworth is leading the city until a permanent replacement can be found.
"This is such an important decision and one we are taking very seriously," Distler said. "We want to make sure we make the right choice for our residents, our employees and our community as a whole as we find the person who will lead our city into the future. And that leader will be walking into a pretty good gig, in our opinion."
Critics give it "two thumbs up"
When the State of the City program was over, several attendees told the Dispatch they were enthused by the mayor's speech.
One of those people was Ed Eilert, chairman of the Johnson County Board of Commissioners.
"I've never been to a State of the City inside a movie theater before, so that was very unique," he said. "There are a lot of exciting things going on in Shawnee and I'm very impressed with all the good work Shawnee does. I think 2017 was a great year for Shawnee, and all of Johnson County, and I think 2018 is going to be outstanding."
At the luncheon, Shawnee resident Nate Fiser said the address made him optimistic about Shawnee's future.
"Just five, six years ago, there wasn't a lot going on, but now, there's growth, with new businesses coming here," he said. "I think we're headed in a really good direction."
Fiser, who owns a financial services company in Lenexa, told the Dispatch he is excited to see the "Nieman Now!" project be finalized, the new library be constructed, and the possibility of an upcoming community center.
Standing nearby, Shawnee resident Justin Nichols said with new council members seated and the Westbrooke Green project in the works, he thinks the city's economic development standing may improve.
Like many of the other people who attended the luncheon, he thinks 2018 is going to be a great year for the city.
"I'm excited to see where the mayor's leadership takes us next," he said.