Slow start costs Cougars in 68-55 loss to Free State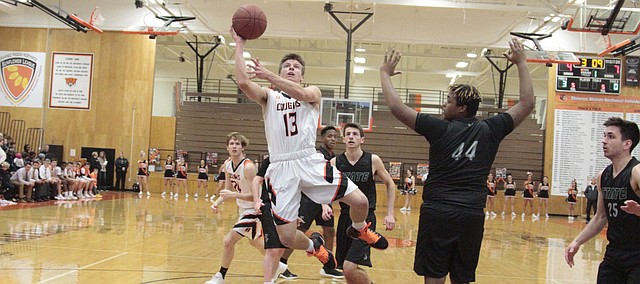 It was a tale of two halves for Shawnee Mission Northwest's boys basketball team on Wednesday against Free State.
The problem for the Cougars was that they needed two good halves in order to knock off the Firebirds, who are ranked No. 2 in Class 6A. The Cougars proved that they could hang with the Firebirds in the second half, but a 15-point halftime deficit was too much to overcome in a 68-55 setback.
"We've been so up and down recently, but the common denominator in all of that is that when we play with a high level of energy, we usually play pretty good. I just felt in the first half that we were kind of just going through the motions," SM Northwest coach Mike Rose said. "We had no energy whatsoever. We talked about it at halftime. There are really no adjustments to make because if you're not going to play very hard, the night is going to continue to go the way it's gone."
Free State seniors Garrett Luinstra and Jalan Robinson powered the Firebirds (15-4) to a 37-22 halftime lead, and finished with 22 and 17 points, respectively. The Cougars (8-11) pulled within 10 on four different occasions in the third quarter, but never cut the Firebirds' lead to single digits in the second half.
Rose's message of playing with more energy was received loud and clear by the Cougars. Senior Verlee McCullough energized his teammates and the home crowd with a thunderous dunk for the first two points of the second half.
"It was crazy. That was like my first dunk of the season, too," McCullough said. "When I was up there, I didn't know what I was going to do either. So I was like, 'It's senior night. Might as well go for it.' It brought some energy to the team."
Fellow senior George Specht didn't hold anything back in the second half either. The 6-foot guard has been hampered with an ankle injury for the past few weeks, but Specht's strong second half was one of the highlights of the night for Rose. Specht scored all of his team-high 16 points after the break.
"George has had his struggles. He had that ankle injury and he's really been a little bit limited since then," Rose said. "I was really glad to see him have a nice night tonight. He started shooting the ball the way he is capable of shooting it."
Specht, McCullough and C.C. Ghilardi were recognized in a senior night ceremony following the game. Specht and Ghilardi will both be continuing their athletic careers in other sports. Ghilardi has inked his national letter of intent to play golf at Kansas, but he expressed at his signing day ceremony that his "first love was basketball."
"I have to give that credit to Keith Smith," said Ghilardi of the SM Northwest assistant coach. "He's been my basketball coach and a great mentor going back to the third grade and has stuck with me ever since. He gave me the competitive drive to push me to become the athlete that I am today."
While Ghilardi will be rounding out his high school career this spring on the golf course, Specht will be doing so on the baseball diamond. Specht signed last fall to continue his baseball career at Cowley County Community College.
"I'm so ready to go play baseball," Specht said. "I love baseball. It's my favorite sport and I can't wait."
Specht and Ghilardi both have high expectations for their respective spring seasons, are planning on finishing their senior basketball season with McCullough and the rest of the Cougars with a bang. The Cougars' sub-state seed is still up in the air going into tonight's regular season finale at Gardner Edgerton (7-12), and Rose likes that scenario.
"There's a ton for us to still play for. When we look at our potential first-round matchup, it's even hard to figure out because of the log jam we've got with other teams," Rose said. "That's the nice thing about it is that we're just going to go out and play. We'll see how things shake out Saturday morning after the game Friday night. But you know it's fun and it's nice to know that there are a lot of other teams that are kind of in our similar position."
The Cougars and Trailblazers will tip off at 7 p.m.
FREE STATE (68)
Garrett Luinstra 10-17 0-0 22, Simon McCaffrey 1-3 0-1 3, Noah Butler 2-3 3-4 7, Zach McDermott 0-2 1-5 1, Jalan Robinson 6-8 5-6 17, Ethan Lincoln 0-0 0-0 0, Bansi King 3-5 0-0 9, Turner Corcoran 0-0 0-0 0, Jared Hicks 0-0 0-0 0, Avant Edwards 0-1 1-2 1, Reece White-Downing 3-5 1-6 8. Totals 25-44 11-24 68.
SM NORTHWEST (55)
Verlee McCullough 4-11 1-2 9, Logan Skeens 1-2 0-0 3, C.C. Ghilardi 3-6 0-1 7, Evan Higgins 3-4 0-0 8, Luke Towler 3-5 0-0 6, Dylan Brunner 1-1 0-0 2, Dale Talley III 1-7 2-3 4, George Specht 5-12 3-3 16, Peyton Carder 0-0 0-0 0, Spencer Gruwell 0-2 0-2 0. Totals 21-50 6-11 55.
Free State 17 20 15 16 — 68
SM Northwest 9 13 18 15 — 55
3-point goals: Free State 7-16 (King 3, Luinstra 2, White-Downing, McCaffrey); SM Northwest 7-16 (Specht 3, Higgins 2, Skeens, Ghilardi). Fouled out: None. Turnovers: Free State 8, SM Northwest 8.
More like this story