SMNW

girls hoops cruises to senior night win over Free State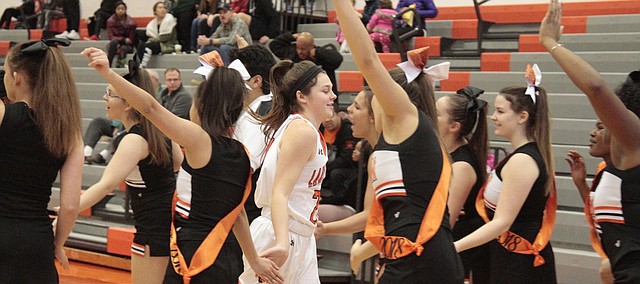 After Shawnee Mission Northwest senior Megan Nugent tore her ACL in a club soccer game last fall, her final high school basketball season was in serious doubt.
The idea of missing her whole senior season was one that didn't sit well with Nugent, though. Should the Cougars make it through sub-state, Nugent has set the goal of being medically cleared by the time the Class 6A girls basketball tournament rolls around in two weeks.
Although the 5-foot-5 guard missed the Cougars' first 18 games, Nugent got a small taste of what it was like to be back on the court during SM Northwest's 60-34 senior night win over Free State. Shawnee Mission Northwest coach Tyler Stewart and Free State coach Ted Juneau arranged before the opening tip for Nugent to be able to start and get the first two points of the game.
"It was so incredible. It was a lot of fun," Nugent said. "It was pretty sad, but it was a lot of fun being with everyone and everyone supporting me and everything."
The Cougars (13-6) returned the favor to the Firebirds (4-15), as they allowed Erin Cushing to drive in for a layup to tie it up before calling a timeout to sub out Nugent. The assist on Nugent's layup went to fellow senior Jordann Nachbar, who matched junior Hannah Black with a game-high 16 points. Nachbar, Nugent and senior Sarah Petersen were all honored in a ceremony at the conclusion of the SM Northwest boys game against Free State.
"These three seniors have done a great job throughout their four years in this program," Stewart said. "My thought to them was to enjoy this moment, but know that we're not done yet. We have a lot of things yet to still be accomplished, but we enjoyed tonight."
As the Cougars try to return to the state tournament for the first time since reaching the 6A title game in 2016, Nachbar and Nugent have also decided that they will continue their athletic careers at the collegiate level. Nachbar verbally committed to Ottawa to play basketball, while Nugent orally committed to Johnson County Community College on Monday to continue her soccer career.
"I really like the basketball atmosphere," said Nachbar of Ottawa. "They're all really nice and I really like the coach (Bruce Tate), so I think it's a good fit for me."
Nugent added, "It was probably just for like my knee and everything just starting off with them and then go from there was probably the best idea for me."
Petersen hasn't decided on where she will attend college yet, but she does have a couple of majors in mind.
"I want to either study chemistry or chemical engineering," Petersen said.
The Cougars' chemistry was on display during their win over the Firebirds. Northwest's ball movement created open shots on the perimeter. The Cougars knocked down 8 of their 19 shots from 3-point range, which was good for 42.1 percent. Black drained four 3-pointers to pace the Cougars.
"It's really exciting for her because she's like really good friends with us and everything," said Nugent of Black.
Nachbar chimed in, "It's just really great because she works hard in practice. She's been practicing her 3 a lot, so it's really good for us to have shooters on our team. At Leavenworth, she knocked down that last-second shot, which was a big win for us."
Junior Rachel Seibold had a perfect 4-for-4 shooting night to join Black and Nachbar in double figures with 10 points. The Cougars (13-6) have won seven of their last eight games going into their regular season finale at 5:30 p.m. Friday at Gardner Edgerton (13-6).
"Since they have the same record as us, it's going to be a huge thing if we win to place higher (for sub-state seedings)," Nachbar said.
FREE STATE (34)
Erin McClorey 0-1 0-0 0, Sam Lawrence 1-7 0-0 3, CK Kesten 3-6 0-0 6, Shannon Clarke 3-5 1-2 7, Haley Hippe 1-7 3-4 5, Erin Cushing 3-4 2-3 9, Mayela Edwards 0-1 0-0 0, Liliana Keathley 1-3 0-0 2, Joy Nunoo 0-1 0-0 0, Rose Pilakowski 0-0 0-0 0, Katelin Holllinshed 0-0 0-0 0, Lauren Jones 1-1 0-0 2. Totals 13-35 6-9 34.
SM NORTHWEST (60)
Abby Winter 0-2 1-2 1, D'Asya Collier-Williams 3-7 0-0 7, Megan Formwalt 0-2 0-0 0, Rachel Seibold 4-4 0-0 10, Kennedy Taylor 2-6 0-2 4, Hannah Black 6-8 0-0 16, Jordann Nachbar 6-8 3-3 16, Megan Hanson 0-3 0-0 0, Sarah Petersen 2-3 0-0 4, Megan Nugent 1-1 0-0 2, Jackie McKay 0-0 0-0 0, Mollie Elfrink 0-0 0-0 0, Maggie O'Neill 0-0 0-0 0. Totals 24-44 4-7 60.
Free State 11 4 13 6 — 34
SM Northwest 21 11 23 5 — 60
3-point goals: Free State 2-8 (Cushing, Lawrence); SM Northwest 8-19 (Black 4, Seibold 2, Nachbar, Collier-Williams). Fouled out: None. Turnovers: Free State 11, SM Northwest 7.
More like this story