5A state wrestling: Mill Valley's Ward goes out a winner; Lautt leads
SJA

; Four grapplers represent

DHS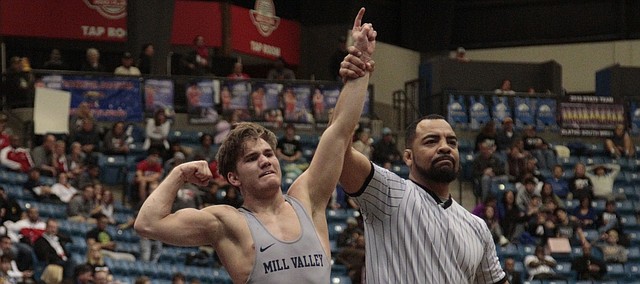 PARK CITY — For three straight years, all Mill Valley senior wrestler Conner Ward could do was wonder what being a state champion would feel like after watching his opponent getting his arm raised in the finals.
It's not like Ward hadn't been close to getting his arm raised in the finals the past three years. In his freshman and sophomore seasons, Ward lost 1-0 decisions. As a junior, the Mill Valley grappler fell in a 4-2 tiebreaker.
Ward reached the finals for the fourth straight year on Saturday at the Class 5A state tournament at Hartman Arena, and he made sure that it didn't go down to the wire this time. The Mill Valley 145-pounder won by fall in the second period against Valley Center's Dallas Boone to finally figure out what the emotions of being a state champion were like.
"I thought it'd be a great feeling and it just topped that," Ward said. "I think that sums it up. It was just the best feeling in the world."
The sound of the referee's hand hitting the mat to make his pin official was music to Ward's ears. As Ward rose to his feet, the disappointment of the past three years was off of his shoulders. Ward threw his headgear in the air before flexing his muscles for the Mill Valley fan section and all of the spectators in Hartman Arena to see.
Ward then shook the hand of Boone and got his arm raised by the referee. The adrenaline continued for Ward as he ran over to shake hands with Valley Center coach Tate Lowe before heading to his corner for a group hug with Mill Valley coach Travis Keal and assistant coach Bo Pursel.
"It's just great for the kid because I know how hard he works and how important it is to him. That's why we do this is to help kids reach their goals and just be there for them in the hard times," Ward said. "That was awesome to walk out of here with a title. It's awesome for him and his family and the program."
The Mill Valley wrestling program has been a big part of Ward's life for much longer than just the past four years. Ward's love for the sport grew as he came up through the Mill Valley kids wrestling club, and it's where his dream began some 14 years ago.
"It's something that since I was 4 when I joined the sport, I was told that the pinnacle of high school wrestling is (being) a state champion," Ward said. "That sums it up. Coming up short three times in a row in the finals makes it even sweeter."
Ward was one of three Jaguars to make it to the finals and one of six to place, which helped Mill Valley finish fourth in the team standings with 113.5 points. Goddard won the state tournament for the fourth consecutive year.
Senior Jarrett Bendure and sophomore Zach Keal finished as state runners-up after falling in the finals. Bendure dropped a 9-4 decision against Maize's Duwayne Villalpando in the 152-pound title match. Keal joined Bendure in making his finals debut, as the Mill Valley 106-pounder lost a 6-2 decision against Goddard's Jason Henschel.
After having his freshman season cut short due to injury, Keal run to the finals marked his first experience at the state tournament.

"It was really exciting getting here for the first time of being a state qualifier. (Friday) I thought I wrestled pretty well — pinning and teching everyone I had," Keal said. "In the finals, I wrestled pretty hard. I just didn't get the result I wanted, but it was fun."
Keal notched the first takedown of the match to take a 2-0 lead, but Henschel got an escape point to cut the deficit in half in the closing seconds of the first period. It was all Henschel the rest of the way, as he had two takedowns of his own and earned another escape point to seal the deal.
"I thought on our feet was pretty even, but he's tough on top so I've got to get better on bottom," Keal said.
In Bendure's match against Villalpando, the Mill Valley senior was unable to overcome a second-period near fall that extended his deficit to 5-0. Despite coming up short in the finals, Bendure couldn't complain too much with his runner-up performance after taking third in his sophomore and junior campaigns.
"I thought it was good. I wrestled hard and I wrestled to the best of my ability," Bendure said. "That finals match didn't go my way, but oh well. I'll go back and look at life — reevaluate myself and where I stand and then move on from there."
As Bendure takes some time to put things in perspective, he'll try to decide whether wrestling is something he'll want to continue doing at the collegiate level.
"I've thought about it. I don't know if it's something I want to do or something I don't want to do," Bendure said. "I'll look into each school that offers me something and I'll go from there. If I like the campus and I like the people I'm around, then I'll start considering it. Wrestling is a great sport and all, but if I don't enjoy the place where I'm at then I won't enjoy wrestling."
While Bendure is undecided on his future in wrestling, Ward is certain that he wants to continue his career on the mat. Ward has taken Division I visits to Oklahoma State and Air Force, and he's hopeful that his state title might turn the heads of a few more college coaches.
"I want to wrestle in college," Ward said. "I've taken a few visits and I hope to take a few more soon. I'm undecided right now, but I will be wrestling in college."
Ward and Bendure were key components of a senior class that helped the Jaguars to two third-place finishes and two fourth-place finishes over the past four years. Bryson Markovich (third place, 132 pounds) and Hayden Keopke (sixth, 182) earned medals in their final high school tournament. Seniors Devon Handy and Max Whisler also rounded out their high school careers at state.
"These guys have been winning since they came in as freshmen. They're a big part of our program," Travis Keal said. "They can get a lot of results here at the state tournament and other tournaments. I love those guys to death and wish them well. We're going to miss them, that's for sure."
The Jaguars will likely sport a younger lineup next year, but Ward said the talent will still be there with the likes of junior Christian Roth, Zach Keal, sophomore Austin Keal, and freshmen Brodie Scott and Ethan Kremer — who all competed on Day 2.
"I'm excited for the future," Ward said. "Some people think we're going to be down next year, but at the same time I think there are going to be guys stepping up like Zach and then his brother and everybody is going to keep it going. I'm really proud of everybody."
Scott's sixth-place finish at 138 pounds was one of the highlights of the tournament for Travis Keal. The Mill Valley coach saw the freshman grappler grow up a lot late in the season, as he learned from previous matches.
"He's had a phenomenal two weeks," said Travis Keal of Scott. "He was a freshman getting beat by some of those guys and then he turns the tables on them last week at regionals and at state. It's just a great time to peak and wrestle your best, and that's what he did."
SJA's Lautt 4th at 182 pounds
After garnering a sixth-place finish at 152 pounds as a freshman, St. James sophomore Cade Lautt returned to the state tournament with a much bigger frame and loftier expectations.
Lautt improved from last year's performance after placing fourth at 182 pounds, but he wasn't satisfied.
"It's not how I wanted the season to end. I didn't feel like I wrestled my best here," Lautt said. "I kind of feel like I let the nerves get to me, but I mean fourth place isn't terrible. It's still good. I just feel like I didn't wrestle to my best potential."
The St. James sophomore started off strong on Friday to reach the semifinals, where he met a familiar foe in Goddard's Austin Andres. The Goddard senior and eventual state champion edged Lautt in a 3-2 decision.
"Austin, he's a really good wrestler. Congrats to him and good luck in the finals," Lautt said. "It's hard wrestling someone that many times. He's a senior and he knows what he's doing. He's good."
The loss to Andres moved Lautt to the consolation semifinals for a showdown against Keopke. Lautt won by fall in the second period against Keopke before being pinned in the first period in the third-place match against Maize freshman and top seed Kyle Haas.
"I just learned that I've always got to work hard no matter what because there are always good wrestlers coming to take you out," Lautt said. "I've just always got to work hard, I've got to focus and I've got to believe in myself."
Part of what added to Lautt's frustration was seeing a few of his teammates fall just short of their goals. Seniors Drew Ernsdorff, Max Lutz and Connor Weltmer joined Lautt in taking the mat for the Thunder on Day 2. Ernsdorff and Lutz were one match away from securing a spot on the podium after losing in the consolation third round. Weltmer's tournament ended in the consolation second round.
"It's definitely not how they wanted to end the season and end their whole high school career, but I'm sure they wished they could do better. They were trying to place their senior year," Lautt said. "They're trying not to stay too down on it because there is not much you can do about it now. I feel like we've got a young team. We've got room to grow."
Rounding out the state qualifiers for St. James were freshman Harry Spencer and sophomore Isaac Stean. The Thunder finished 21st in the 5A team standings.
Four De Soto underclassmen end season at state
Going into the postseason, De Soto coach Shannon Sawner had one goal in mind for his young team: get as many wrestlers to the state tournament as possible.
Sawner's squad sent four wrestlers to state — three of which were making their first appearance. Sophomore Lane Warner returned to the state tournament for the second straight season, while fellow sophomores Luke Barger and Jacob Goodin and freshman Henry Rokusek made their debuts. All four De Soto wrestlers went 0-2.