6A state wrestling:
SMNW

's Habben, Brockmann earn medals; Three

SMN

grapplers go 1-2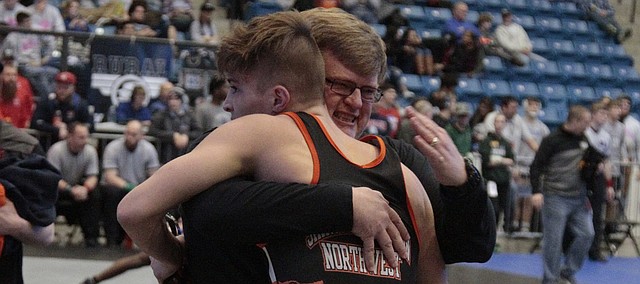 PARK CITY — The first day of the Class 6A state wrestling tournament didn't go as planned for Shawnee Mission Northwest senior Jerad Habben and junior Charles Brockmann on Friday at Hartman Arena.
Habben and Brockmann both entered the state tournament with the chance to finish with 40-win seasons, but that milestone didn't mean nearly as much to them compared to the possibility of being state champions.
The dreams of the SM Northwest dynamic duo were quickly dashed in the first two rounds on Friday, but they both knew there wasn't anything they could do about it when they returned to the mat on Saturday.
Habben was knocked off in the first round by Free State senior Isaiah Jacobs, but rattled off five consecutive wins to earn a third-place finish at 132 pounds.
"It was crazy," Habben said. "I realized that any match lost would be my last one and I didn't want to end on a loss, so I fought back and got third."
The previous best finish for the SM Northwest senior came as a sophomore when he finished fourth. Habben stormed off the mat after dropping the third-place match two years ago, but a much more mature version of the SM Northwest grappler was able to prevail in the same scenario on Saturday. The United States Coast Guard Academy signee ended his high school career as the SM Northwest school record holder for wins in a season (42), pins in a season (34), career wins (148) and career pins (105).
"It makes me really happy. I did better than I did the last three years," Habben said. "It's just great. I'm excited to wrestle at the next level. I think I showed a lot of heart out there coming back on the back side and getting third."
Habben closest match on Saturday came against Haysville-Campus freshman Nathan Bowen in the consolation semifinals. With a state medal on the line, Habben won, 6-4, in sudden victory.
"I realized in overtime that I wasn't going to be a state champion, obviously, but I was going to go make the best out of the rest of my high school career," Habben said.
Brockmann joined Habben on the back side of the brackets after suffering a second-round loss to Manhattan freshman Joshua Pence. The SM Northwest 120-pounder also fought his way to the third-place match, but lost again to Pence, 3-1, in sudden victory.
Despite all of Brockmann and Habben's accomplishments, they had never placed at the same state tournament until Saturday.
"It feels good that we both placed finally," Habben said. "I think we put in a lot of good work this year. I know we both didn't make it to the top of the podium, but third and fourth is still pretty good."
Northwest sophomore Gabe Arreguin represented the Cougars in the 106-pound bracket. Arreguin finished with a 1-2 record, and helped the Cougars finish 18th in the 6A team standings. Olathe North won the 6A team title.
Three of six SMN wrestlers reach Day 2
Shawnee Mission North seniors Tanner Willmon and Alonso Salgado had high hopes of rounding out their respective high school careers as state medalists, but it was not in the cards.
Willmon and Salgado suffered losses in the consolation second round.
"Of course it could have went a lot better, but I think we both gave it as much as we could and left it all out there," the 195-pound Willmon said shortly after falling to Dodge City senior Ansony Quezada.
After Willmon and Salgado were handed first-round losses, they both won nail-biters in the consolation first round in order to remain in contention on Saturday. Willmon won a 4-2 decision over Wichita Southeast junior Laithen Shocklee, while Salgado edged Derby junior Cooper Ross, 3-1, in sudden victory.
The bond between Salgado and Willmon has been a special one with SM North's roster being slim on numbers during their high school career. Salgado credited coach Tom Peterman for maximizing the talent out of the SM North squad. Six of the seven SM North wrestlers who competed at regionals qualified for state.
"A lot of people don't come out, but coach Peterman does a lot. It doesn't matter the number of people that we have," Salgado, the Indians' 138-pounder, said. "We're always pushing. Even if it's a small number, he stays focused on us and he pushes us through to get here."
While Salgado and Willmon's time on the mat for SM North came to a close, they're looking forward to see what is in store for the Indians who will be returning. Sophomore 285-pounder Alex Williams also made it through to Day. Williams went 1-2, as he pinned Blue Valley North's Jack Stallard and lost by fall to Washburn Rural's Jacob Glendinning and Garden City Refugio Chairez.
Freshman Justus Hulse, sophomore Aidan Randall and junior Jeffrey Downey went 0-2 to round out the state qualifiers for the Indians.
"It's exciting for me because I know when I leave that they'll be set. There's just not one leader on the team, they're all leaders," Willmon said. "They're all pushing each other. They're all striving to make each other better."
The Indians tied for 29th in the 6A team standings.
More like this story